Hang Loose Beach, Gizzeria – the 2nd stage of the IKA KiteFoil Goldcup recently took place in the beautiful and windy south of Italy. This Hydrofoil class is regarded as the Formula 1 of kitesurfing, since the class is fully "open" (material restriction wise) and the hydrofoil class is currently the fastest kitesurfing board for course racing, able to display riding speeds of up to 20 knots upwind and 30 knots downwind.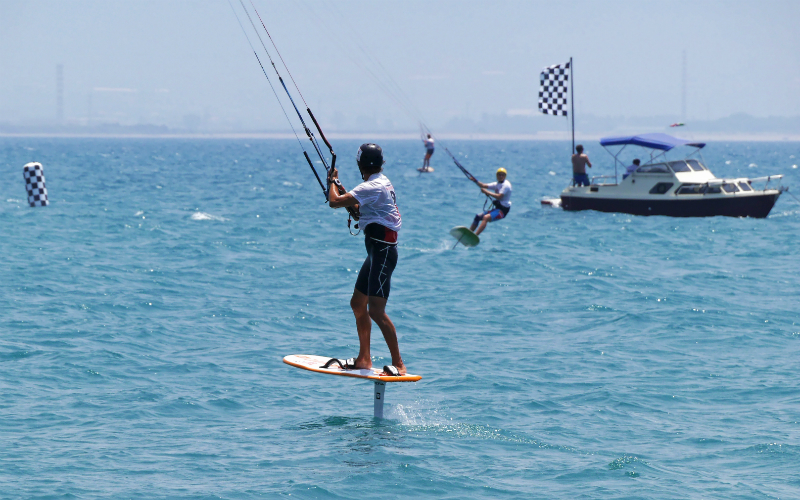 With a total of 48 competitors from all over the world, the event was very popular among riders, most of them anxious to show their performance after training for half a year after the winter break.
For Flysurfer Kiteboarding this was the first time that their race team could go to the water with their serial production Sonic-FR kite, and as such most of the Flysurfer riders were stoked to travel to Italy to take part in this competition at this well known and windy kite spot. Most of the days the thermal winds kick in around the end of the morning, building up from around 9 knots till just below 20 knots at the beginning of the evening. All in all perfect conditions for the kitefoil fleet to show their amazing speed and angle to the crowd, which was certainly very big over the weekend.
The competition is built up in such a way that for the first two days riders fight to obtain a spot in the gold (best 24) or silver fleet (last 24). The whole fleet is therefore randomly split up into 2 fleets on the first 2 days. What was clear to see was that the Sonic-FR was working really well for the Flysurfer race riders. After the first two days of qualification rounds there were 5 Sonic-FR kites within the first 9 places. The easy recognizable black Sonic-FR kites were often the 1st onces to cross the upwind buoy.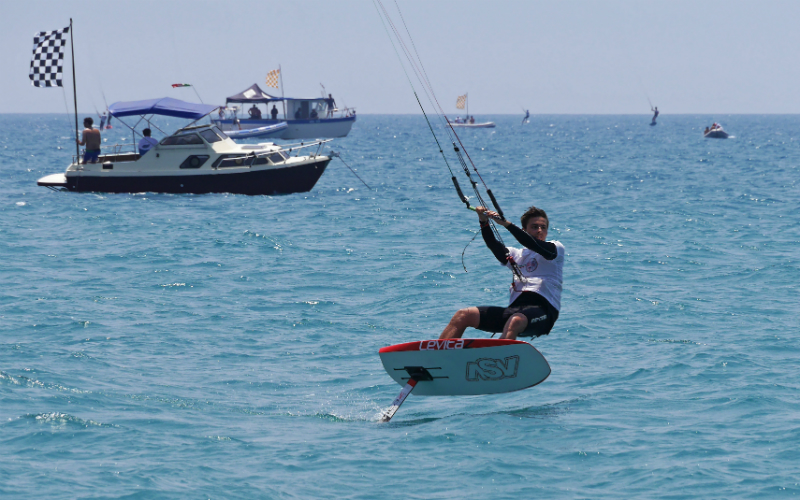 After 9 qualification races the fleet got divided in Gold & Silver fleets and another 10 races were done. The Flysurfer team riders had some trouble with injuries (Peter Mueller) and collisions with plastic bags (Marvin Baumeister) but still showed a very, very strong performance, seeing 3 Sonic-FR kites under the first 6 places.
Some quotes from the IKA press releases to finish off:
"But one of the bigger surprises on a day of intense, fast-pace racing that saw the riders scythe through the blue Mediterranean at jaw-dropping speeds, was the success of Benni Boelli (AUT), his 15m Flysurfer Sonic-FR foil kite, in combination with a Levitaz hydrofoil offered him blistering speed that saw him steal a second and third places on day 3"
"In the "gold" fleet's fourth race of the day, completed in just under 11 minutes even after the course was extended, Nocher both demonstrated his fluency and vulnerability. The young monegasque on his 12m F-one Diablo foil kite was overhauled by Peter Mueller (GER) riding a Flysurfer Sonic-FR foil and Levitaz Aspect Bionic hydrofoil on both upwind legs of the two-lap course, only to see handsome leads reversed in the drag race downwind."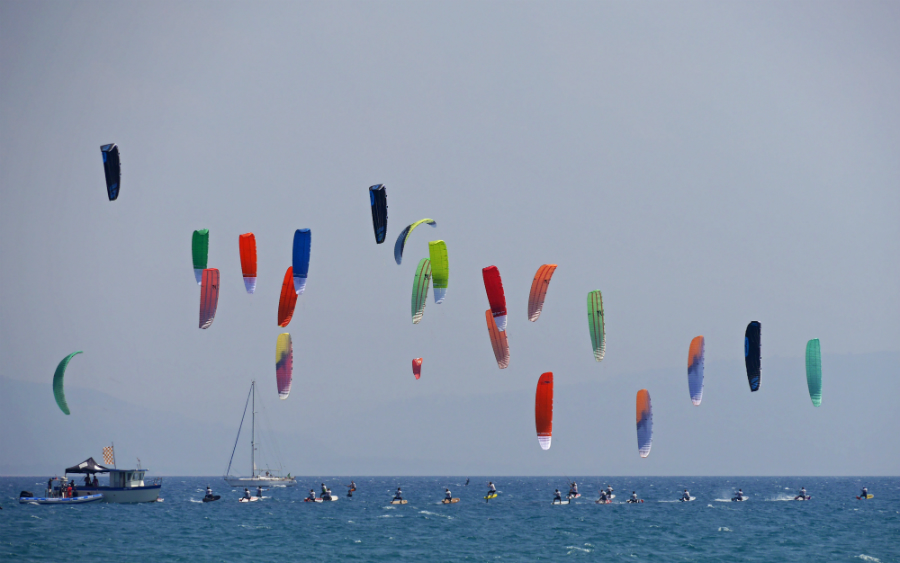 KiteFoil GoldCup Final results Men:
1. Maxime Nocher
2. Axel Mazella
3. Julien Kerneur (Sonic-FR)
4. Benni Boelli FLYSURFER/Levitaz)
6. Peter Mueller (FLYSURFER/Levitaz)
12. Adrian Geislinger (FLYSURFER/Levitaz)
13. Simone Vanucci (ASV/FLYSURFER) 1st Master
15. Marvin Baumeister (KFA/FLYSURFER)
KiteFoil GoldCup Final results Women:
1. Steph Bridge
2. Alexia Fancelli (Sonic-FR)
3. Elena Kalinina