One of favorite kite resorts out in Fuerteventura just hit the big 3-0. Here's some birthday words from Flag Beach's head honcho, Ben Thomas:
30 years peering through the window of the shack, watching the dunes form, watching the changing seasons, the flat days, the swell and the white caps, watching the color of the sea change with the sky!
Little has changed since 1988 on that long stretch of white sand and turquoise water. The tourists can now rent a sunbed and parasol, or grab a steaming cup of coffee or an ice cold beer right there looking over to Isla de Lobos. And all the while connecting through free wifi…
Flag Beach has progressed from offering just windsurf rentals and courses to all the new and funky sports that have been invented since then, or that have since swamped our shores. And kitesurfing, although slow to start when we first introduced it back in 1999, is now our most popular sport, offering courses of all levels, rentals, and rescues for private kiters.
The changes here over these 30 years are much more obvious in the surrounding areas, with a vibrant and bustling Corralejo, a mass of Italian cafes, chain stores and burger joints. Hotel and villa rentals are bursting at the seams, and there are surf camps popping up all the time aided by direct flights from a mix of international destinations and from all over Europe.
Gone are the heady and relaxed days of the eighties and nineties when Corralejo was a quiet and sleepy fishing village with just one tarmac road… When we thought the newly opened Waikiki was too far out of town to walk to, and after a hard day on the water, we flocked to the only eateries: pepper steak in Oscars or a pizza & a signature on the wall at Willys, followed by tequila shots in the Arena bar. Tourism has changed and their needs and expectations have changed too…
However, a short drive back into the dunes, back to Flag Beach, back to that view from the shack and you'll find little has changed… It's still the same salty sea breeze, Lobos still looms on the horizon, and blinding white sand still attracts a mass of wind worshippers searching for the same vibe as always…
For more on Flag Beach or to book a stay, visit: flagbeach.com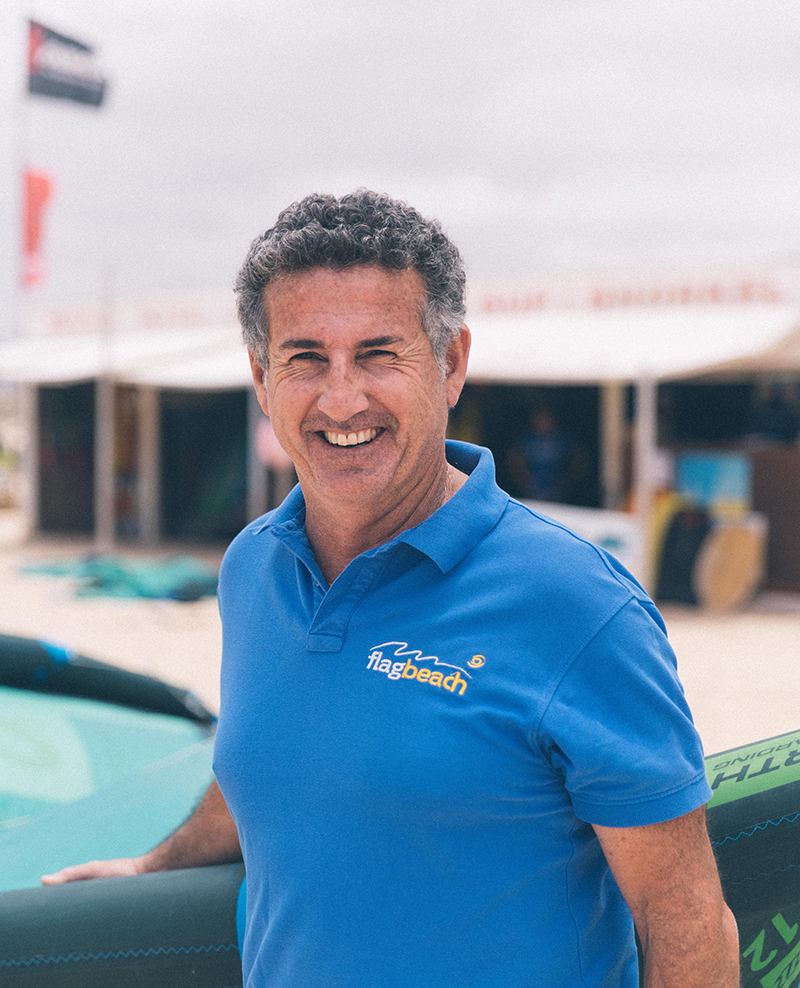 Ben Thomas. Photo: Pontus Pålsson