Southampton University is home to the world's greatest kitesurfing club. In 2010, inaugural president Alistair Shepherd arrived back at university with a tale to share. A tale of butter flat, fresh water lochans and even flatter turquoise salt water lagoons stretching as far as the eye could see. He even had the pictures to prove it! I've spent almost every day since trying to get back to Uist. Over several trips in the interim years we discovered that the Outer Hebrides had more than perfectly flat lagoons. They also had waves. And not your south coast on-shore mush but waves with power, waves that would peel down empty beaches for miles. In short – the islands are a kitesurfer's paradise.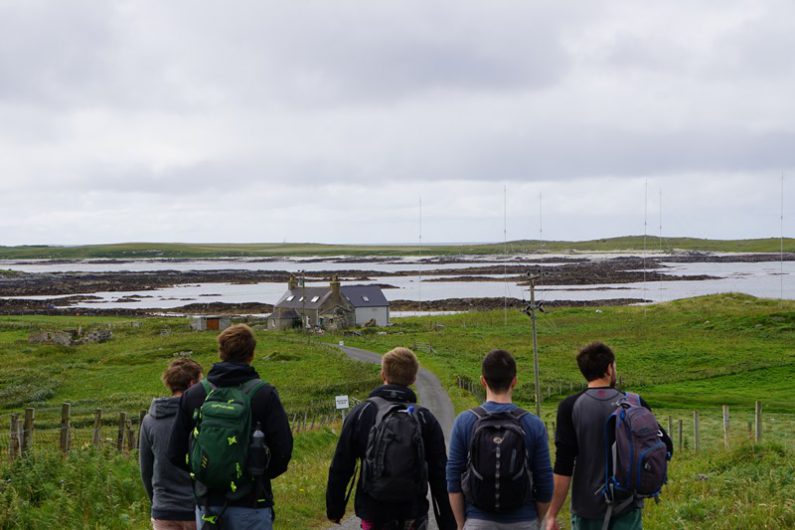 With a crew assembled, preparations began in earnest. Underpinned by a neo-communist philosophy and solid spreadsheet admin it was looking like a remarkably cheap trip when all costs were split seven ways. The trip was pegged at 14 days on the island, sandwiched between a 15 hour drive up and down. We loaded 22 kites, 7 twin tips, 11 surfboards, 4 skateboards, 15 wetsuits, a skim board, an indo-board, a fishing rod, 2 cricket bats, spear fishing gear, and even some climbing equipment into two cars and headed North.
The team smashed out the 15 hour drive after work on Friday, arriving in Uig with 45 minutes to spare on Saturday afternoon. A quick lunch at the cafe which makes up the entire town of Uig, followed by a 90 minute ferry ride, saw the boys arrive on the island well fed and ready to shred. OS maps in hand we navigated to a spot just minutes from the house, suitable for the Westerly that had rocked the ferry on the voyage over. A couple of dead end farm tracks delayed our arrival in paradise, but within an hour of disembarking we were on the water. We should note our dismay at finding the spot overcrowded by the entirety of the local Uist kitesurfing population. Fortunately, we came to an arrangement with Angus, (the only member of the local Uist kitesurfing population), and managed to share the 20 square kilometres of paradise without anyone spilling their whisky.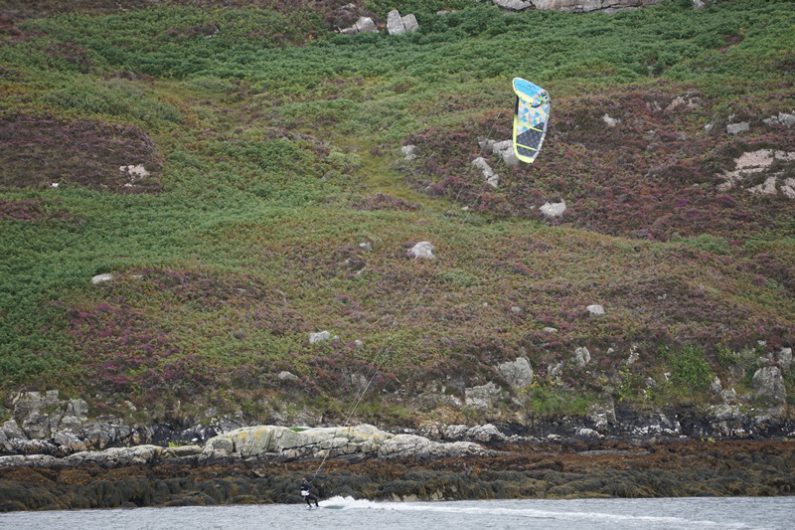 Uist was just as good as I remembered, and the Hebridean virgins of the group agreed; we stayed on the water till sunset exploring kilometres of lagoon. Whilst the first off the water were packing down, a couple of us consulted the map and decided we could kite the 3km downwind to the house. We came off the water just after last light, 300m from the front door, and unanimously declared Uist a premium kite in/kite out holiday destination.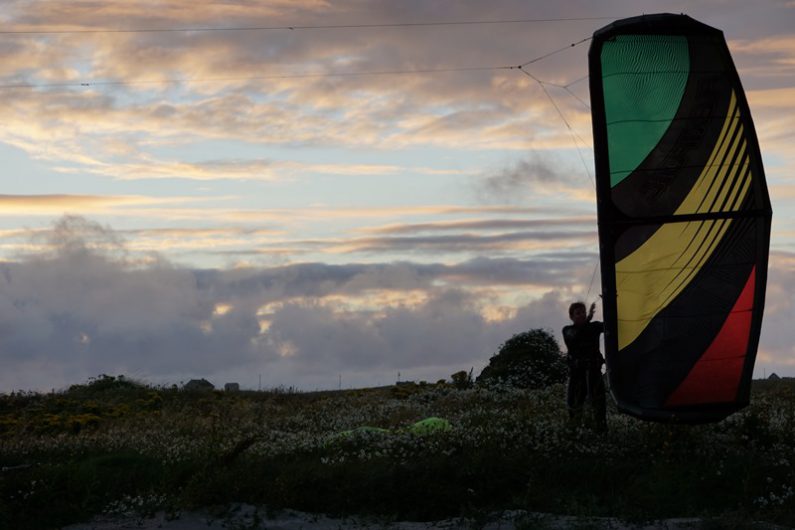 When you consider a normal kitesurfing holiday; flights at unsociable hours, horrible excess baggage fees, inconsistent winds, expensive bars and sterile accommodation, the lack of sun in the Scottish Highlands is a small price to pay for otherwise perfect conditions. The climate might be colder but the hearts of the locals are warmer than anywhere else in these British Isles. Our host for the fortnight was Willie, an incredibly friendly local who has a self-catering guest house on North Uist. As a base for the holiday it was perfect; washing lines to dry wetsuits on, ample kitchen facilities, a spacious lounge and Willie even provided us with a garage in which to store all our kit. The place felt like home almost immediately and your author seriously contemplated making an enquiry at the local school regarding the maths teacher job they had advertised.
Three days in, as the winds swung round to the North we spent a couple of days exploring Sollas and the adjacent beaches. We were riding twice a day and hitting a different spot each time. With water smoother than the whisky, our definition of butter was redefined every time we parked the car at a new location. We realised how high we'd set the bar when Gid requested that his evening ride was achieved without the need for further wetsuit admin. Yet another consultation of the map revealed the perfect solution; sitting just North of North Uist, Bernaray hides a fresh water lochan in the heart of a small island. It warrants dwelling on the perfection of this locale for a moment; knee deep fresh water, a sandy bottom, grassy shore and mirror flat even in 25kts. The best part is that you can drive the cars through a field and park at the waters edge. Gideon was satisfied.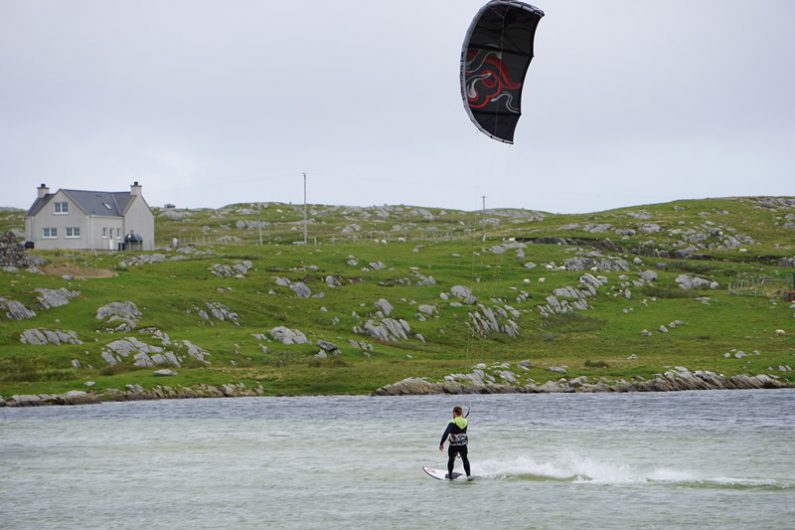 The wind and water are indeed smooth (did we mention?) but with tarmac smoother than both, Uist also offers the perfect opportunity to take kitesurfing to the streets. Finding a road that ran in just the right direction with respect to the wind became the focus of our search whenever the wind dropped below 20 knots. With more sheep on the road than cars, there's no better place to try and reach 30mph on a skateboard.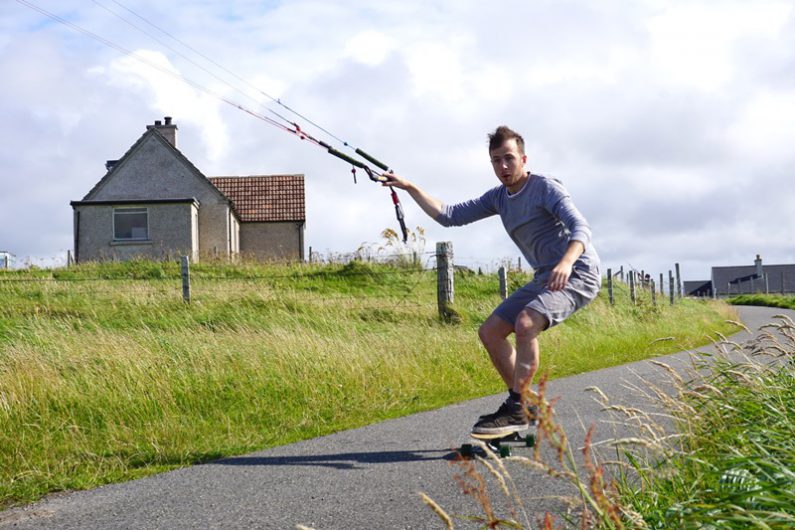 In the unsympathetic landscape of this western outpost, a certain military discipline emerged. The boys fell into a routine, working in shifts to hang up the wetsuits and cook the dinner every evening. Respite from this regime was found every morning as the boys went into post breakfast slow down and proceeded to mince around for two hours, chatting bullsh*t, prodding weathered fingers at maps and generally sleeping off the breakfast haggis before heading out on the search for a new spot.
The best bit about Uist, despite all we've already mentioned, is the feeling of adventure and discovery. It's a cliché by now but we rarely discover anything for ourselves anymore, and in Uist we discovered something new every day. It helped that our discoveries were nearly always windy, with flat water or waves. A boggy 15 minute walk to find the source of the spray coming off the lip you spotted from the road and imagine sits atop the world's sweetest barrel, is never wasted, even if what you find isn't waves at all, but turquoise water in a sheltered bay and cows sunbathing on the beach. It was not unusual to hear "I'm in love with this place" from the back seat as we drove in convoy down the island searching for the next virgin spot. The complete absence of other surfers/kiters throughout the trip made us feel like an original bunch of 70's searchers discovering the Californian breaks for the first time. The only difference being the substitution of 25 degree heat for 5 degrees, palm trees for no trees and bikini babes on skateboards for two steamin' Glaswegian hitchhikers here daein' roofin' fae th' new school.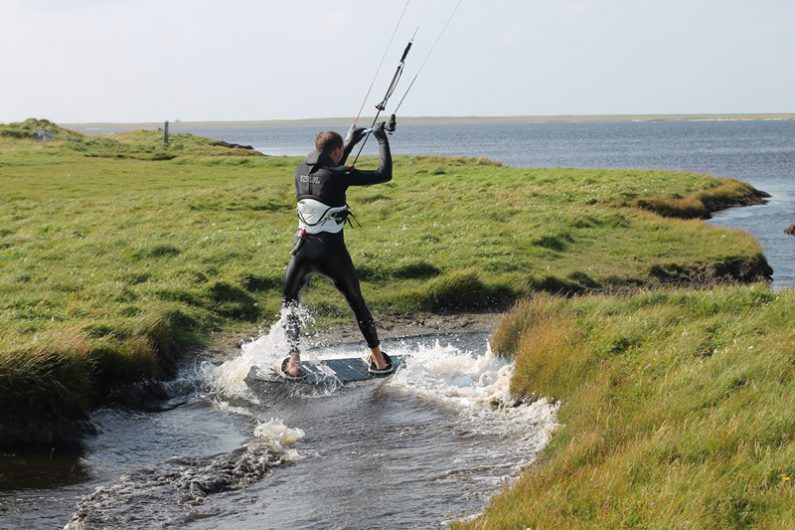 We spent two weeks on the search, barely driving more than an hour each day, and our only disappointment was having to delay myriad no wind activities because the wind just didn't quit. Two light wind days did eventually arrive which allowed us to scramble up a mountain on South Uist, surf on some glassy breaks, and do some spearfishing. The wildlife is abundant, otters and seals made for regular companions on the water and it's not unusual to see minke whale and basking sharks further offshore. The island fauna is dominated by sheep, shetland ponies and the odd herd of red deer. Our spear fishing catches of pollock were supplemented by huge fresh lobsters from the local fishmonger, a 14 year old boy who, with all the sincerity of a weathered man of the sea, sold us the crustaceans for a fiver each. Bargain!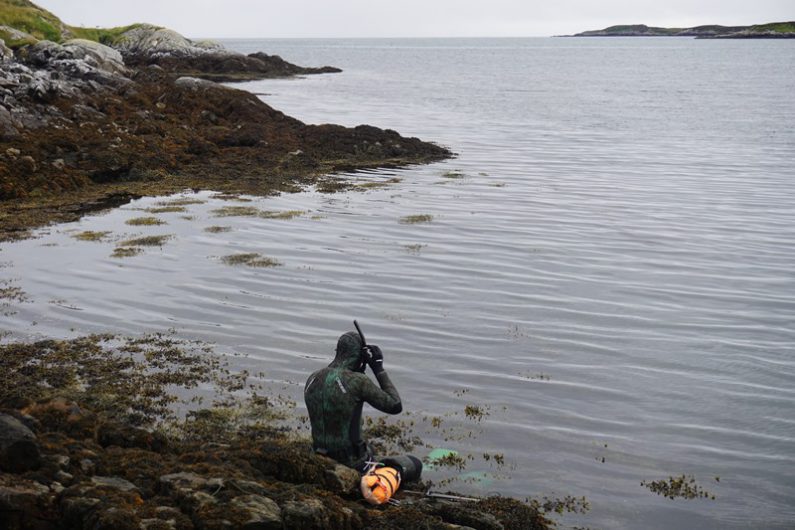 In any battle, with the elements or otherwise, there are casualties. The team soon became adept at impromptu kite repair, turning Willie's kitchen into an operating room. Our most notable efforts resulted in the infamous rise of the phoenix – the resurrection of Tim's North Neo which had a large section of the mid canopy blown out after a wave tore through it. The kite returned to the skies with freckles of red, white and black covering the scars of sessions past. Other injuries weren't so easy to fix; Hugh and his surfboard fell out to such a degree that both walked away with holes which would limit their future sessions. Fortunately, Hugh's spirits remained high, as he was left home with a fridge full of peat smoked salmon and instructions to take a load off; he bounced back within a matter of days and spent his first session back on the water sending it on massive board offs and repeatedly landing on his wounded foot in knee deep water (sandy bottom, of course).
Mid way through the trip we waved goodbye to Hugh, JonJon and Olie and by 'waved goodbye' I mean to say that we went to get waves while they said goodbye. The departure of the trio was poor timing as the following morning the wind and swell were forecast to arrive in earnest. Fortunately it's easier to fit four in a barrel than it is to fit seven. The gloating four ended up feeling not so swell as they discovered kiting waves on Uist works in almost any conditions with the exception of a strong SE wind coupled with a westerly swell. Which is of course exactly what arrived. We met up with Paul, one of the two local surfers who gave us some good inside knowledge on where to find the best waves. Tim and Gid scored a few good waves without kites while Ali and Ben got the OS maps out to find a location that might work with kites. North Uist would offer ample spots to kite waves with a more northerly swell, unfortunately for us the swell swung south. The coast of Baleshare provided some good head high walls but a SE blows perfectly cross shore making riding down the line a little tricky.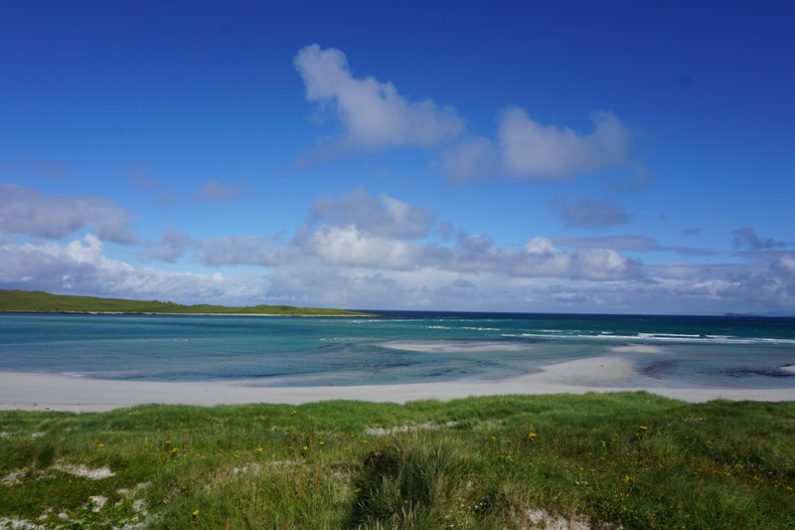 If waves aren't your thing then Uist excels in any wind direction. It's consistently the windiest location in the UK and flat (and sometimes fresh) water can be found everywhere. A note of caution, some of the inland fresh water lochs contain nasty black rocks hidden inches below the surface. Google maps satellite view is a great way to find the ones with sandy bottom surfaces.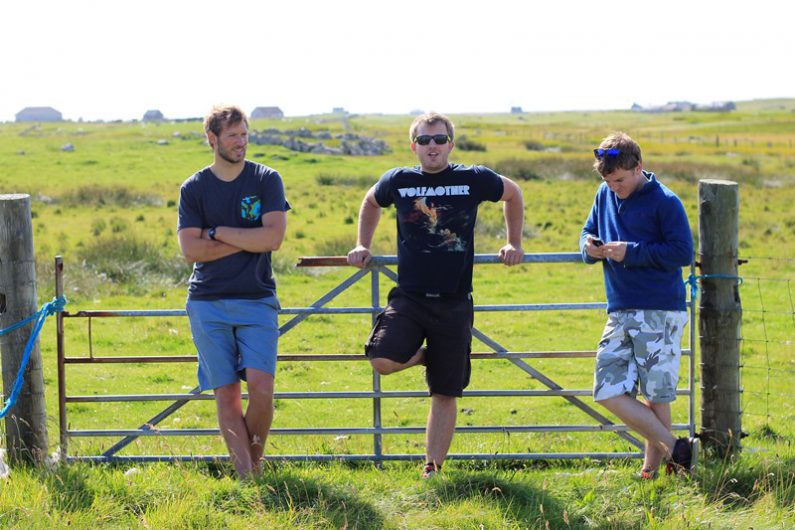 If you want to go on on holiday and maximise your chances of riding in a given spot in board shorts for a week, then Uist is not the place for you. However, if you started kitesurfing for the sense of adventure and you still have a passion for finding your own way in the sport, Uist lets you do it for a week or a month, or, if you don't mind your own company perhaps even longer. Say hi to Willie for us if you go!