On July 31st and August 1st, there is the unique chance to join a training clinic with Cabrinha PRO Riders Annabel van Westerop and David Tonijuan, at the René Egli Kite Center, which is fully equipped with the latest Cabrinha equipment and suitably located amongst palm trees, right at the windy World Cup spot of Playa Sotavento.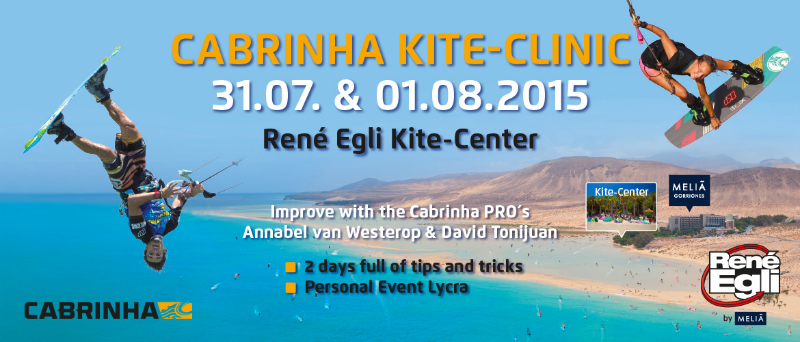 You'll have the opportunity to improve your kiteboarding skill levels with the professional guidance of experienced World Cup competitors. Limited places are available and going quick – more information can be found here. As well as two days full of tips and tricks with the Pro´s, you will also receive your personal event lycra.
Accommodation is available right at the spot – rooms at the Hotel Meliá Gorriones are available, and come with a free sea view upgrade*.
Min. entry level: upwind riding
Max. participants: 12
€ 180,– p.P. exc. equipment
€ 295,– p.P. inc. equipment
For further info & Booking: [email protected]
(*exclusively for René Egli clients and subject to availability)