The Swiss kitesurfing brand which is focusing on experience and passion, is in the hands of Jonas Hiller
The GIN KITEBOARDING brand managed by the company Blue Boardsports SA remains under the direction of Swiss Fabienne Kaufmann who founded the company in 2007. Jonas Hiller, professional ice hockey player from Thurgau, is now the majority shareholder. The former NHL player is also a passionate kitesurfer and after nine years playing in North America, he is back in the Swiss league with the EHC Biel. The quality of the innovative products coupled with the brand's philosophy convinced him to invest in the Swiss kitesurfing company. The two athletes alongside André Hurter, an experienced businessman and athlete himself, aim to develop the brand nationally and internationally while respecting its original identity.

Kitesurfing is enjoying positive growth in Switzerland and worldwide. Renowned for its Swiss quality, unique and colorful product line, combined with its efforts to be socially responsible and eco-friendly, the GIN KITEBOARDING brand is well established in the market. These strong selling points are what compelled the new owner to invest in the company.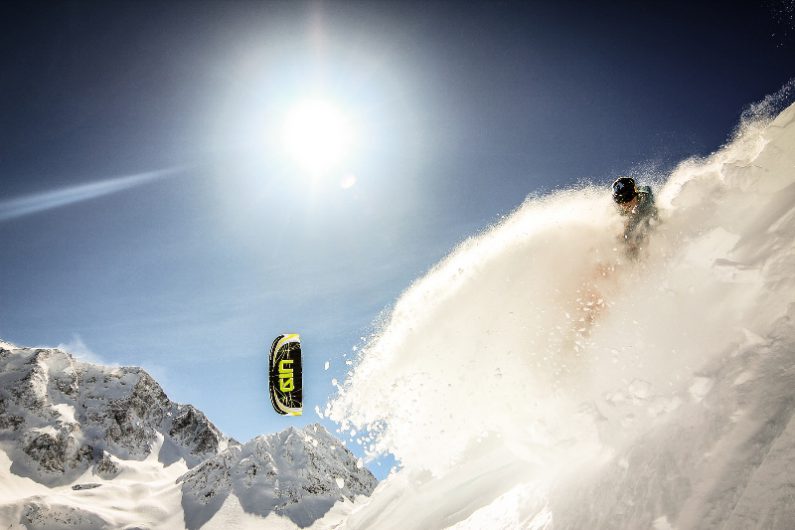 Fabienne and Jonas met for the first time in 2012 when Jonas fell in love with the sport after buying his first kite, which happened to be a GIN. In 2015, Jonas Hiller bought a majority stake in the company. In 2016, the company was restructured around a new three-pronged strategy: Jonas Hiller, owner, Fabienne Kaufmann, CEO, and André Hurter, member of the board of directors and strategic consultant. This year has also been highlighted by the launch of a new bright colored collection that emphasizes brand dependability and continuity. In addition the research and development started on several innovative projects focusing on technical details and environmental impact.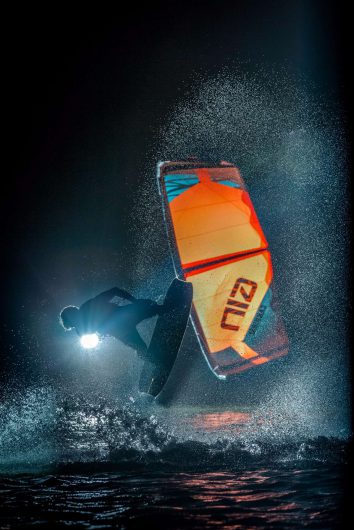 Jonas Hiller is a world-class ice hockey goalie. In 2007, he started playing in the NHL for the Anaheim Ducks followed by the Calgary Flames. This year he is returning to Switzerland after signing a 3-year contract with the Swiss NLA team, HC Bienne. A native of the canton of Thurgau, Jonas has competed 4 times for Switzerland at the ice hockey world championships and 2 times at the Winter Olympics. He has been a passionate kitesurfer since 2012 and spends as much time on the water as the busy hockey schedule allows. Carefully planning for life after professional hockey, Jonas wanted to invest in a Swiss company with which he shared the same values. "I've been lucky to be able to turn my hobby, ice hockey, into a career. I hope to be able to do the same with my kitesurfing business. My goal is to share my passion with as many people as possible. I want them to experience the same thrill – being one with nature and having no distractions from computers or smart phones while standing on the water or while flying through the air. "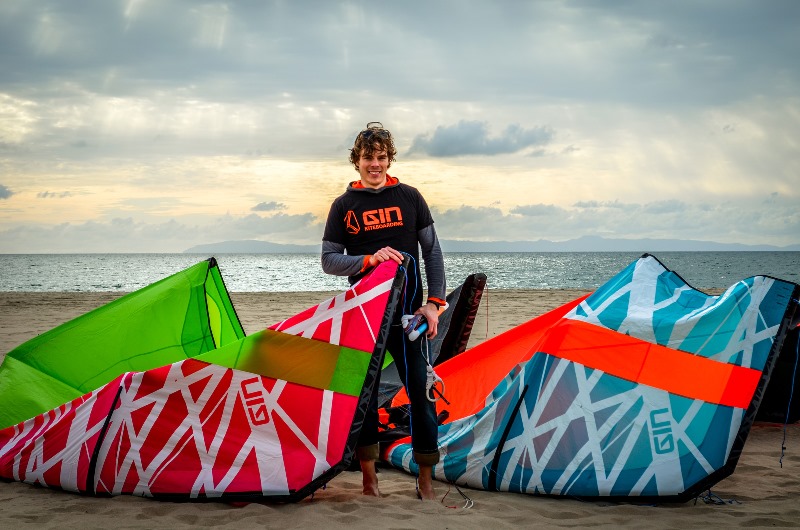 Fabienne Kaufmann discovered kitesurfing in 2000 when she was a sport teacher and a dedicated paraglider. She quickly became enthralled by the new sport and started training hard on the water and on the snow. In 2003, she became snowkite world champion in Silvaplana. In 2004, she quit her job as a teacher to pursue her passion for kiteboarding fulltime. She got more involved in research, development and promotions of kitesurfing products and started her first company. In 2007, she founded the brand GIN KITEBOARDING. Today the company is run by Blue Boardsports SA and is located in La Neuveville on the shores of Lake Biel-Bienne. "Kiteboarding captivated me from the beginning. I was lucky enough to witness its growth firsthand. Today, it has truly evolved in terms of performance, reliability and safety. The collaboration with Jonas and André,as well as other colleagues has been very fulfilling. It's become everything I hoped it would. We all share the same vision for the brand and have set some very optimistic goals for GIN KITEBOARDING. We're obviously ecstatic to be able to share them with the public!"