It's not hard to catch the foil bug. Just like a flying magic carpet, Lyle Deixler is now, too, loyal to the foil….
---
Learning to Foil is Tough – But So Worth It!
After hesitating, wimping out and then getting sick of mowing the lawn I finally learned how to hydrofoil – and I love it!
I've been watching the foilers at my local beach (Jupiter, Florida) for years, elevated above the water, cruising fast and having a blast on those light wind days (granted, plenty of good foilers use those boards on high wind days too).
I'm fortunate to be in good shape and thin, a whopping 155 pounds, which means with my 15m kite and 150cm board I too can kite on lighter days. But on a recent trip to the Outer Banks of North Carolina, with its massive, shallow bay, I knew it was a great place to learn how to ride a hydrofoil board so I gave it a go.
If you're going to learn how to hydrofoil, make sure you get the proper equipment. I bought my first hydrofoil board three years ago. It was a race board though and not very beginner friendly.
When all the foilers at my local beach saw it they said I needed a board where I can put a foot strap in the middle of the board, up front, which my race board couldn't do.
I tried anyway with my spiffy new board (and no foot strap at all), didn't have any success and couldn't even come close to riding it flat on the water, like you need to learn when starting out.
A good friend, fellow kiter and excellent foiler, Rob, then gave me some lessons at one of our trips to the Outer Banks. We were bayside and I was using his board (that had a foot strap in the middle) and my foil with a 24" mast.
I was able to get up on the board and porpoise like mad but never rode the wing. It also wasn't the best week for wind and we only kited three days that trip.
I went home to Florida, sold my race board and bought a new one where I could put a foot strap in the middle of it. I was a little leery though of having my foot in a strap so I bought some hooks.
Where I live it's basically all ocean kiting, which was intimidating when trying to learn to foil. I tried anyway, but again, no success. I couldn't even get to point where I was porpoising and the hooks hurt my feet.
Maybe foiling isn't for me, I thought.
This past August I went back to the Outer Banks with Rob, knew it was a great place to learn to foil and was determined to figure it out.
We had a great week, conditions wise, and wind every day, seven days in a row. I rode my twin tip for the first two days then tried the foil. Rob helped a lot, and after several porpoising sessions and many crashes I was suddenly up on the wing – and having a blast!
For the last three days I didn't touch a twin tip and only rode the foil. I was also hooting and hollering, whooping it up like a newbie who just got his very first rides in on a kite (and I've been kiting for ten years!).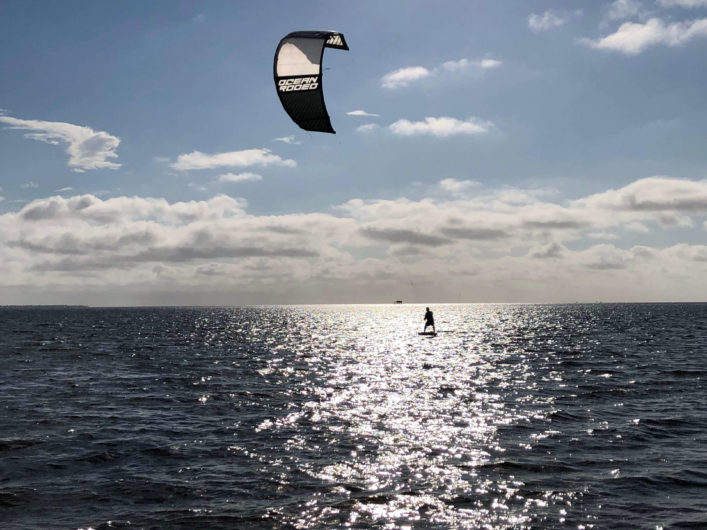 "Rob Reybok foiling at the Outer Banks"
I now know why so many hydrofoilers only want to foil. It's a totally different sensation then riding a twin tip, being elevated above the water is a trip and damn you go fast! I also now know why they call it a "magic carpet ride."
And I'm looking forward to many more of those rides!