Our friends at Kite Sista take a look at the various disciplines of the sport, and those who partake…
When the majority of us start kitesurfing, we either want to jump high or go fast, but as we get more involved we invariably gravitate towards a particular discipline, usually governed by a personal preference or guided by those you kite with.
However, in recent years the sport has begun to evolve into some quite specific disciplines, with each having their fans and followers.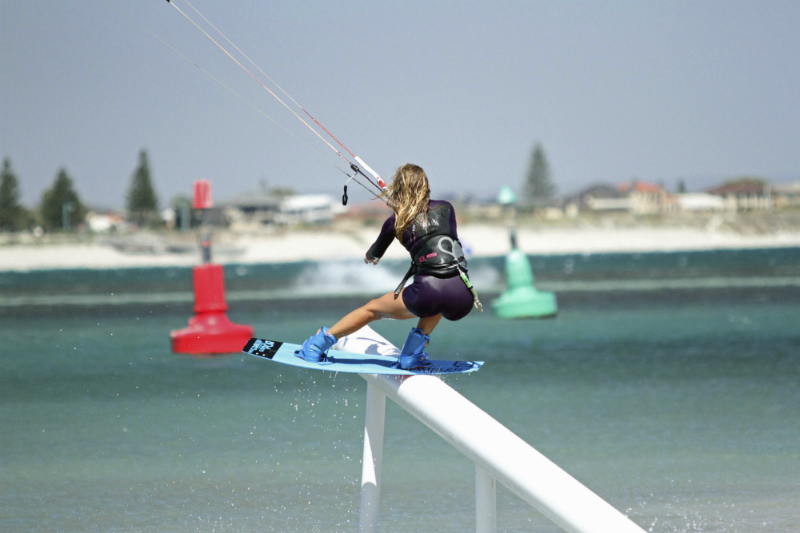 Colleen Carroll, on the launchpad…
We want to take a look at the importance of having a go at each of them or at least the importance of broadening the potential of your time on the water. But before we do that, we take a quick peek at what's on offer…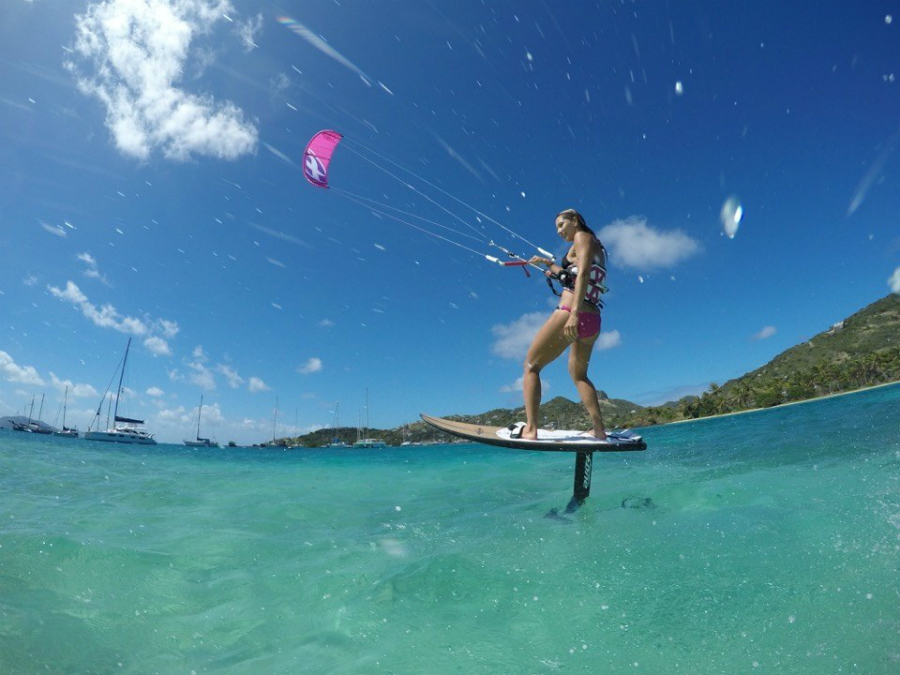 For the love of Foil: Marie Desandre Navarre

Freestyle
Although we tend to associate this with wakestyle unhooked moves, let's not forget that the origins of freestyle were as much rooted in Big Air, but regardless of your thoughts on this, you will be jumping, spinning, grabbing and if you're lucky, passing the bar. You will be on a twintip board and have your bindings attached pretty tightly, or be wearing boots.
Surf
The purists choice. No straps, just using the kite to get you into those waves you always dreamed of surfing. Also a very popular choice when your knees no longer want you to do freestyle any more, although there is also a freestyle surf movement which will be sure to involve a few fins to shins encounters. You will also be spending a lot of money on boards and even more on oversized baggage fees.
Sliders
Coming straight out of the cable park this style was popularized in the flat waters around Cape Hatteras and involves hitting features such as ramps and sliders. Although daunting at first it is hugely addictive and not as hard as you first think. You will, however, be wearing boots, most definitely a helmet and have a firm focus on 'styling it'.
Speed
This is where world records are made and lost. Rob Douglas, Alex Caizergues and Charlotte Consorti all have set them and lost them. This discipline is easy to understand… you go hell for leather as fast as possible in a straight line. Sound simple? Not for the faint hearted, as when it goes wrong at +50knots in a shallow channel of water it is likely to hurt quite a bit. You will have a board that is long, thin and top secret and be wearing all the protection you can get that isn't likely to slow you down.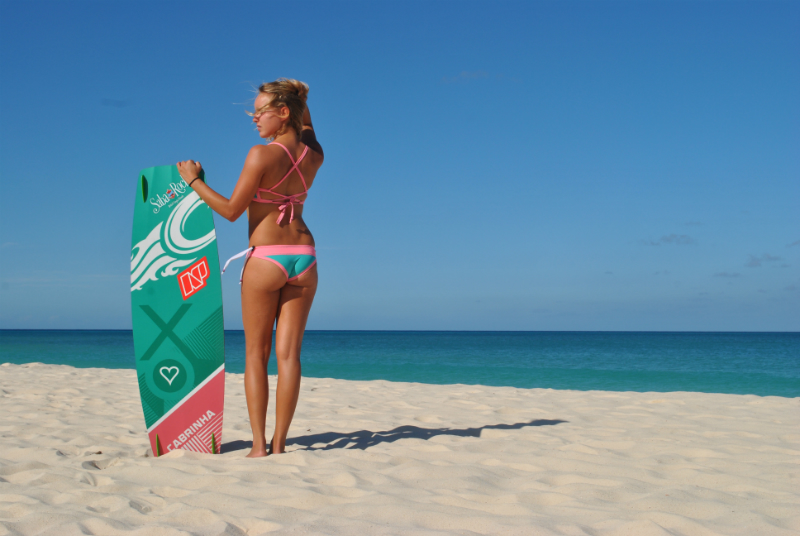 Annabel van Westerop: Multi-talented.

Race/Slalom
This is by far the most open and inclusive discipline. Anyone who can go in a straight line upwind can race. We have all done it with a friend or that windsurfer who thinks he can tear past you at your local spot. Racing is all about kiting on a set course, and of course being first. It can range from being hugely technical, to a mad dash and extreme avoidance of other peoples kites and lines. You will likely need a racing board which might set you back a bit, but that did not stop Annelous Lammerts notching up second on the world tour on a twin tip with boots and a smile.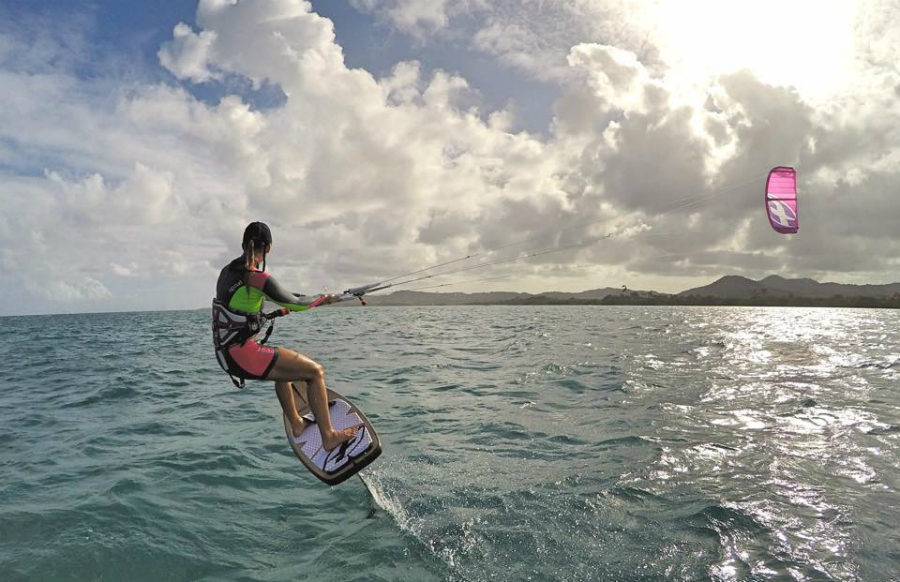 Marie Desandre Navarre heads into the middle distance
Foil
The new kid on the block in some ways, although in truth the technology predates kitesurfing and originates from the boating world. Foiling involves using a board with a hydrofoil fin to lift you above the water, eliminating noise, drag, spray and being really rather efficient. It can be a bit of a balancing act to start with and in the current market purchasing a foil might also require balancing your finances, although that said there are cheaper foils coming into the market and it is possible to make your own with a bit of talent and hard work.
You will likely be on a much smaller kite size to everyone else, be riding in 7 knots whilst everyone else is on the beach and avoiding very shallow water.
Freeride
When you don't fall into any of the above categories, or just do whatever you want, when you want, then you can happily classify yourself a freerider. A term that has been hugely popularized by the pros we see on our newsfeeds who decide they would rather travel the world free from the constraints of competition. This is the jack of all trades discipline.
You will likely be riding whatever you please: twintip, an early directional board from 1999, paddle board, fridge door… you name it.

Colleen Carroll, freestyler, at one with the natural environment
So how important is it to be a multi-discipline athlete? Well the world tour certainly thinks so with the VKWC awarding an overall title this year which will encompass all of the contested disciplines of freestyle, wave, slalom and big air. If you forget about competitions for a moment however and focus on mindset alone, there are huge advantages in 'trying a bit of everything', so to speak.
We spoke to some of the top female riders to see what they had to say on the subject…
Colleen Carroll
To me, one of the most unique and special things about the sport of kiteboarding is that there are endless possibilities in the way you can express yourself on the water. I love that one day you can ride freestyle, the next boost big airs, try out a new style of board, find something creative to play on or hit the ocean. As a professional in the sport, it can be valuable to your sponsors to excel in more than one discipline but more than anything to mix it up keeps things fresh, fun and ever changing!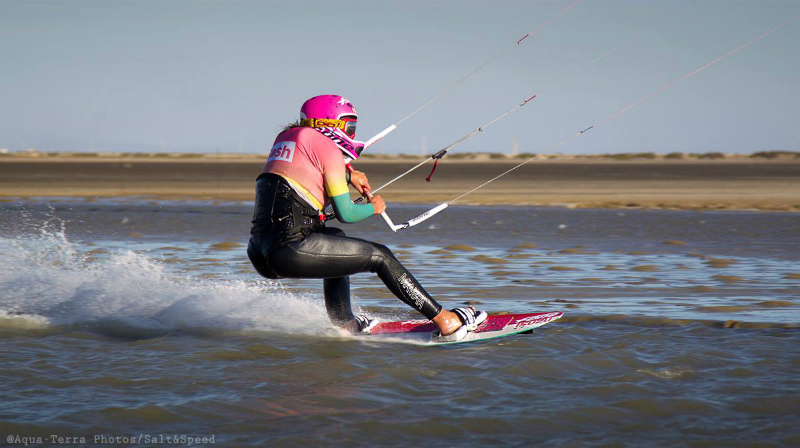 Former record holder Charlotte Consorti, at full rev
Annelous Lammerts
I think it's pretty important to practise multiple disciplines. When you do too much of the same it can get boring and all the different disciplines in kiteboarding are so much fun! Also, getting better in one will help you with all the others and you might win some extra prize money while your at it.
Annabel van Westerop
I'm pretty freestyle-minded at the moment, but I personally love that idea that the Triple-S has always kept the idea high that riders should diversify their riding as much as possible and it is on my bucket list to compete at the Triple-S one day. While training super hard for the VKWC it's hard to find time for other things like sliders, waves, and foiling. However, I do enjoy the occasional ride on a surf board or foil.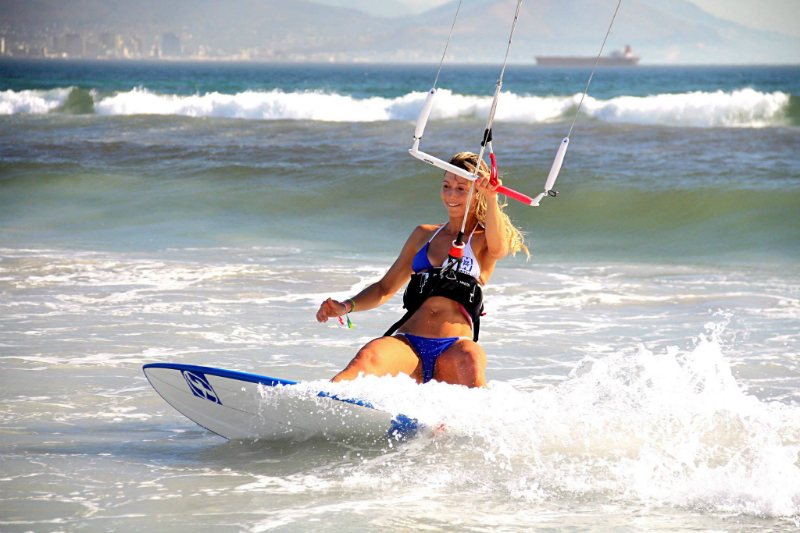 Marie Desandre Navarre mixes it up in the shallows
Sensi Graves
Sliders may be my favourite discipline, however I think there's importance in mixing it up. I have really gotten into foiling lately and incorporating many different aspects of kiting is what keeps it fun and fresh! To get your head in the game, sometimes you need to remember why you're kiting in the first place (hopefully for fun!).
Liloo Gringa
There is nothing better to practise other disciplines to unlock the mind and find positivity and pleasure and then return to our main discipline.
Practising other disciplines also allows us to strengthen parts of the body that we don't work normally and allows us to learn how to manage other aspects, like in racing where you must focus on timing, strategy and precision and fair play. This makes us into complete riders and allows us to kite in any conditions and any spot.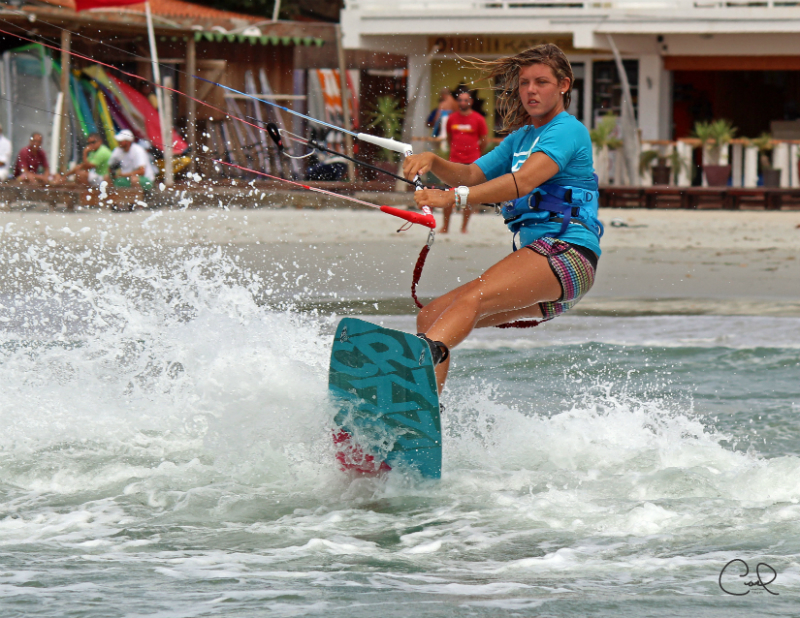 Liloo Gringa, heads out to turn on…
Malin Amle
I just like to do whatever I feel like and think is fun! In the end this sport is about having fun, and I think the riders who manage to stay stoked are the ones who progress. This also holds for all disciplines and a good way of keeping the stoke is to practise different disciplines. When you get tired of crashing technical freestyle tricks, go out a windy day and go for big air or take a surfboard out in the waves. The cool thing about this sport is that there are endless opportunities for what you can do with your kite and why not take advantage of that. I do admire people who can shred in any discipline, even though I know it takes focus on one discipline to really become the best.
Holly Kennedy
That is one of the great things about kitesurfing: the variety in disciplines. It also means you can get more time on the water as a few of the different disciplines are practised in diverse conditions. For example, when there is a light sea breeze you can take your big kite and go race or foil, or if the wind is real strong you can boost some big air or freestyle moves. With practising different disciplines it also enhances your knowledge of the sport, the wind and weather too.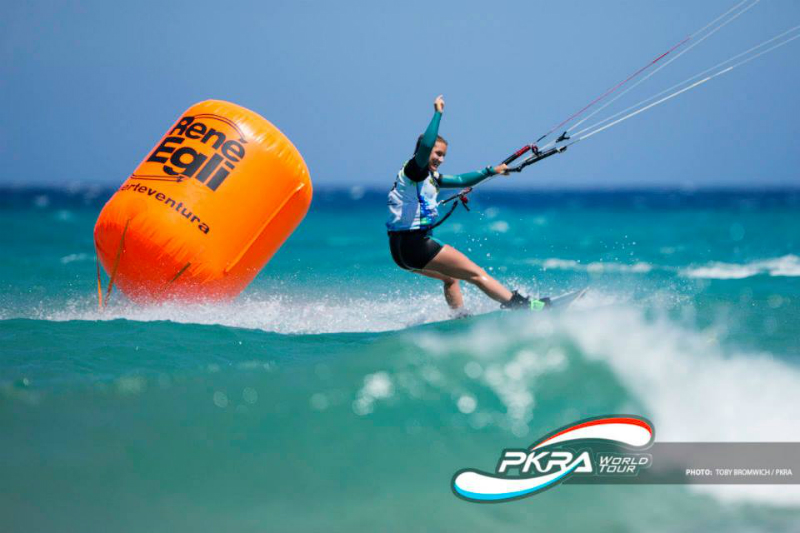 Annelous Lammerts takes on the slalom and hits 2nd place
Maureen Castelle
Kitesurfing offers us so many possibilities where we can just as easily put a twintip, surfboard or foil under our feet. Although I am spending a lot of time training for freestyle at the moment it always helps with training to hit the sliders or the cable park as they are a great compliment to training.
To conclude, we 've mentioned what disciplines are on offer, explained a little about what you will need and shown you that they are both accessible fun. So, what are you waiting for…
Words & interviews: Kite Sista Magazine