Peter Lynn Kiteboarding follow up their recent release of the 2016 Fury with the new Escape kite… one that'll help you hit that next level of riding. Here's what they have to say on it:
"The 2016 Escape is built to make you look as good on the water as it makes it easy to bust out your most radical moves…
We at Peter Lynn believe that every kite session should inspire you to progress while having a blast on the water. The Escape gives you the ability to do both at the same time."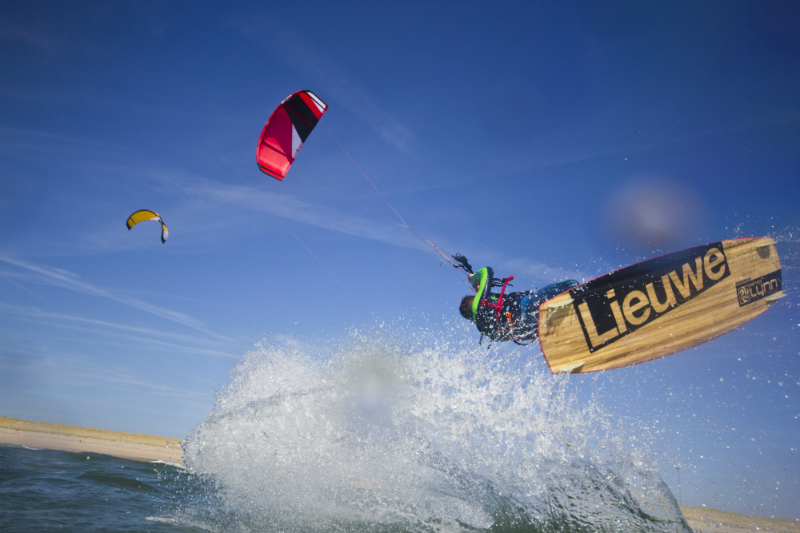 "The stability, its intuitive handling and controllable performance of the Escape all contribute to that feeling of trust and safety when pushing yourself to the next level. Once you've launched the Escape you will notice how good it maintains its position and how stable it is, but when you pull the bar you will feel the kite come to life instantly. Although the Escape is as well behaved as a kite can be, in the right hands it becomes a powerful performer without limitations.
The Escape caters to the needs of any freeride and freestyle rider. By working closely with riders, schools and pro's alike, and listening to their feedback we have created a kite that will continue to offer performance while you grow your skills as a rider, in whatever discipline you practice.
Its adjustable bar pressure and bridle settings make the kite suitable for riders of different skill levels and disciplines. Whether you are into cruising around, freestyle or wakestyle, the Escape delivers.
The Escape is built with Tejin sailcloth and Dymension Polyant Dacron as well as the very best construction techniques, With these uncompromising high standards the Escape sets itself apart from the majority. For this new generation we have redeveloped the Escape's unique panel lay-out into a V shaped lay-out for optimal pressure distribution throughout the canopy. The Escape will guarantee care free and fun sessions every time you go out to play and will continue to do so for a long time.
The Escape is also built for ambitious riders who want a kite that pops hard and boosts big. It is the ultimate freestyle and freeride machine that delivers its power in a stabile and predictable manner. This allows you to become the rider you want to be and progress with success."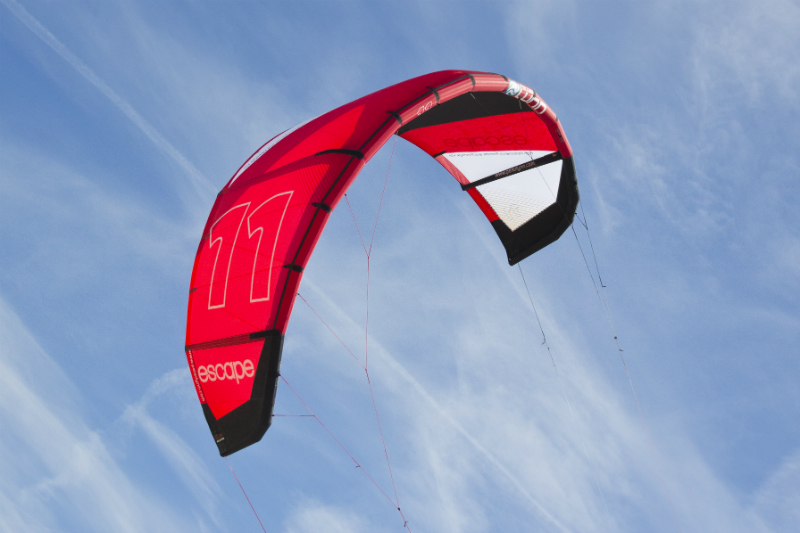 "Its smooth and predictable handling and its controllable lift and boost give the rider a feeling of confidence right from the first time they launch it. Multiple trim options make the kite suitable for a wide array of skill levels while giving it an incredible performance range.
The stable 4-strut design provides good grunt, lift and boost while the squared wingtips ensure fast and direct turning with a solid bar feeling. Boost your confidence and riding skill with a kite that lets you enjoy every aspect of kiteboarding in total control, comfort and confidence."
Size: 05m2, 07m2, 9m2, 11m2, 13m2
Type: LEI
One pump: Yes with high flow valve
Number of struts: 4
Colors: Red Black, Yellow Black
More information: www.peterlynn.com/lei-kites/escape