Day five of the Pingtan Kiteboarding World Cup dealt heavy conditions suitable for the epic battles that would ensue. Youri Zoon (NL) put together an explosive final heat to win the event, while Christophe Tack (BE) stopped Liam Whaley's (ES) run at the title securing his place as the 2014 PKRA Freestyle World Champion.
Zoon's win here does not weigh heavily on the rankings but proves that he is back from his injury and is ready to be a title contender in the 2015 season. "For me it was just something to prove. Standing in eighth place before competition, I had no pressure at all. I've been training a lot, competing all of these years, I've been two-times world champion and wanted to prove that I could still do it."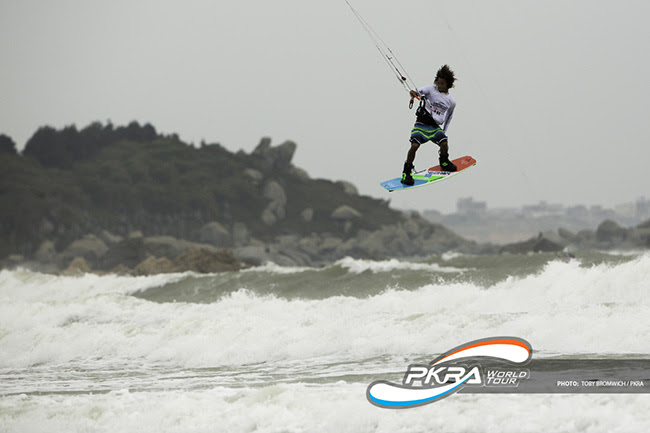 Landing a massive Blind Judge 7 and a 317 within the first minute of his heat in the final, Zoon scored big and set the tone for the remainder of the heat despite some impressive kicker tricks from Tack. "I won, but I'm most happy that I rode a really nice heat and showed what I the sport is all about" he added.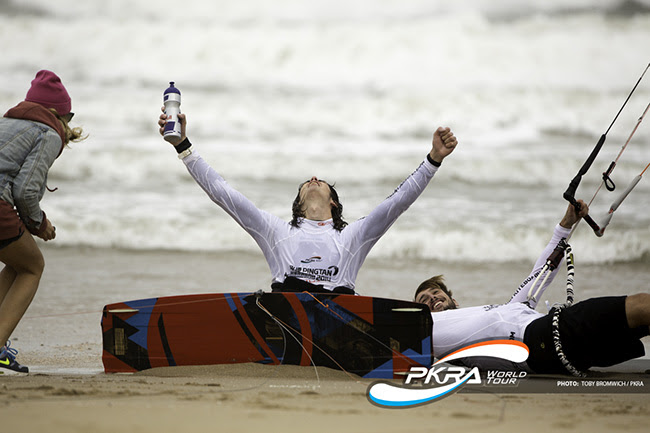 All eyes were on the heat between Tack and Whaley, as it would decide whether the battle for the world title would come down to the last stop in Hainan, or be determined here in Pingtan. In one of the highest scoring heats in PKRA freestyle history, Tack crushed Whaley's chance at the title earning 40.4 points with an impressive Front-side 720, Toe-side Backside 5 and Blind Judge 5, amongst others. "It's like a dream come true, just unreal- after all these years" he exclaimed.
"I've been really focused on breathing and being present in the moment. Not having thoughts about the past or future, just thinking about what I want to achieve and visualizing success. For the eight minutes before the heat I was just breathing in and breathing out. I didn't go into the heat with a fixed routine, but I just did the tricks that I felt to do. I saw Liam and said okay, I need to do this, let's finish it off. Once I landed the Seven and Toe Back Five, I was like, okay this is going my way."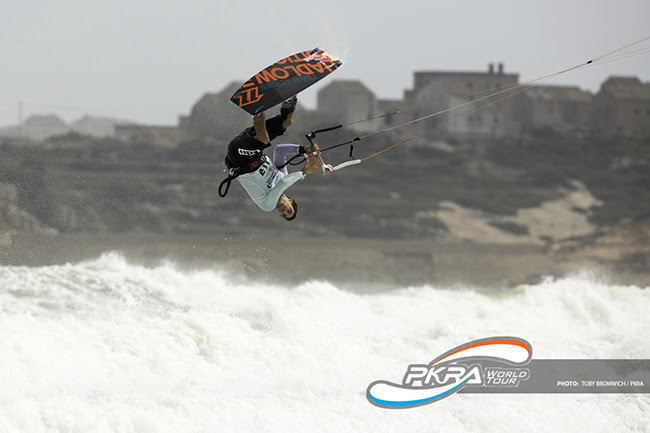 Annelous Lammerts (NL) ousted Bruna Kajiya (BR) taking over the third place spot but fell to Karolina Winkowska (PL) in the next round. Highlighting the women's action was the world title battle between Winkowska and Gisela Pulido (ES). With challenging conditions for the girls riding their smallest kites, Pulido succumbed to Winkowska in the final by a narrow margin, forcing a super-final, whose results were deemed to be inconclusive. A re-run of the women's super final will be held tomorrow, the last day of competition. Winkowska's win was able to stop Pulido's advance at the title, if only momentarily. If Pulido wins tomorrow, the title race will come down to the last tour stop next week in Hainan, China.
Highlight heats recorded live can be viewed on the PKRA Youtube Channel.
Tomorrow's forecast is for winds to be 15-20 knots. Riders meeting will be at at 12 pm with a first possible start at 1 pm.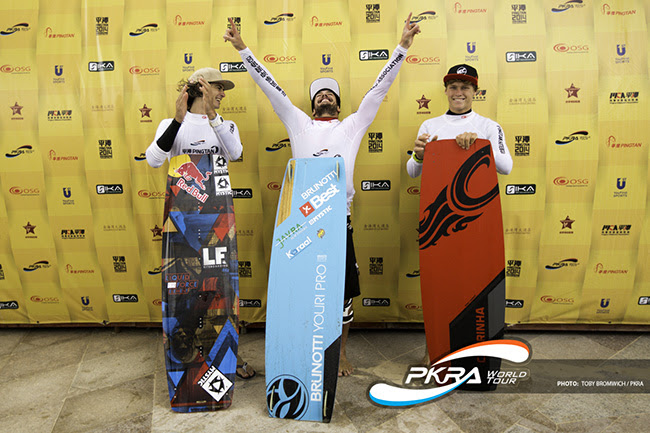 Pingtan Kiteboarding World Cup Men's Double Elimination Results:
1st – Youri Zoon (NL)
2nd – Christophe Tack (BE)
3rd – Liam Whaley (ES)