3 months ago I signed my three brothers (Alex, Oli and Jake) and myself up for the Red Bull Ragnarok, the world's most ridiculous snowkite challenge. We're heading out with my parents and some friends – Sam, Matt, Nathan And Charlotte.
Now, Oli and Jake can barely fly a kite between them, so this will be a challenge on many levels. Alex kitesurfs, but has never snowkited before so he, Sam and I flew out for a warm up weekend with a couple of my mates from university, Rob and Harry.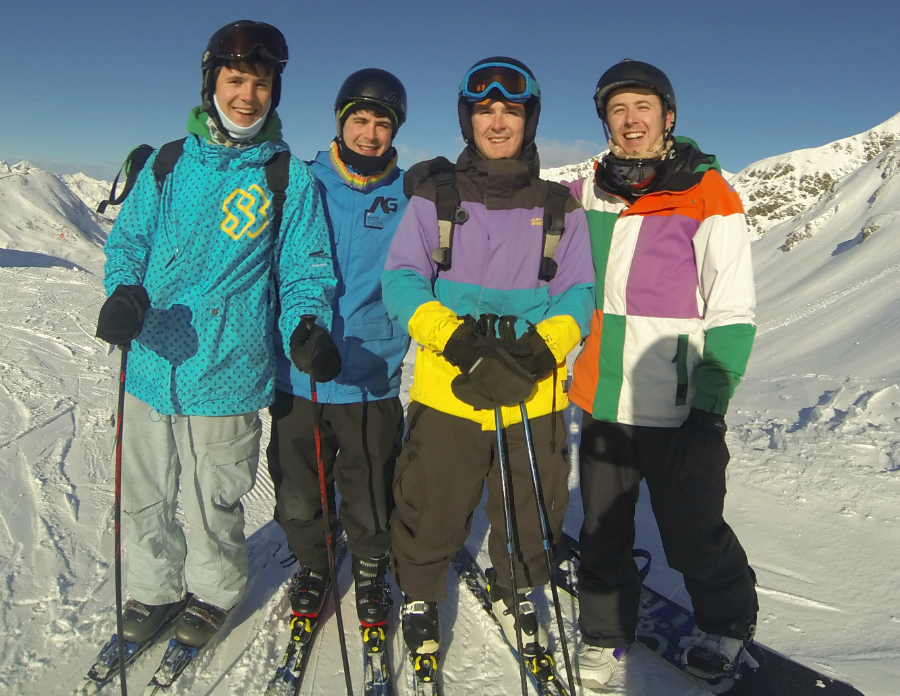 The Gllespie Bros: (from left) Oli, Jake, Alex and Ben.
We had a sweet time and are pumped for ten more days of the same in April. The guys at TheKiteMag have been good enough to let us document the trip, which is a great opportunity to tell people about this outrageous sport and, actually, how easy it is to have a go at. And this is what we've been up to so far…
I arrived at Stansted airport on Thursday evening after traveling through London at rush hour with 6 kites, including an untested batch of Ozone Access's (under advice from Polly Crathorne, we got in touch with Tom at Maxtrack who hooked us up with a load of Ozone kit to supplement our ragged assortement of LEIs). I received a text from Rob proclaiming his simultaneous arrival… at Gatwick. Given that our only communication about the trip had been a ten minute conversation three months previously, this felt like the almost inevitable punishment for my refusal to be any more organized than absolutely necessary. Fortunately it was just Rob being a twat, and he sauntered round the corner with his 8 year old Best Waroos, and similarly recent haircut, at the same time as Harry. Alex and Sam arrived within minutes, and after the obligatory reshuffling of baggage at check in, we were off!
At this point, it's important to explain that Sam is notoriously ridiculous. In particular, she cannot be trusted to operate a vehicle, especially not when there is more than one life at stake, or when the steering wheel is on the wrong side of the car (why is that anyway?), or when the car is bigger than a Ford Ka. That's because Sam drives like she's a 5 year old bowling with the bumpers up, and is why, for the last five trips we've been on, Sam has never been allowed behind the wheel. This time however, after six phone calls and six declined credit cards, we had to break the news to a delighted Sam that, yes, we were not only letting her, but asking her, to drive.
By the grace of God we arrived in Geilo at 04:30 and pulled off the main road to find our cabin. After a terrifying drive down a quiet farm track in the pitch black, we took up residence on what might as well have been the set of the Texas Chainsaw Massacre. After checking all the windows and doors were securely locked, and looking under the beds for body parts, we set alarms for 9 and hit the sack.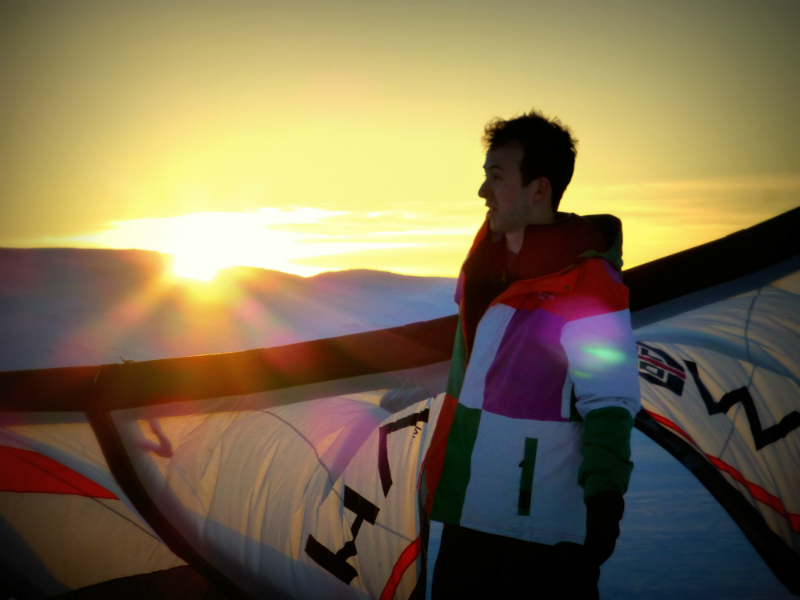 Day 1: The warm up
At 9am the sun was shining and the air was still, so we took a drive to the town centre to sort out kit. You can snow kite in Geilo but it's not the normal spot, it just happens to be the last real bit of civilisation before you get deep into the Hardangervidda. The real kiting starts at Haugastøl, 23km from Geilo on Route 7, where there's a hotel which caters for kiters and other outdoor sports enthusiasts. From there, you can kite right outside on the Sløddfjorden, or you can drive to any number of spots. Dyranut is as far as you normally need to go, and is only 30km from Haugastøl. There's a pretty good map here: www.haugastol.no/index.php?m=snowkitingspots&lang=en
We called Bjorn at Haugastøl using Skype and the free wifi in the town centre, and found out it was windy towards Dyranut, so, after renting regular snowboards and skis from Geilo Skishop, we loaded up the car and got going.
An hour of easy driving and phenomenal scenery later, and we saw the first kites in the sky. Within 5 minutes we must have seen thirty more, and on a weekday too. Luckily, there are literally hundreds of square kilometers of untouched terrain to explore, so we pulled into the next parking space we saw and set up.
In terms of experience, we're all competent kitesurfers, all apart from Sam doing unhooked tricks. If you're worried about the transition (even to skis) don't be – we were all cruising upwind in about 10-12 knots immediately. On day one we were happy to pretend we were kitesurfing, so we were practicing jumps, the odd backroll and a couple of raleys. Towards the end of the day we built a little kicker and had a glorious sunset photo shoot. These pictures are of Alex (skis) and me…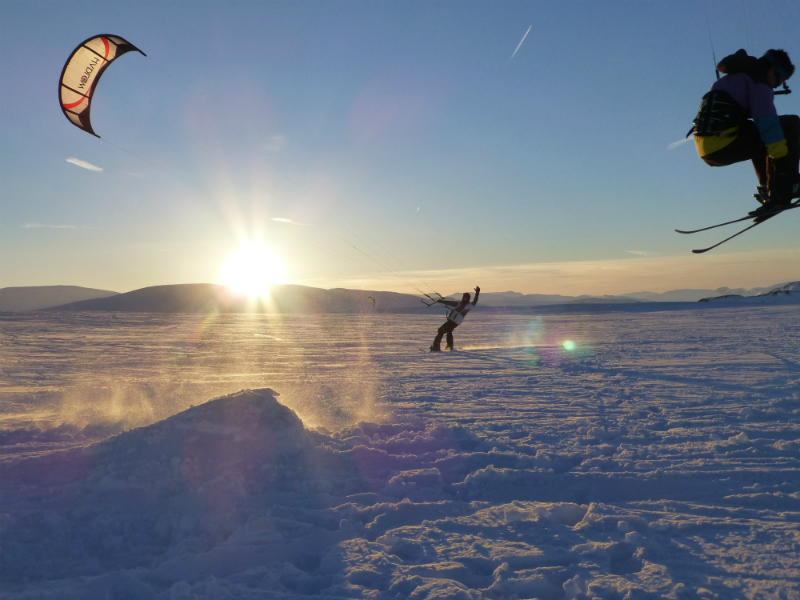 Day 2: Freestyling + Touring
Stronger wind meant good spots close to Haugastol. As ever, we just drove until we saw kites. This time we brought a shovel, and found what one of the locals called "the only good snow for freestyle in all of Norway". We spent an hour digging a massive pit to provide the snow for a proper kicker, built a monster, then realised the pit was in the landing zone… With the snow being softer, some of the locals were throwing down some serious freestyle.
For us, we found popping on snow harder than it looked so we stuck to the kicker. We started to do a bit of touring too – PROTIP: snowboard touring is the hardest thing your legs will ever have to do. We also discovered that there are huge dead spots in the wind in various places, so we started to look ahead of ourselves for signs of snow being blown around before venturing anywhere new.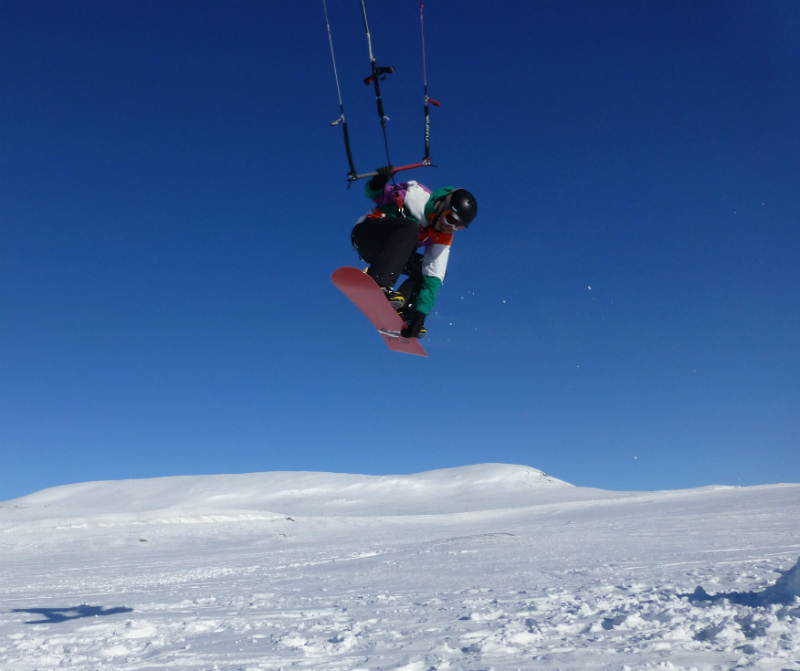 Day 3: Mountain climbing + Speed runs
After taking a pounding yesterday, we decided to join Alex on skis – the best decision I've made all year. The wind was a bit stronger again, so we were able to ride at yet another spot, and this one was just outrageous. For reasons I don't understand, the wind was super consistent across a vast area of rolling hills, with a mountain dead downwind. Within 5 minutes of setting up we'd decided we had to get up that mountain, so we flew downwind and started trucking up the face. It's genuinely as easy as it looks, until you get to the top – absolutely terrifying.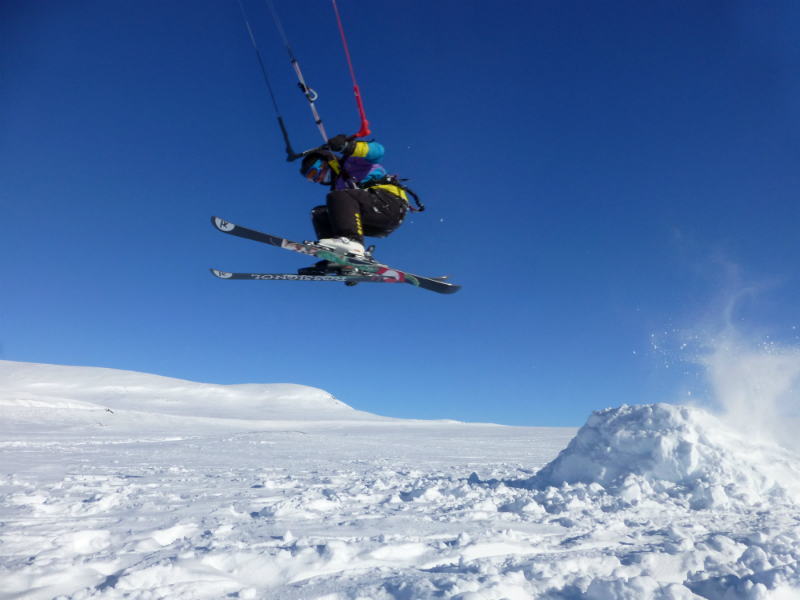 Once we found a gentler route down, we relaxed and settled in to watch the locals. They were throwing down in the massive natural half pipe nestled into the top of the mountain. These guys were chucking backloop kite loops and landing back in the pipe, which was incredible! Then they'd cruise to the steepest section of the mountain, jump off and fly to the bottom.
Having decided to save that particular adventure for another day, Alex, Sam and I packed up our foil kites and skied down, whilst Harry followed more slowly with his LEI still flying. At the bottom, we found a gentle slope heading into the wind, unrolled our lines, and skied away from our kites to launch them. To our delight, this worked perfectly (except for Sam, remember the dead spots I mentioned?). One hilarious hour later and we were on our way.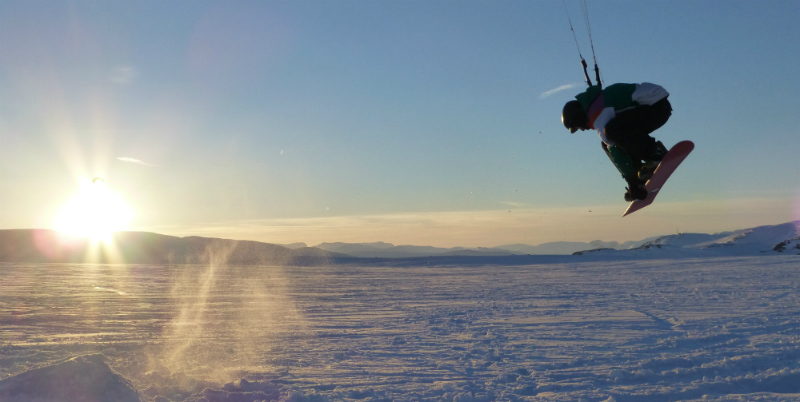 The rest of the day was spent setting personal bests on speed runs and exploring the terrain, looking for natural features. There are absolutely loads and if the wind is good it's all accessible. This was by far the most exciting thing to do, and just made the trip.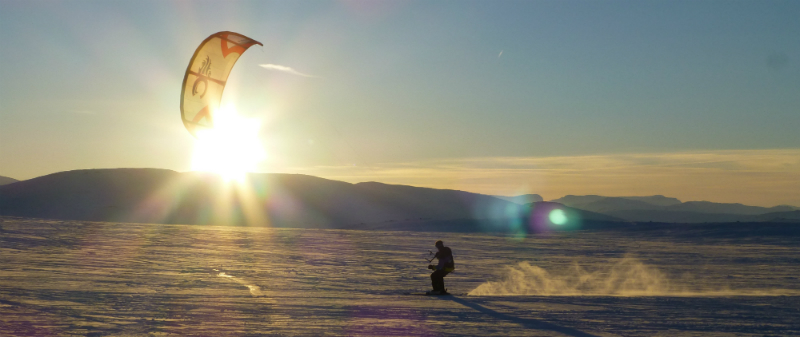 As soon as we got home, I changed my entry for the Ragnarok to skis. I probably won't bother boarding at all next time, skiing was just too much fun.
And that was that. We asked a bunch of people if we'd just got lucky with the conditions, but no, apparently sun and wind is the norm for March, April, May and even June, so we're hoping for more of the same when we go back! The next challenge will be teaching our younger brothers, Oli and Jake, to kite in the 5 days before the race…
Updates to follow!
Ben Gillespie