RRD's brand new Y27 harness collection is cleaner than ever, with some brand new innovations and fine tuned classics.
---
This year we have simplified our range and combined a few kite and windsurf models together into one universal model that can be used safely for both kite and windsurfing. Look for the PLUS models in the collection. The universal spreader bar and hook can be purchased separately too to convert any model into a universal one.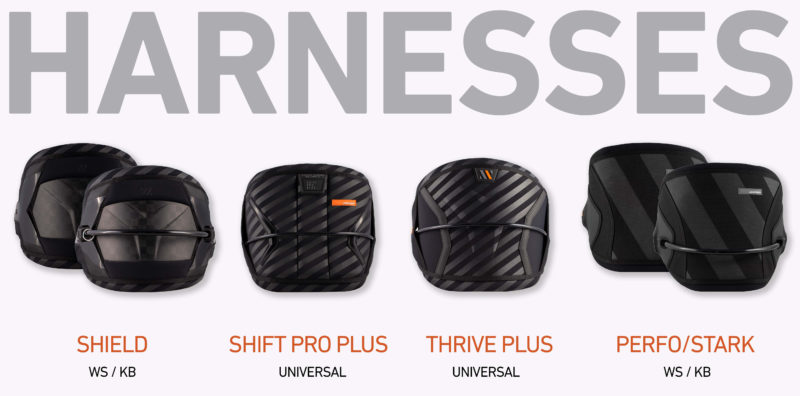 The Shield
The Shield is RRD's premium low profile carbon support kiteboarding harness. The light and stiff outer shell is a 3D moulded spread tow carbon composite plate that stiffens up the back of the harness. The stiff back enhances the support by spreading the pulling force from the spreader bar evenly over your back. In contrast to some other hard shell harnesses on the market, the side and rib areas remain slightly flexible, to allow for unrestricted body movements and rib protection.
The Shift Pro Plus
The new universal kitesurf / windsurf Shift pro plus is the most comfortable harness in the range. The back of the harness features our new composite ergonomic back support batten technology. The naturally shaped internal plate is relatively flexible, this makes the harness great for wave riding, foiling and less powered sessions. The barpad with universal kite/windsurf hook can be swapped out for a rope bar with stabilizer wings (available separately). A rope bar converts any waist harness into a kite wave harness. It helps to extend your turns, by allowing you to rotate further and easier than you would with a hook spreader bar.
The Thrive Plus
The success of the universal windsurf / kitesurf Thrive plus lies in it's vertically curved ergonomic back shape. Suitable for riders with a more hollow, curved lower back, or riders that prefer an upright riding position. Riding styles like down the line wave riding, foiling or freerding will get you the most out of the Thrive plus harness.
The Performance/Stark
The Stark is our most flexible but supportive harness. The softer, natural pre-shaped inner plate and neoprene inside make the harness adapt to your body. The flex and softness allows for unrestricted body movements, which is most appreciated in less powered, shorter or fun freeride/wave sessions. The Stark is equipped with RRD's barpad with stabilizer wings. It's rope bar compatible to allow for extended turns while riding waves.
For more info and specs, visit RRD.com