Slingshot have announced details of their new kite range for 2015, not least the new RPM, which comes with a brand new 'One Pump Speed System' and an innovative new bridle system which, Slingshot claim, will be a game-changer in the industry. This from Slingshot themselves…
"Chief Designer, Tony Logosz, just did to kites what the suspension system did for mountain bikes. This was not an easy task but after extensive research and development Tony and his team made a huge breakthrough in the engineering of the RPM bridle. We are proud to introduce our new revolutionary IRS bridle system.

"The Intuitive Response System (IRS for short), is a new revolutionary pulley-less bridle system that combines a "Direct Drive Bridle" and a "Suspension Displacement Bridle." The combination of these two advancements act as a shock absorption system and distribute tension properly to where it's needed; much like a shock would do for a bike or car suspension system. The new IRS Bridle is a bungee system that not only eliminates pulleys, but also eliminates the lag time that results from the pulley having to travel fore and aft along the bridle line. Riders will notice a huge improvement in the kite's stability with immediate and smooth feedback.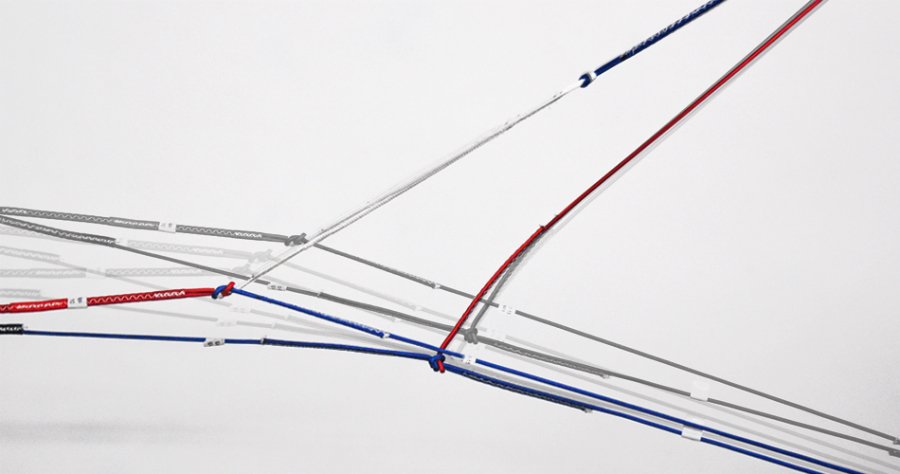 The new Intuitive Response System (IRS)

"The IRS bridle is not the only improvement on the new RPM – we are also introducing our new "One Pump Speed System." You will find the system dramatically reduces inflation time so you get on the water faster and with less effort. Other improvements include our bomb-proof construction with a all new diamond leech trailing edge construction and new DP 175 Dacron leading edge and strut material. These added features compliment our proprietary tri-tech protection making this the most durable RPM ever."
For more on the new RPM, head over to: slingshotsports.com/2015-RPM

In addition to the technical improvements on the RPM, Slingshot have also made serious improvements to the rest of their product range, including the Vision, Glide, Crisis and Turbine. Links below to see exactly what…
– 2015 Turbine Tech Video
– 2015 Vision Tech Video
– 2015 Glide Tech Video
– 2015 Crisis Tech Video