Slingshot have released their well thought out learn-to-foil system, the "Foil Flight School". Details are below, with accompanying instructional film. Great to see a brand bringing this relatively new technology into the realms of the beginners… Nice work Slingshot!
Foiling is an experience unlike anything else in kiteboarding. No matter how good of a kiter you are or what category of the sport you fit into, the sensation of gliding silently and efficiently over the water, and the pure freedom foiling provides, is positively addicting.
Introducing Foiling Flight School: This industry-first program suddenly makes learning to foil a whole lot easier…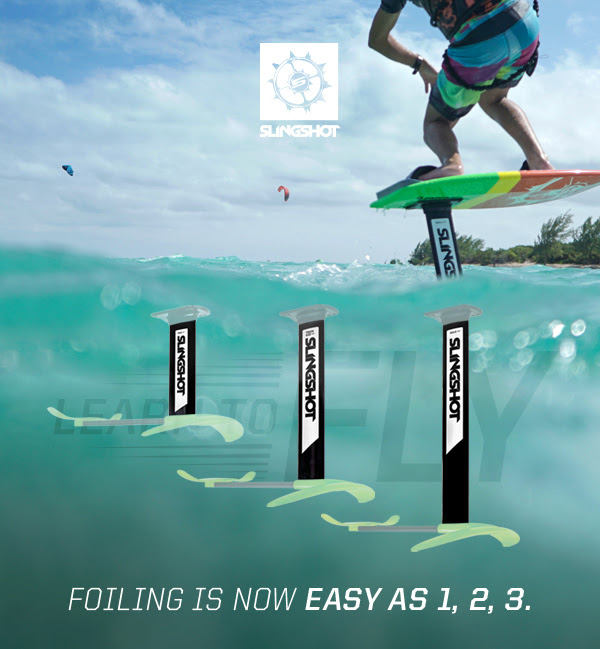 Flight School Product is a simple do-it-yourself learning tool consisting of three separate masts of varying lengths: 15" (38cm), 24" (61cm) and 30" (76cm). They can be purchased individually or as a package. Foiling Flight School is designed to work exclusively with our complete Hover Glide foil, which comes stock with a 35.5" (90cm) mast.
– Learn to properly handle your foil and board on and off the water
– Taxi your board and lock in on the feeling the first day
– Ensure safety and confidence every step of the way
– Learn Touch and Goes with ease and control
– Put it all together in Solo mode and start experiencing flight
– No Fear, No Stress
– Learn at your own pace
– Added value: Optimize your foil mast length based on local conditions
For more information on the Slingshot Foil Flight School, head here: http://www.slingshotsports.com