Duotone have released their new 'Academy App', with 150 unique kite videos to help you learn, and access to advice from the pro riders themselves. You can find the (free) app via here, but here's the full news from Duotone on this exciting new way to learn…
Not getting upwind is driving you nuts?
You don't know how to do a Raley?
Or you don't stick your 313?
Now it's time to REDEFINE YOUR LIMITS – with the new Duotone Academy App you will make it to the next level, become part of the community and get in touch with your idols.
The Duotone Academy App is an absolutely unique, cost free tool, which provides over 150 individual kiteboarding videos featuring all the core techniques and tricks for beginners to experts and personal advices from the best kitesurfers in the world. You can start anytime, no matter which learning stage of kiteboarding you are in.
During learning how to kitesurf, there are many smaller and larger hurdles which make further development nearly impossible. Often it's just about not having the right tip at the right time of training.
Since the kitesurfing skills and disciplines are extremely diverse, it is very difficult to provide a general guideline for the learner.
Christopher Zarfl (film maker of the DTK Academy App) told us: "With my growing passion for kitesurfing it was just a logical step to think about a kitesurfing academy. I talked to Tommy Kaiser (Head of Marketing, Duotone Kiteboarding) about the idea in 2013 and it took us two years to get the project started: the first 40 videos were a great success."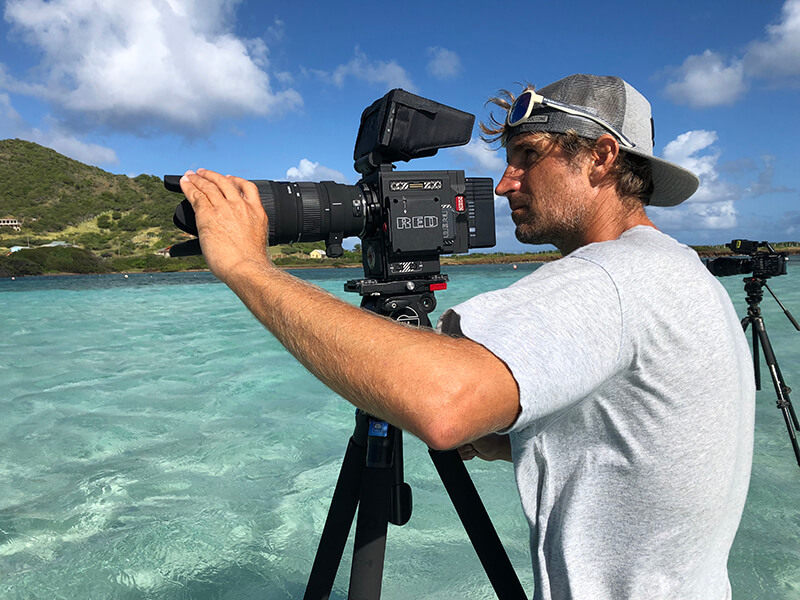 For this reason the Duotone marketing team decided to go one step further – "we took our existing Academy and turned it into THE Duotone Kieboarding Academy with an additional app" added Patrick Dudeck (International Marketing Manager, Duotone Kiteboarding).
The difficulty was not only in the variety of disciplines and skill levels, but also in the variety of kitesurf teaching techniques around the world and the different opinions about the right technique within the team. "So we had lots of discussions (yes, and sometimes they felt endless). But in the end, I think this is what makes this project special: The app was created by a big team of experts – most of those experts leading in their discipline (the 3 world champions: Airton Cozzolino, Matchu Lopez and Aaron Hadlow; kite teachers from the biggest Duotone kite schools and Jeremie, a former professional kitesurfer with a lot of teaching experience and knowledge in filming and photography)."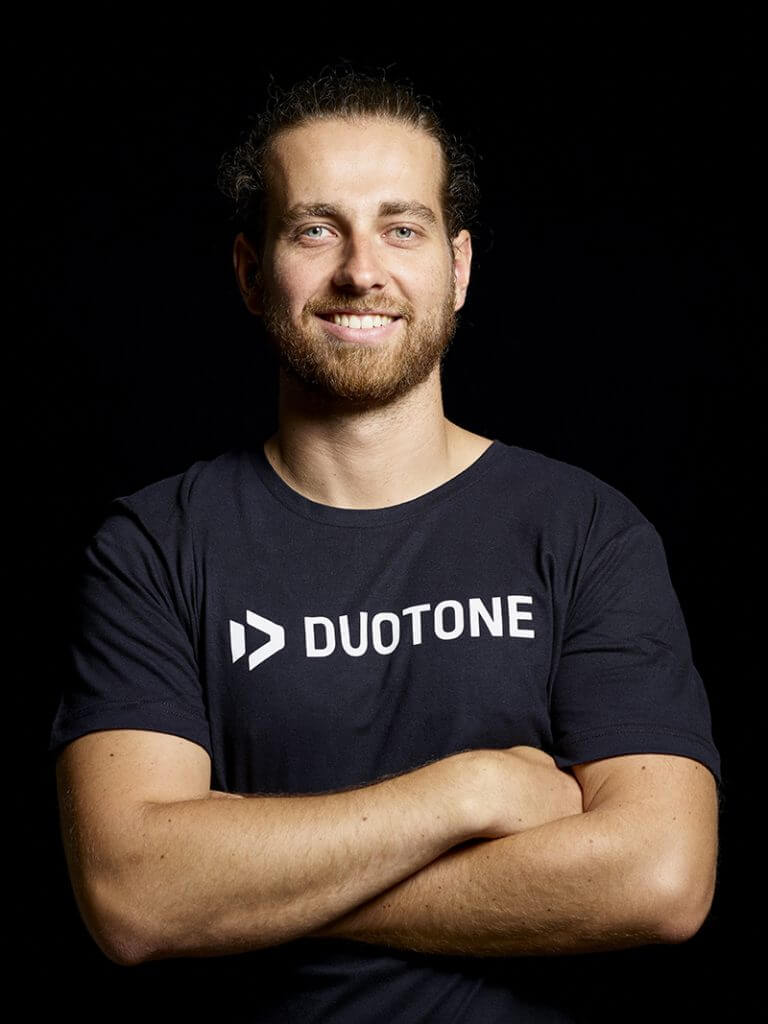 The project manager Patrick agrees with Christoph: "It was very important for me that all development team members know there jobs but it was equally important to have people working on the app, who feel the passion for the sports. So actually this app is made from kitesurfers for kitesurfers."
During a very complex process, Duotone developed this app with Philipp Rembold (iOS developer and kite enthusiast) and his knowledge from highly professional software projects at brands like Mercedes-Benz and Opel. "My personal goal was to meet the high requirements on appeal and quality in the final app product as I personally love it on Duotone equipment", Philipp told us.
The App leads the user step by step to the next level – regardless of the preferred discipline and the already existing skills.
Therefore key moments are explained in a simple, success guaranteeing way. For ease of understanding and clarification, slow motions, motion graphics and spoken explanations are used in all of the video lessons. In total Duotone has produced more than 150 How To's and detailed video tutorials exclusively for the Academy App.
The King of Freestyle Kiteboarding Aaron Hadlow said about the tutorial video production: "The filming for the project was quite tough, there are many tricks and you have to film them many times for different angles, having a shot from the drone, from the water and close up details shows all the points of view. We wanted to show the kite position and the body movement from different angles to show all the details."
"Following the shooting we had about 200 texts to write, 200 voiceovers to make, 200 videos to edit and 800 animations to create for this project. I think it may be the biggest and I hope also the highest quality kitesurfing media project worldwide." Christopher added.
The Duotone Academy App is aimed at all kitesurfers. Whether you want to learn to water-start, boosting your first jumps, spinning round a backroll or learning a jibe on the surfboard, the Academy App has you covered.
That's why the app offers six skill categories:
Basic: guides you during the beginning of your kitesurfing experience
Hooked: shows you the first jumps and spins for your kitesurfing tricklist
Unhooked: offers a range of advanced tricks for some serious style points
Foil: shows you how to fly above the water with a Hydrofoil
Strapless: demonstrates riding surfboards without the support of foot straps
Wave: contains all you need to learn for kite assisted surfing in the waves.
Duotone assures you, that all videos are shot in 4k and conform to the standard of the VDWS. The completely cost-free app can also be used in offline mode. You have access to your personalized kite library and to your downloaded clips at any time – even without phone connection.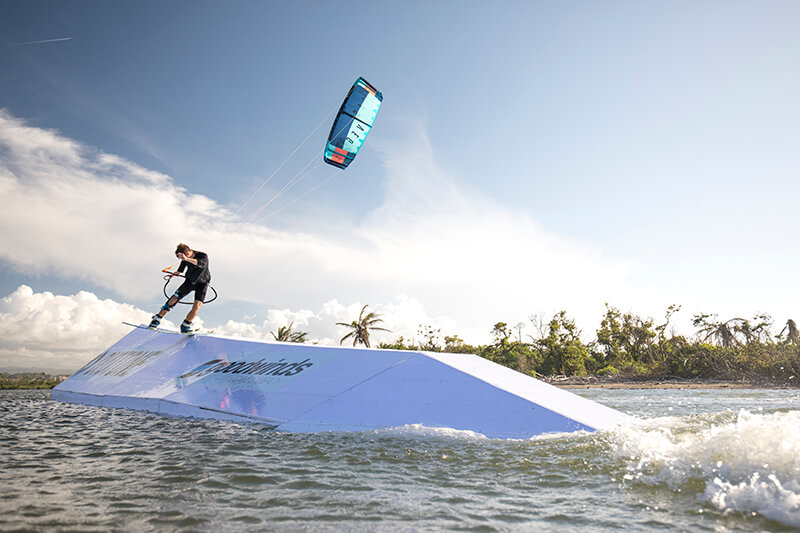 The Duotone Academy app is designed to help and motivate you to improve your general kitesurfing level and reduce injuries by having the necessary information.
Whatever your level is, the app will know what's next for you. A virtual trainer will recommend your next trick regarding on your skill level.
This is possible by uploading your own videos and pictures. On this basis you will also get analysis and help by the Duotone Academy community – for example by more experienced kiters, which have the exact right tip for you to improve. Furthermore you will get to know other kiters with similar struggles and you can help each other by sharing your tips and comments or you can even meet for a session through the lesson chat.
"My favorite feature is the Lesson Chat with the possibility to upload your current training in form of videos or pictures. By asking the community or team riders for help, we have created a unique offer for the community" said Philipp.
Also our pro riders are part of this community, making it possible for you to get in touch with the world's top kitesurfers and learn from the very best!
"I live for the progression of my kiteboarding so to share my experience and pass that on means a lot." Aaron Hadlow told us. "The academy app functionality is really intuitive, as a rider I understand how such a tool can help. Having the moves broken down and organised can give a much wider understanding of your level, what you can learn next and also great understanding of many tricks that maybe more achievable than you first thought."
SUMMARY OF ALL BENEFITS
FREE OF CHARGE
OFFLINE MODE
OVER 150 CLIPS
ALL VIDEOS SHOT IN 4K
VDWS STANDARD
6 SKILL CATEGORIES Beginners, hooked, Unhooked, Foil, Strapless, Wave.
UPLOAD YOUR OWN VIDEOS TO GET ANALYSIS AND HELP by the community and the Duotone pro team.
COMMENT ON TRICKS and help others achieve their next steps
VIRTUAL TRAINER TO RECOMMEND YOUR NEXT TRICK REGARDING ON YOUR SKILL LEVEL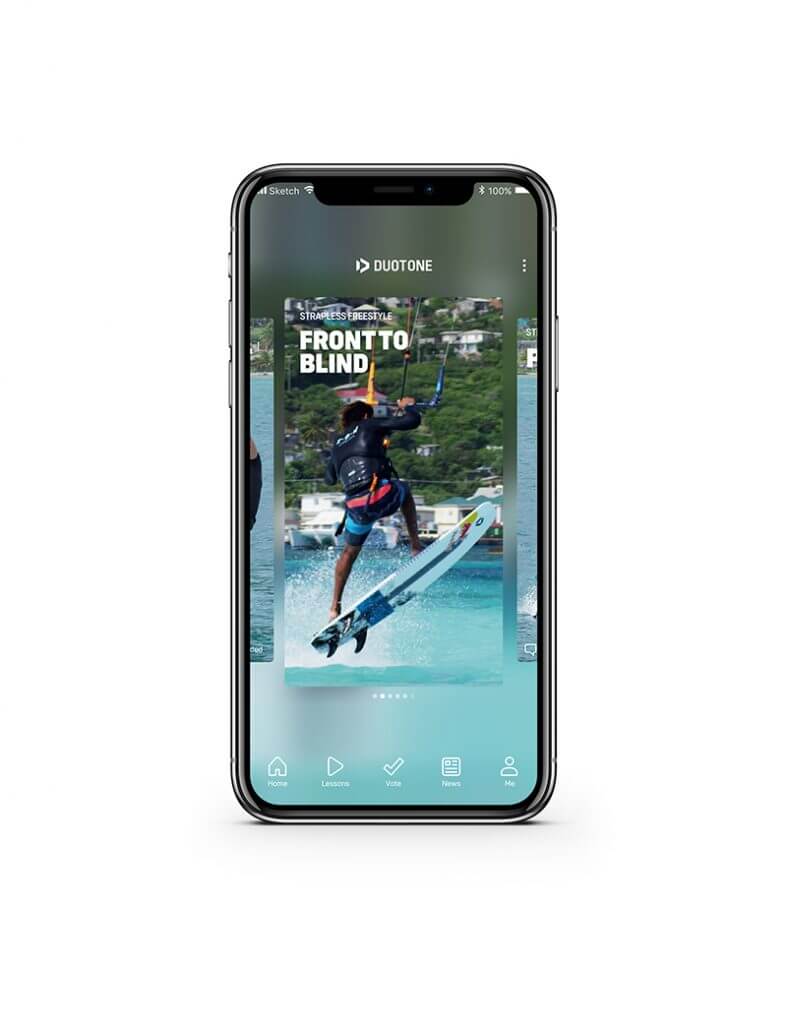 "I want to thank all designers and developers for their work especially because I think we have reached an impressive output" closes Patrick.
What more is there to say than that Duotone is proud of the result to introduce a new era of learning and improving kiteboarding skills:
IT'S TIME TO REDEFINE YOUR LIMITS!
Join the Duotone family: https://www.duotonesports.com/kiteboarding/academy-app/