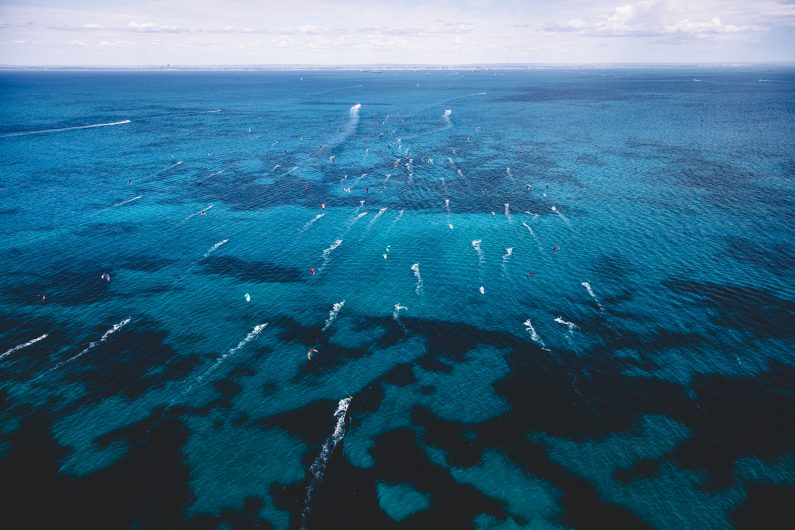 Back for the 9th year, the Red Bull Lighthouse to Leighton from Rottnest is back, and you can register to join it now!
Entries are now open to pro and experienced weekend kiteboarders to compete in Australia's longest and most exciting kiteboarding race, the Red Bull Lighthouse to Leighton from Rottnest Island.
The 19km race from the pristine waters of Rottnest Island to Leighton Beach, Fremantle, Western Australia will be contested for the ninth consecutive year, on Saturday 8 December 2018.
Event Director Tim Turner said there were 135 places available for competitors and he anticipated interest exceeding this figure.
"Each year we see a growing interest from local and international kiteboarders who have heard about the Red Bull Lighthouse to Leighton from Rottnest Island and want to take on the challenge.
"We expect plenty of return interest as well and get great support from the local kiteboarding community who will all be vying to beat the race record of 19 minutes and three seconds, set by Frenchman Nico Parlier in 2016."
Past competitors include:
Five-time world champion Aaron Hadlow (UK)
2017 & 2016 Hydrofoil Pro Tour Champion, 2017 Kitefoil World Champion and 2017 European Champion Nico Parlier (France)
2018 & 2017 Twin Tip Racing World Champion and 2015 Slalom World Champion Florian Gruber (Germany)
Five-time Female Race World Champion Steph Bridge (UK)
Three-time European Kite Race Champion and four-time U21 World Champion Olly Bridge (UK)
European Freestyle Champion 2011-2014 Tom Bridge (UK)
2017 Twin Tip European Champion & U18 World Kite Racing Champion Martin Dolenc (Croatia)
3 x Kiteboarding World Champion Karolina Winkowska (Poland)
Past World Speed Champion Alex Caizergues
Australian Youth Olympic team representative and Aussie world speed champion Mani Bisschops; and
Australian Football League champion Nat Fyfe
Entries can be completed online at www.lighthouse2leighton.com.au and close at midnight AWST on Friday 2 November. Successful applicants will be notified by email. Competitors can choose to ride on a kitefoil board, slalom or twin tip board. See the website for full entry requirements.
The Red Bull Lighthouse to Leighton from Rottnest Island continues to have equal prize money for the Top three males and females (the first kiteboarding race to do so) and there's over A$5000 in total prize money and A$4000 worth of trophies on offer, plus the respected Marc Sprod Trophy for the fastest West Australian competitor. Prizes will be awarded to the winner, runner up and third place and with cash prizes extending to the Top 10 and for the top placed twin tip racers.
Rottnest Island is just a 30-minute ferry ride from Perth, providing a relaxed holiday environment and incredible beaches and coastline.
The race is made possible thanks to Red Bull, Rottnest Island, Rottnest Express, Fremantle Sailing Club, and Kiteboarding Western Australia.
Visit http://www.lighthouse2leighton.com.au/ for more information.