To enjoy a kitesurf holiday there are a few things you absolutely need. First, and most important, you need the right conditions – wind, flat water or waves (depending on your skills). But you also need the right infrastructure for kitesurfing, including good accommodation and a kite school or hire centre.
But what if you can combine ideal kitesurfing conditions with luxurious accommodation on an exotic island? Now that sounds like a vacation!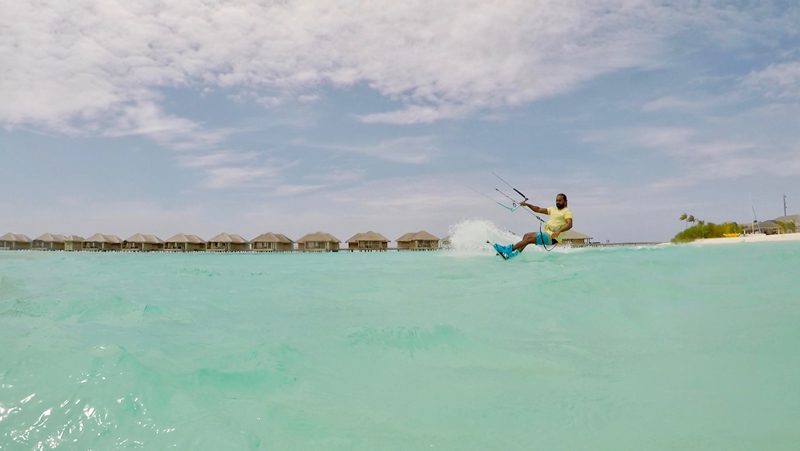 There are plenty of islands around the world where you can kitesurf. But the team from Planet Kitesurf Holidays have us narrow down our next holiday location by picking out five of their favourites:
Maldives
With a good choice of luxury resorts with activities for both kitesurfers and non-kiting members of the family, the Maldives is the ultimate choice for a luxury kiting holiday. There are some spectacular spots here, with huge flat-water shallow lagoons right at your resort. Book an overwater bungalow and you can literally step off your deck and be kitesurfing in seconds. Combine this with beautiful beaches and warm turquoise waters and the Maldives is as close to paradise as you could imagine.
Mauritius
With French, British, African and Arabic influences, Mauritius is a real cultural melting pot. There are direct flights from the UK, so this is luxury that's easy to access but it's the conditions that have the real appeal. Ask any well-seasoned kitesurfer and they will tell you that conditions in Mauritius are almost perfect with a number of great spots dotted around the island, appealing to freestyle junkies and wave enthusiasts alike. And because kiting season falls in the off-peak tourism season, you can find luxury at incredible prices.
Sardinia
One of the most stunning islands in the Med, this Italian gem is full of white sandy beaches and gin-clear waters. It's like a mini-Caribbean in the Med. And with the windiest spots blowing at up to Force 8 and more, the kitesurfing is pretty spectacular too. The main beach is at Porto Pollo, a small bay on the northern coast and the accommodation options are equally special offering a fantastic array of amenities for the entire family.
Zanzibar
In Zanzibar you are spoilt with two kitesurfing seasons – from December to March and then again from July to September. And Tanzania this is a great location if you want to combine a kitesurfing holiday with a safari and other adventures. The South East coast of the island is home to some of the best beaches in the world, with conditions that are ideal for both beginners and more advanced riders.
Bonaire
The Caribbean island of Bonaire is known for its incredible beauty, and nowhere is this more apparent than at the kitesurf spot. It's easy to travel between the kitesurfing spots on the island and there is luxury accommodation located nearby. Offering laidback luxury at some of the best rates in the Caribbean, Bonaire is a great choice. There is also fantastic shore diving and snorkelling if you are looking for more to do in the water!
Ready to start planning your luxury island holiday? Contact Planet Kitesurf Holidays today and speak to an expert who can help make your dreams come true.