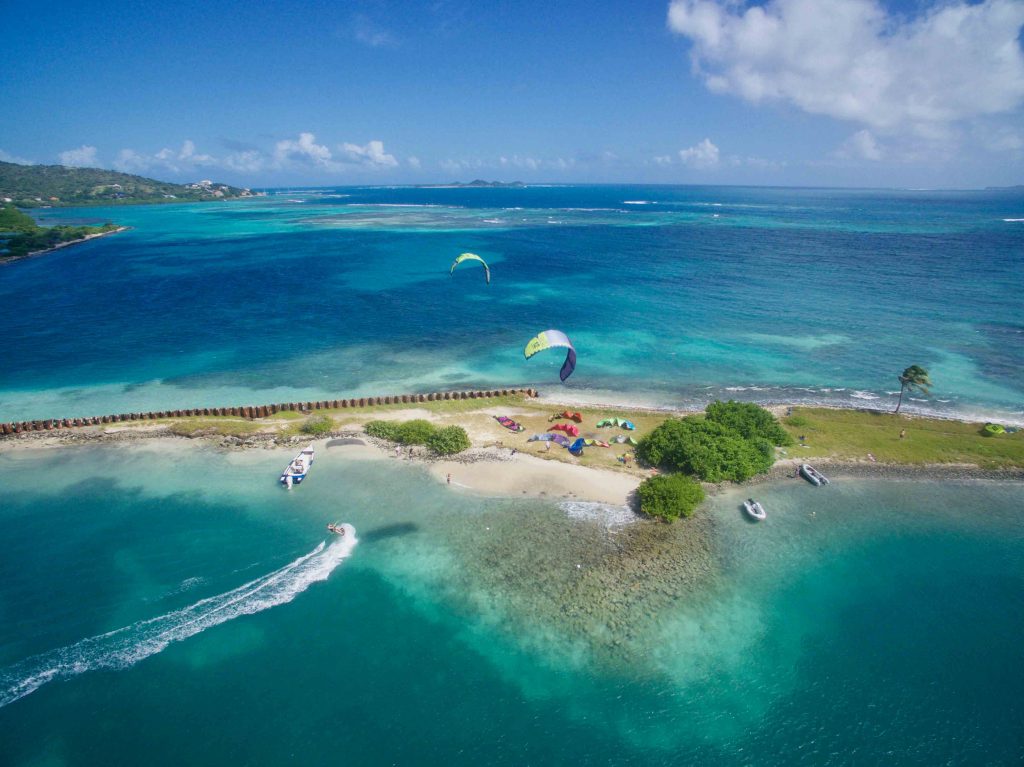 The best places to kitesurf in the Caribbean
Conjure an image of the perfect island kiting destination in your mind and the chances are you're thinking of something that resembles those on offer in the Caribbean. Vast white sandy beaches, flat clear waters and reliable winds – the Caribbean ticks all of these boxes but also adds rich culture, luxury accommodation and a fantastic atmosphere.
So, where exactly are the best spots for a Caribbean kitesurf trip? Planet Kitesurf Holidays gives us the low down.
Bonaire
As one of the Dutch Antilles ABC islands, Bonaire is blessed with year round winds. The best season is between May and July, but the atmosphere is laid back and relaxed whenever you visit. In fact, it is the lack of crowds and affordably that Bonaire offers that makes this such a top kiting spot. This is also a great destination to take the family for a multi-activity water sports holiday with awesome diving and windsurfing on offer.
Cabarete
The Caribbean with a Latin twist, Cabarete offers incredible value for money and awesome kiting conditions. The wind blows almost all year round, with a great combination of flat water, wave riding and downwinders. Out of the water, things are just as exciting. Natural beauty is everywhere you look, with lush green mountains cascading down to the sea. Swim in waterfalls, sample some of the best coffee in the world and lounge on long sandy beaches with warm clear water.
Aruba
With everything from flat shallow water to wave spots, you'll be spoilt for choice in Aruba. And with reliable trade winds throughout the year, conditions are close to perfect. Around the island you will find picturesque beaches and friendly locals, all of which adds to the overall experience. The main kiting areas are along the north western coast, with shallow and sheltered spots ideal for beginners.
Vieux Fort
Big winds, white sandy beaches and gin clear waters, Vieux Fort offers kiting like you imagine it in your dreams. St Lucia is a beautiful island, the kind of place honeymooners go to experience a romantic break, and what better way than to combine your love for your partner with your love for kiting than with a kiting honeymoon? There's also a big choice of family friendly resorts and there is plenty to do out the water, including whale spotting and seeing the famous ruins at Pigeon Island National Park.
Providenciales
This Turks and Caicos Islands is perhaps one of the lesser known destinations in the Caribbean but is no less spectacular. At just nine hours direct flight from the UK, this is an easily accessible kiting location. The large flat water lagoon at the island of Providenciales is a great spot for all levels of rider and the fact that Conde Nast rated this island as having one of the best beaches in the world might give you a clue as to what kind of scenery you can expect.
The Grenadines
Even given the beauty of the above destinations, the Grenadines still have the power to take your breath away. With a choice of kiting spots located throughout the archipelago, you can sample a few of top spots in one trip and a kitesurfing cruise around the Grenadines comes highly recommended. That said, Union Island is a real standout, with its reliable winds and perfectly clear waters.
Ready to start planning your kitesurfing holiday to the Caribbean? Contact Planet Kitesurf Holidays and speak to an expert who you can help you choose the perfect spot for your needs.