CORE releases its fourth-generation Specialized Series boot only twintip for the most discerning all-in wakestyler…
Dedicated boot riders punish their twintips with death-defying unhooked tricks, rail riding, and go big attitude. And so, they need a board with no reverse flex that edges hard and can take a beating. A board that doesn't wilt under pressure. The Bolt 4 is that board.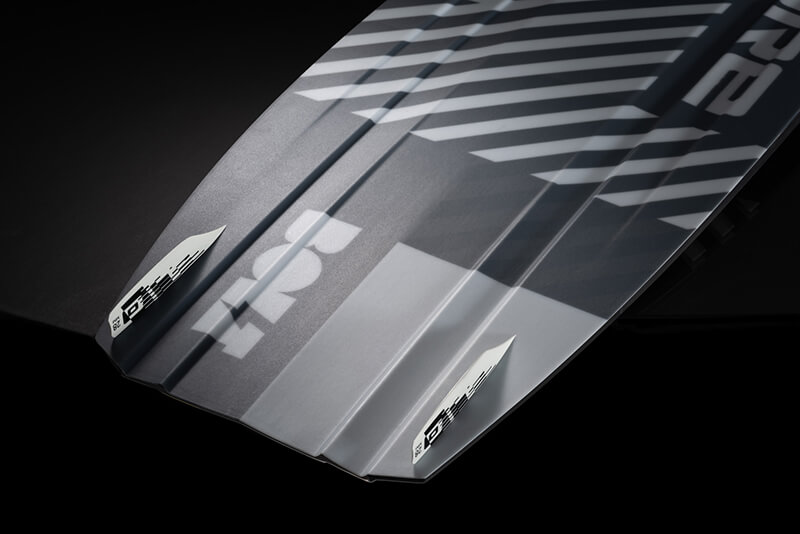 Conventional boards don't stand up well to beach slides and rails. But the Bolt 4's Pro Fix Grindbase does. The waxy bottom surface is high-modulus polyethylene, a material with superior sliding properties, especially over rails, ramps, and other water features. And just like snowboards, scratches and dings are quickly repaired with any PTEX candle.
The Bolt's durability and explosiveness come from its CNC milled Paulownia core that receives double the laminations of CORE's proprietary Cartan carbon. Not just one, but two layer of 30-degree biaxial carbon fiber weave are laminated to the top and bottom. Cartan carbon powers every CORE twintip and is responsible for CORE's signature feel. Ride a Cartan carbon powered CORE twintip, and you'll agree that the type of carbon used matters.
Significant improvements in comfort and performance are achieved with the new Katana Channels, Tucked Under Rails, and Beveled Deck. Riders will notice that the same contours of the bottom tip channel continue into the top deck, which now resembles a Katana sword. The new contours add tip stiffness to better store and release the energy generated when loading the edge.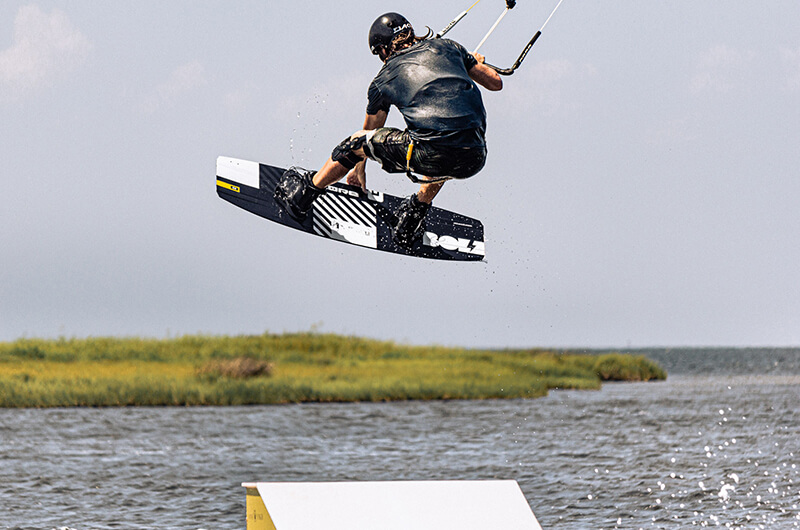 The rails are machined into a 60/40 tucked under design that transitions to a box edge near the outer inserts. This design feature softens the ride and improves water flow, whereas the sharper tip edges add more bite. A slight negative sloping bevel from the visible deck channel outwards to the top edge reduces rail thickness, and together with the other improvements significantly bumps performance.
Bolt 4 is not for everyone. Buying this twintip for relaxed downwinders is overkill. But if you're serious about your passion and see no future in twintip straps, this is your board. And celebrate your biggest unhooked tricks like its 1999.
Available now – pick up your new Bolt 4 at any authorized CORE reseller.
Sizes: 136×42 / 139×42.5 / 142×42.75
FEATURES
DOUBLED UP CARTAN® CARBON: Proprietary 30° biaxial carbon fiber that optimizes board torsion and dynamic longitudinal flex.
3D WOOD CORE: Powered by a superlight CNC milled Paulownia wood core.
New! KATANA CHANNELS: More bite. Better pop.
New! BEVELED RAIL DESIGN: Less weight. Added stiffness.
New! TUCKED UNDER RAIL: More comfortable. More grip.
VARIO RAILS: Precise flex with progressive edge thicknesses.
MULTI-CHANNELS: Superior grip and speed with deep, full length channels.
V-SHAPED KEEL: Amazingly smooth ride even in nasty chop. And butter soft landings.
PRO ROCKER: Custom board flex and curvature.
PRO FIX GRINDBASE: Fix bottom scratches with any PTEX candle.
RAIL READY: Built to slide over virtually anything.
BOOT TOUGH INSERTS: Plywood Block Inserts – Heavily reinforced boot inserts.
28 + 48MM G10 FINS: Two sets of fins come standard. Loose or Grippy. Your choice.
Find out more: corekites.com/us/boards/twintips/bolt-4