CORE today dropped details of the 4th generation of their hugely popular, bombproof freestyle/freeride board…
CORE releases the Cartan carbon powered Fusion 4.
CORE and Carved Customs have consistently manufactured kiteboards with innovative designs, proprietary materials, and the highest quality. After four generations of improvements, the fresh Fusion 4 is finally here. CORE's newest twintip carries over the proven engineering from the Fusion 3 and squeezes even more Cartan carbon into an improved outline.
Leveraging proven board construction.
CORE's bestseller inherits its predecessor's proven Cartan carbon sandwich construction and CNC milled Paulownia core. Cartan carbon is CORE's proprietary 30° biaxial carbon fiber layup that optimizes board torsion and longitudinal flex in a way traditional 90° carbon fiber cannot. The 12,000 filament, low resin carbon fiber is responsible for much of the Fusion's signature board feel. This build method encourages good flex when gybing, controlling chop; and reduces bad flex (aka negative rocker) when landing hard.
Powerfully light, marine grade Paulownia wood is the heart of every Fusion. The laminated, long-grained wood core gives CORE boards dimensional stability, decay resistance, and a lightweight yet distinctively powerful character.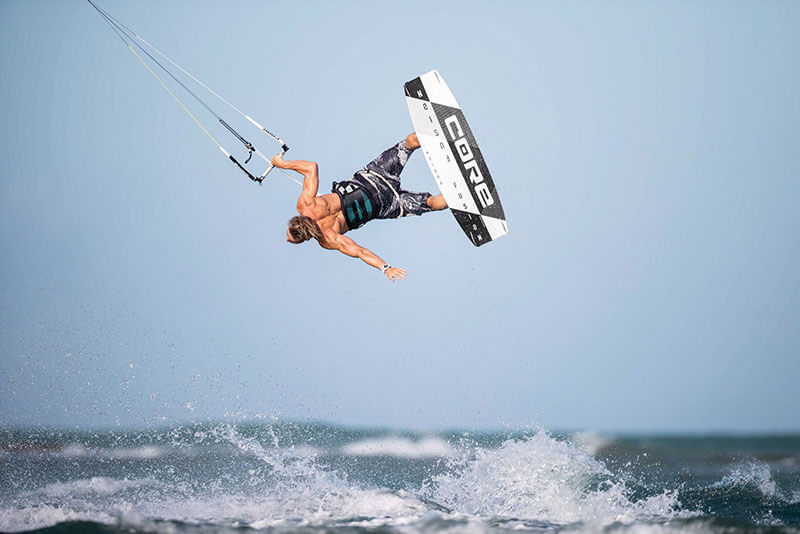 Time tested Multi-Channels and Deep Vee keel.
The channels worked so well on the Fusion 3; CORE continued the design on the new board. A center channel follows the length of the board and provides extra depth for the deep V-keel. In addition to the center channel, two ¾ length outer channels further improve edging. Inspired by the legendary handling of deep V powerboats in rough waters, CORE added a deep V-shaped keel along the entire length of the board to penetrate chop. Cruising has never been more comfortable.
Improved Vario Rails.
The rails feature a variable thickness profile, increasing 6mm in depth from the tips to the grab handle. The design team shaved the thickness of the board (saving weight) while maintaining its flex properties by adding more Cartan carbon between the pads. This softens up the tips ever so slightly, and the extra carbon releases more kinetic energy when called upon.
New deck and improved outline.
The new, lighter Fusion 4 receives a fresh new look and a smashing new topcoat that blocks the sun's harmful UV rays. Although our board designer tweaked the board's outline to reduce unwanted spray, he stayed faithful to that signature 'on water' feel everyone loves.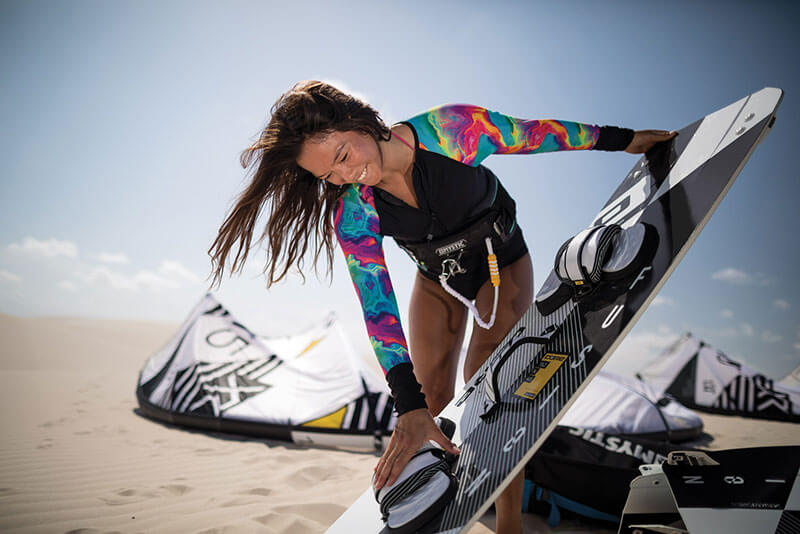 Fusion 4 LW. Lightwind has never been this fun.
Alive. Energetic. Fun. Not the words commonly associated with a lightwind session. But, try a new Fusion 4 LW and see for yourself. Maybe lightwind cruising can be a lot more fun than you ever imagine. The LW's receive the same upgrades as its smaller siblings to reduce their weight and improve cruising performance.
Now in stores.
Demo the new Fusion 4 and 4 LW and discover the power of Cartan carbon. Don't forget to check out the optional pad and strap systems that are designed for the board. The Union Comfort pad and straps are CORE's single velcro design, and the Union Pro model is the fully customizable double velcro setup. Find the Fusion 4 and 4 LW at any authorized CORE retailer.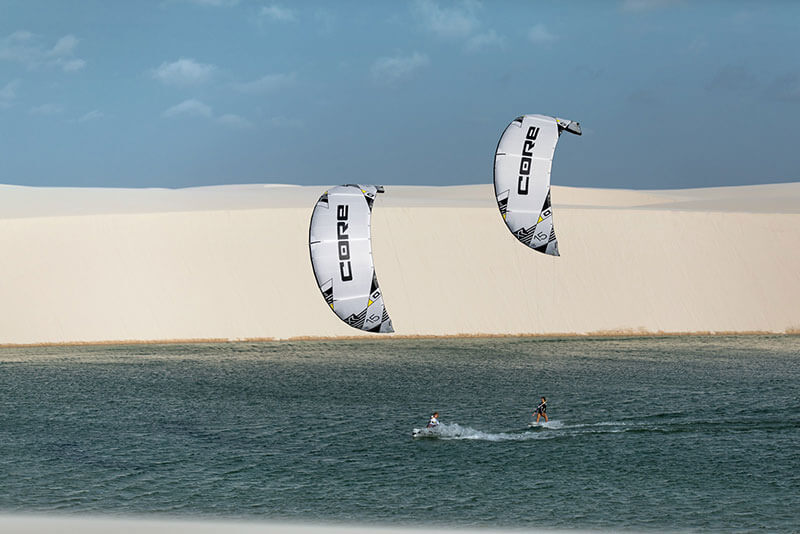 Sizes:
133×39 – 135×40 – 137×41 – 139×41,5 – 141×42 – 144×43 – LW 147×44 – LW 152×46
Prices:
CORE Fusion 4: EUR 949,-
CORE Fusion 4 LW: EUR 949,-
CORE Union Comfort: EUR 139,-
CORE Union Pro 3: EUR 199,-
Key features:
• Cartan® carbon: CORE's proprietary 30° biaxial carbon fiber layup that optimizes torsional and longitudinal flex for a unique riding experience.
• Vario Rails: Variable rail thickness for better control.
• Vee Rocker: More rocker underfoot and less rocker towards tips.
• 3D Wood Core: The heart of the Fusion 4 is marine grade, CNC milled Paulownia.
• Diamond 3D-Shape: Directs forces to where they are best used.
• V-Shaped Keel: Cuts through chop and delivers pillow-soft landings.
• Multi-Channels: Unbelievable grip and upwind tracking.
• Double Concave: Amazing hold in corners.
Find more on the Fusion 4 / Fusion 4 LW at: corekites.com/us