CORE releases the fourth generation of their pure wave kite, the Section 4…

---
WAVE | FREESTYLE WAVE | FOIL WAVE
Now with CoreTex 2.0, ExoTex Light struts and refined shape, the Section 4, CORE's specialized wave kite, aims to take over the surf scene…
A great surf kite gets you to the best waves and keeps you on them without a fuss. It needs excellent drift and quick loops to stay afloat in onshore wind conditions especially with big, fast waves. Offshore conditions require a fast kite with huge depower to stay in front of the window. The Section 4 ticks all the boxes with its improved wind range and steering.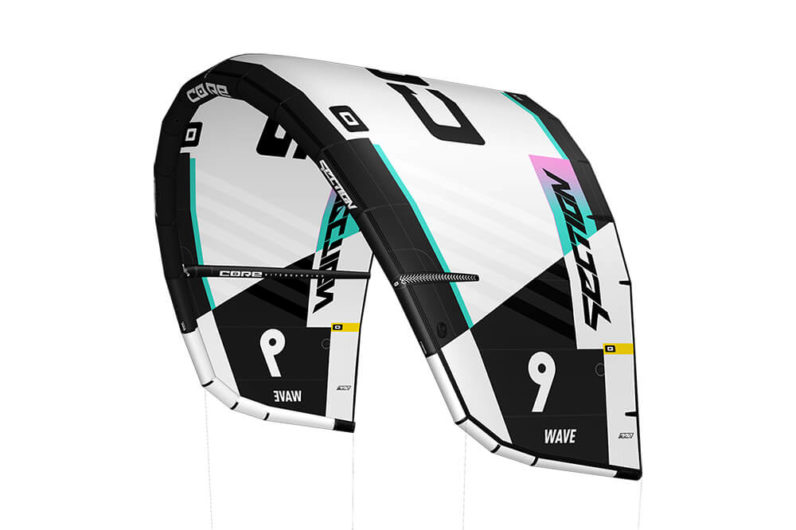 Debuting new material.
The new Section debuts with CORE's premiere canopy cloth – CoreTex 2.0. The marginally lighter canopy fabric features massively improved tear resistance, stiffness, and durability. CoreTex 2.0's new coating process enhances flight stability in higher winds -a big plus- for three strut wave kites.
The Section also debuts ExoTex Light struts. CORE replaced its ExoTex strut material with ExoTex Light, a super tough yet lighter version of their industry-leading airframe material. It's been real-world tested for 2 years now, so CORE's confident in its durability. The struts also received minor improvements to the elbow to improve stability.
Six years of refinement.
The latest generation Section carries over the proven, 3- strut, Future-C canopy shape from its predecessor with a few refinements. The tip geometry between the bridle point and control line was refined to improve feedback and aerodynamics. The improved Future-C shape, streamlined tips, and CoreTex 2.0 canopy further improve flight efficiency (better side-off performance). These improvements reduce weight by more than 2% and cuts flutter.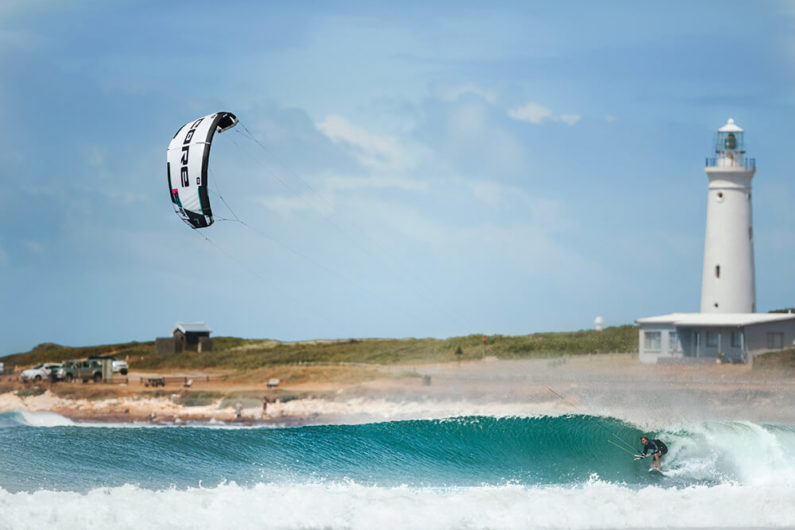 The ultimate wave kite.
If you're looking for effortless surfing and the right amount of pull, the new Section will get you upwind and onto the cleanest waves.
Now in stores.
The high-performance Section 4 pure wave kite is now in stock. And for the ultimate high-performance wave combo, pair the Section with our Sensor 3 Pro bar and a 720 or Green Room surfboard.
Sizes available:
4.0 | 5.0 | 6.0 | 7.0 | 8.0 | 9.0 | 10.0 | 11.0 | 12.0 | 13.5
Features:
CORETEX® 2.0 TRIPLE RIPSTOP CANOPY: Extreme durability and UV protection.
EXOTEX® LIGHT STRUTS: Super durable lightweight struts.
EXOTEX® ULTRA RIGID DACRON: Zero stretch leading edge.
ULTRALIGHT 3 STRUT FRAME: Super light yet amazingly rigid and durable.
FUTURE-C SHAPE: True C-kite feel. For snappy turns with a controlled and consistent pull.
SURF PROFILE: Wave tuned camber and aspect ratio.
SHORT BRIDLE SYSTEM: Improved kite feedback.
CIT MODES: Customizable "power steering" and turning speed.
RADICAL REACTION TIPS: C-style shaped wingtips for fast bar response.
INSTANT RELAUNCH: Effortless water relaunches.
SPEED VALVE 2: Fast, reduced effort inflation.
SPEED PUMP SYSTEM: Improved all strut inflation.
SENSOR BAR READY: Calibrated for all Sensor bar systems.
Find more info on the Section 4 right here.