Latest news from CORE as they release the new incarnations of their Specialized Section and Impact kites
Two years ago, the brand behind the Universal+ Series of All-rounder kites with superpowers launched a range of single purpose kites, known as the Specialized Series. It was a departure from CORE's Universal+ Series which included the infamous GTS4, the big air XR5, and the wave oriented Free – kites that are known for their multi-discipline skills. Nevertheless, the Specialized Series kites were built without compromise to serve one discipline exceptionally well. For the Impact 2 and Section 2, it's comp level wakestyle and waves. Clearly, the market was ready for thoroughbred kites judging by the phenomenal response from the kiteboarding community. The success of the Specialized Series drove the development team to work even harder on the second generation models.
Although the Specialized Series is not for everyone and is targeted to a small niche group of kiters, the demand for the original Section exceeded the most optimistic projections. "We never expected this level of demand," CORE-CEO Bernie Hiss explains. The success of the Section validated the Specialized Series concept and made the decision to invest more resources into his favorite kite much easier.
Section 2 – A better drifting, lighter, wave kite.
The second gen Section is built for both traditional and freestyle-wave (surfstyle) enthusiasts with serious depower for down-the-line drifting and incredible control off the lip. "Weight management is a critical component in performance wave kites," Chief Designer, Frank Ilfrich begins, "and we've leveraged our proprietary fabrics to achieve further gains." CORE's no-stretch ExoTex Dacron frame incorporates a unique radial reinforcing thread pattern that enables higher pressure airframes with smaller diameters. It improves airflow, flight stability, and rider feedback by substantially increasing tube strength and rigidity despite reducing diameters. "ExoTex creates a lighter yet more robust canopy that's ideally suited for wave riding," Frank concludes. The Section 2's acclaimed ExoTex airframe holds a better shape in gusts and improves water relaunching in big waves.
The Section 2 carries over its small diameter ExoTex airframe, lightweight surf construction, and super quick reflexes from its predecessor. The design team found additional weight savings and rigidity improvements on the airframe. And they simplified the intelligent trim system that customizes bar feeling and turning speed.
CORE's no compromise Section 2 is designed to improve every wave riding experience with effortless directional control and the right amount of pull to keep strapless riders upwind and on their board. Freestylers will love the confidence and in-air control to land those physics defying aerials. When it comes to waves, the Section 2 is 'all in.'
Perfect for foilboarding too!
This drifting phenom with huge range pairs perfectly with any foilboard. Its lightweight construction, nimble behavior, and reduced lateral forces make it an unexpectedly awesome foiling kite. It won't yank you off your board, and it zips through lulls with ease. Yup, the Section 2 will amaze you with its foiling pedigree.
Section 2 LW: Small Wave Phenomenon.
The new Section 2 LW departs somewhat from traditional wisdom in that a bigger kite is counterproductive on waves. The new Section LW's immense range lets riders easily spill the wind so they can focus on surfing. The LW's agility and surface area to weight efficiency give the feeling of a smaller kite and yet it still has the pull to get you out of trouble in the lulls. And gusts are held in check with its incredible depower. It's easy to question the efficacy of a 12 or 14m wave kite if you haven't ridden one. If you ask Rob Kidnie, a CORE team rider in Indonesia, which Section 2 is his favorite, he'll say the 14m LW. "The old rule of thumb that a smaller kite is always better may no longer apply to the the LW," suggests Bernie Hiss, CORE's CEO and avid wave rider.
Section 2 Sizes:
4.0 | 5.0 | 6.0 | 7.0 | 8.0 | 9.0 | 10.0 | 11.0 | LW 12.0 | LW 14.0
Section 2 Features:
1. Ultra Light Frame: Super light yet amazingly rigid and durable.
2. Surf Profile: Wave tuned camber and aspect ratio.
3. ExoTex® Ultra Rigid Dacron: Zero stretch airframe.
4. CoreTex® Triple Ripstop Canopy: Extreme durability and UV protection.
5. Future-C Shape: True C-kite feel. For snappy turns with a controlled and consistent pull.
6. Radical Reaction Tips: C-style shaped wingtips for faster bar response.
7. Short Bridle System: Improved kite feedback.
8. CORE Intelligent Trim (CIT): Customizable "power steering" and turning speed.
9. Instant Auto Relaunch: Reliable waterstarts in difficult conditions.
10. Speed Valve 2: Quick, reduced effort inflation.
11. Speed Pump System: Super fast all strut inflation.
12. Sensor Bar Ready: For maximum kite feedback and control.
More on the Section 2 here.
Impact 2: Two new sizes. And even more impact!
You can count on one hand the number of true, bridleless C-kites that remain in the marketplace. C-kite R&D has suffered as a result. But not with the design team at CORE. The company gambled on the marketability of the original Impact. Over the next two years, the kite developed a cult following amongst hardcore wakestyle riders. And now, Impact riders can celebrate the release of the Impact 2!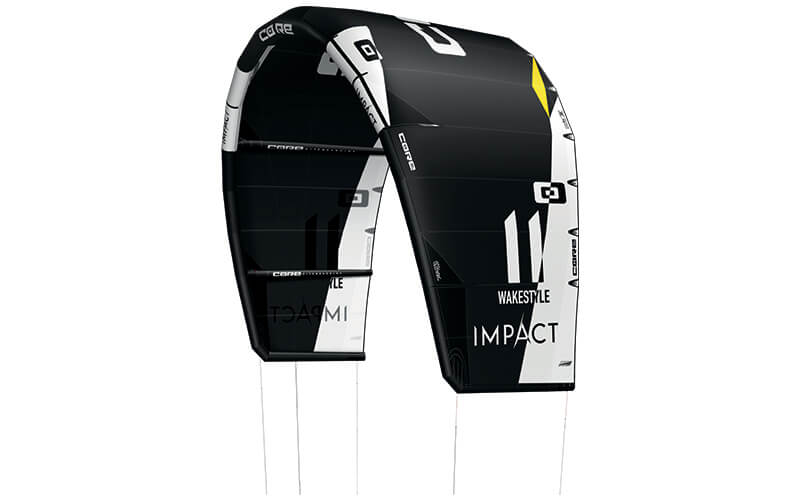 The new model carries over its classic C-kite shape, bridleless 5 line setup, and five strut airframe. The new model features a higher aspect ratio, a deeper cut 'C', and increased trim options. With two more sizes, this wakestyle machine is comp ready. An expanded wind range is achieved with the help of CORE's exclusive no-stretch ExoTex airframe. Chief Kite Designer, Frank Ilfrich further explains, "A narrower leading edge and flatter canopy give the new Impact 2 more speed, reduced lateral forces, and serious high-end control. You're gonna love it."
Wakestyle pros should take note that the new 8 and 15m sizes fill out the model range and better accommodates power riders who prefer to ride one size bigger. All Sensor 2 bars are compatible with the Impact 2 and are easily converted to a five line bar with the 5 line upgrade kit that comes with every kite. The engineers added a deeper 'V' on the fifth line to make it less sensitive to trimming. The 7,8, and 9m kites also sport higher aspect ratios which are evident when looping.
Impact 2 Sizes:
7.0 | 8.0 | 9.0 | 11.0 | 13.0 | 15.0
Impact 2 Features:
1. Deep C-Shape: Proven. Powerful. And pure C.
2. Classic-C Tips: Consistent pull through every turn.
3. 5 Line Setup: Includes "5th Line Set", to convert any Sensor 2 bar system.
4. ExoTex® Ultra Rigid Dacron: Zero stretch airframe.
5. CoreTex® Triple Ripstop Canopy: Extreme durability and UV protection.
6. Speed Valve 2: Quick, reduced effort inflation.
7. Speed Pump System: Super fast all strut inflation.
8. 5 Strut Frame: Maximum stability and power.
9. Active 5th Line Safety: Classic safety system re-invented.
10. Custom Trim System: Three backline adjustments and five(!) frontline adjustments.
11. Rapid Relaunch: Reliable waterstarts.
12. Sensor Bar Ready: For maximum kite feedback and control.
More on the Impact 2 here.
The high-performance Section 2 and Impact 2 are in stock now. If going "all in" is your kite philosophy, then make your way to the nearest authorized CORE retailer to meet your match.
Find more info on the Section 2 and Impact 2 at: corekites.com/us
#gokiting