North Kiteboarding reveal their new Big Air, Surf and Freeride range for 2021, under the alluring title, "It Calls". Here's the release in full…
2020 has been a year that has awakened us all on a new level, reminding us to be grateful for what we have, for our freedoms and for the simplicity and beauty of nature. More than ever, we have learned the value of staying in the present moment and feeling connection.
To launch their 2021 Collection, North Kiteboarding captures the magnetic sensation of being at one with the elements and fully immersed in the moment in one simple expression – "It Calls."
You can go straight in and view the new range here.
Brand Director Mike Raper explains: "It Calls is all about the indescribable feeling that our sport gives us, the magic we chase. If you've ever not just seen the perfect conditions stirring – but you've heard them and felt them – then you too get this feeling. It's that seductive pull that happens when the water and wind call to us, and we can't help ourselves, we must drop everything and go."
North Kiteboarding has a strong point of view on our sport and a passion for everything it gives us physically, emotionally and spiritually. In 2021, they look forward to sharing and celebrating this passion with fellow kiters through the different categories in our sport.
All new Big Air, Surf and Freeride collections are in store and available to demo at your local North Kiteboarding retailer now.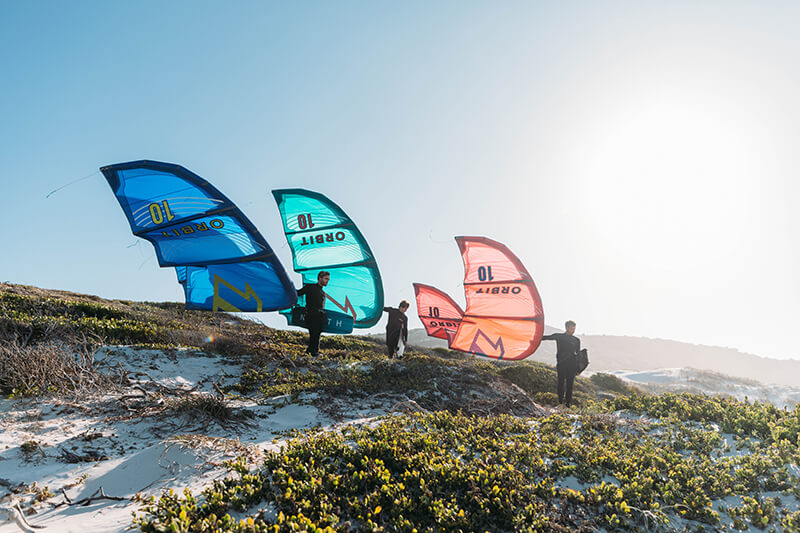 Even more Engineered. Refined. Intuitive.
Over the past twelve months, North's designers have focused on improving the durability and refining the ride of each product.
"We are excited about these small but essential refinements, as they make great even better," says Mike.
The Navigator Control System is packed full of technology and is one of the key products to have undergone significant changes, many of which are not even visible. For 2021 Designer Hugh Pinfold has made over twenty improvements to this easy-to-use, top quality, control system.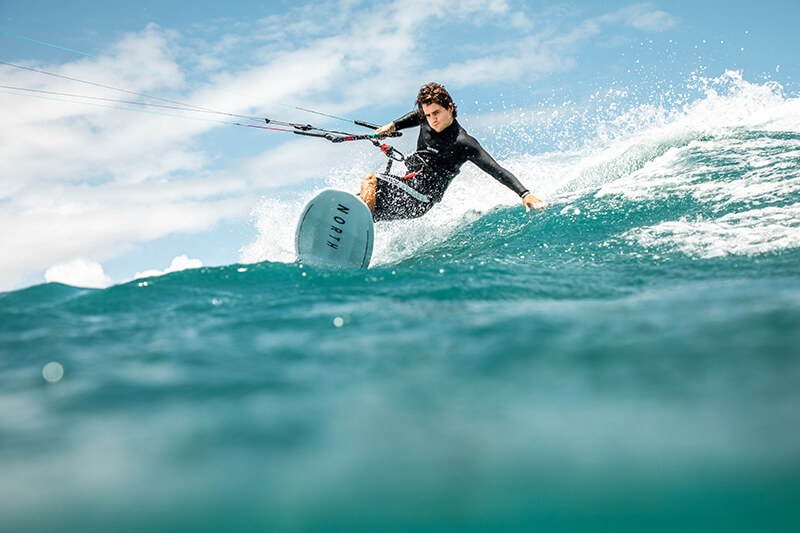 Hugh, North's Director of Design and Engineering, works remotely two hours down the west coast from Auckland in Raglan, New Zealand's surfing capital. Hugh's design is inspired heavily by the time he spends in the elements and he has found Raglan an ideal place to focus on refining the Navigator Control System, while also putting it to the test at every available opportunity.
Two of the more apparent changes Hugh has incorporated for 2021 are the new omnidirectional grip pattern and the introduction of a smaller 38-43cm bar size. But perhaps less obvious are the myriad of smaller changes: for example new internal geometry on the bar centrepiece giving less resistance and wear; the cleat base has been modified to make kite loop bar spins easier, and we've added a swivel to the newly elongated leash pin ring on the, making connection quicker and easier.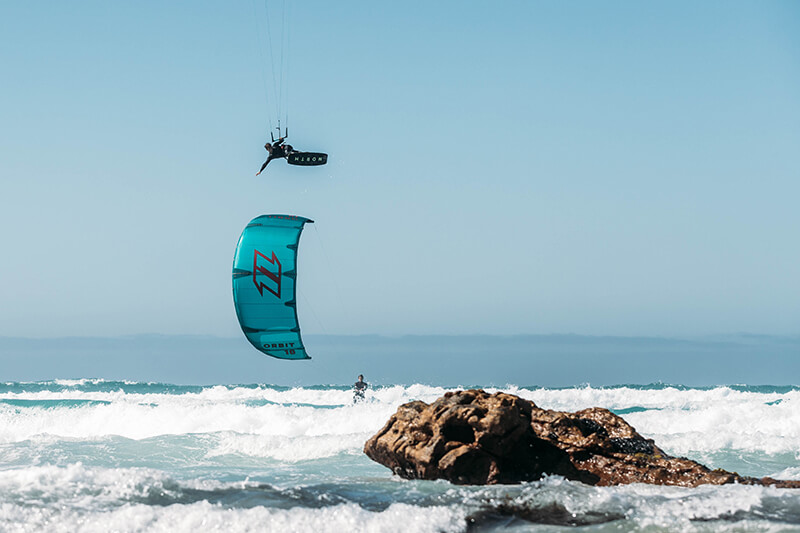 Lighter, more responsive kites.
Chief Kite Designer Pat Goodman has focused on improving the performance and feel of both the Orbit and Carve, introducing new lighter materials and new bridles. The Orbit continues to lead North's aspirational Big Air category and with the refinements from Pat, is expected to continue dominating the podium.
For the Reach, North has introduced a range of new sizes for 2021, including a 17m kite ideal for riding twintips in light wind.
Pat's home spot in Taiwan is the windiest place on planet earth and gets about 250 days a year of wind over 20 knots. It's very strong in winter and moderately strong in summer, so he has ideal conditions for testing. "I'm fortunate to have such a great team of riders to work with, especially Nick, Jesse, Marc Jacobs, and now Camille. You know what, I'm a competent rider, but I'm not a trickster, I don't do all the crazy stuff these guys do. The teamriders really put a kite to the test, so the kites must be stable and do as they are expected to in extreme manoeuvres," says Pat.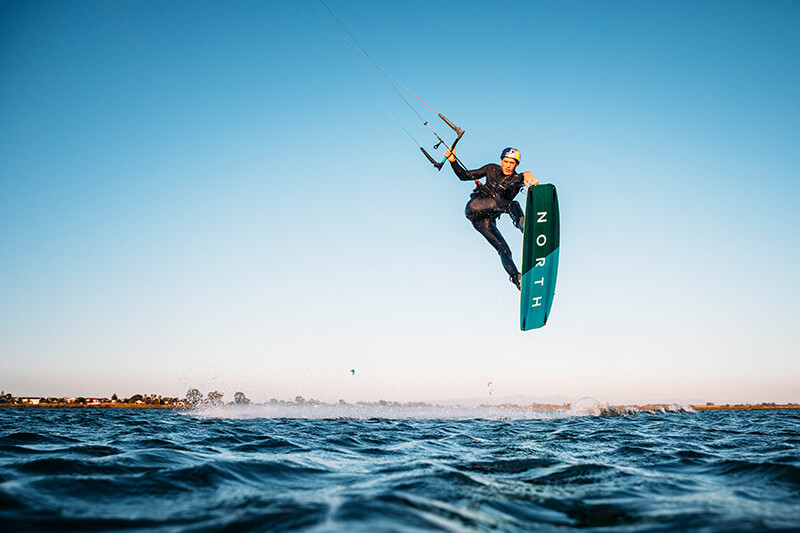 Stronger, more responsive surfboards.
Board Designer, Jaimie Scott commutes regularly to Auckland to collaborate with the North Product Development team. Based three hours north in Whananaki, home to some of the best east coast white sand beach breaks in New Zealand, Scott is constantly looking for ways to push himself whilst out in the ocean. He strongly believes that the more he's challenged out on the water, the more his shaping evolves. For 2021 Scott has made considerable changes to the shape of the surfboards, and is continuing to progress the strapless freestyle boards, improving the durability and performance characteristics of each board so they can edge harder and give you an even more direct connection to the power of the wave.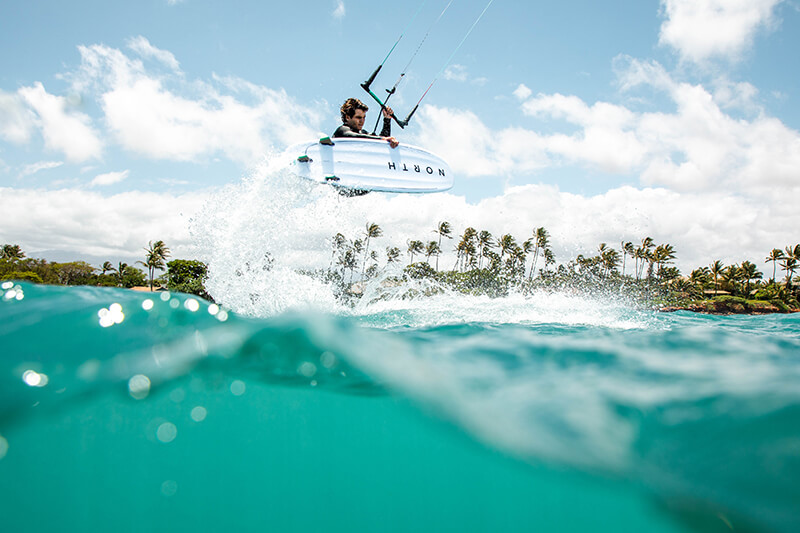 ASTRA. An all new TwinTip board for lighter riders.
Often lighter-weight riders find it harder to control large, stiff boards designed for heavyweights. With this in mind, Uli Sommerlatt, Product Manager set out to craft a board with more responsive flex for riders with a smaller build – one that would deliver increased control in a range of conditions, greater comfort and softer landings – without sacrificing performance. The all new Astra's smaller board length, narrower stance and basalt technology construction provides riders of all levels just the right amount of flex for controlled edging, boosts and loops.
Mike is incredibly proud of the team behind the 2021 Collection. "If you'd asked me back in March, I would never have guessed we'd be in such a strong position going into our new season. We've just had some record-breaking months, and we've sold out of 2020 stock. Honestly, I'm so proud of the team who brought it all together.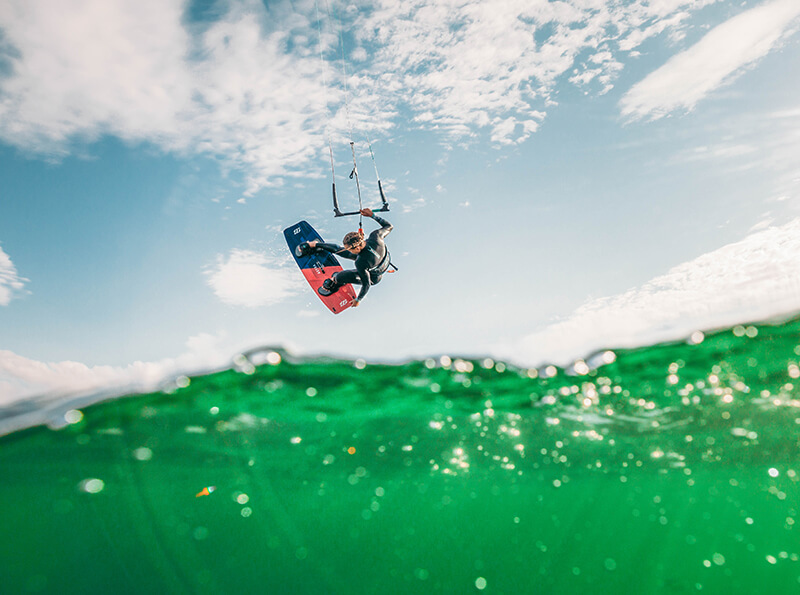 "When we talk about "We are North" it's not an empty hashtag. It's a collective WE. Our teamriders, ambassadors, designers and the great team of employees we have both here in New Zealand and Holland. We are all working together to grow this brand, in keeping with its spirit. As we deliver our second season, the reality is, North has proven itself on and off the podium. We are starting to lead the industry for performance in most major categories.
"For 2020 North concentrated on developing the highest performing products – and smashed the ball out of the park. We won multiple categories at the Red Bull King of the Air. Then we launched the Reach – which I can say with confidence is the best all-round freeride kite Pat Goodman has ever designed," says Mike.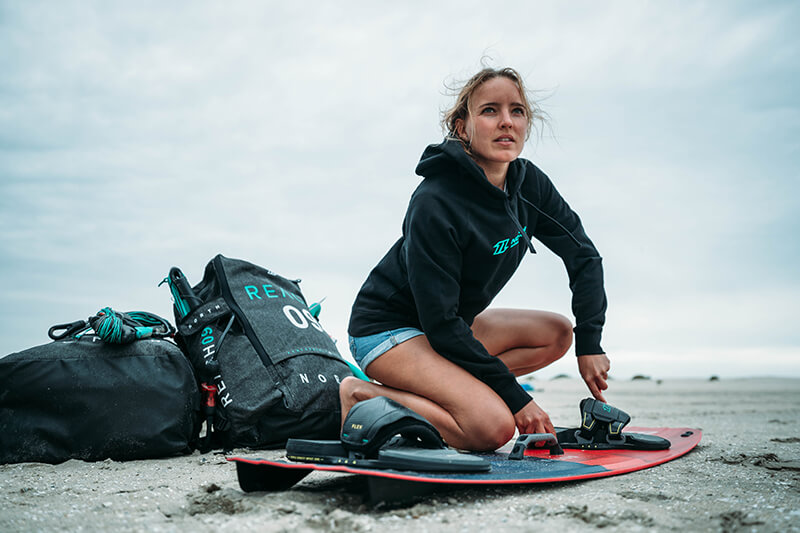 A Quick Recovery.
The big curveball/challenge no-one saw coming in 2020 was COVID-19, which happened as North was in the middle of the testing, development, moulding, prototyping stage in February. Fortunately, the brand had uninterrupted access to manufacturing partners, and thanks to hard and fast action from the NZ Government, was out of lockdown and back to business before much of the world.
North also leveraged on the strength of belonging to a larger parent company. The North Technology and the North Actionsports team, from our CEO Sam Watson, all the way along our entire business chain to our sales force, was incredibly flexible, adaptive and well-supported throughout the pandemic. This flexibility meant that it was easy for everyone to transfer to a work from home environment.
"From day one North was set up to work collaboratively online through different time zones – a major strength. The online systems in place because we were already working as an international team meant that being tied to an office didn't slow things down," says Mike. "Some people thought we were a little bit crazy launching the Reach during the pandemic. But we believed in the product, and we believed people wanted a kite like this – a kite that can do everything.
"If we could turn the clock back on 2020, I don't think there's much we would have done differently. Everyone's been so passionate about what we're trying to achieve; they've wanted to give it their all. I'm excited to see where we keep going with this incredible team moving forward and excited about introducing the 2021 range to the world."
View the North Kiteboarding 2021 Collection at northkb.com or contact your local retailer or school to arrange a demo today.