Following it's success with the A-Series in 2020, the new Ocean Rodeo Crave HL-series is here, and we have all the info you need:
---
Ocean Rodeo is dedicated in its pursuit to build the highest performing kites on the planet. This pursuit has kept us ahead of the pack in terms of light kite engineering, which is critical to any kite's performance levels: A lighter kite means faster speeds, increased response, enhanced stability and a broader wind range… which means more time on the water doing what you love and doing it better than ever before.
Our partnership with ALUULA and the subsequent release of our A-Series kite range has been lauded around the world by customers and the industry alike. And while riders across the planet continue to discover the benefits of these superior and cutting-edge kites, we've not slowed up on the R&D. In fact, quite the opposite…
As we continue to lead the light kite revolution, Ocean Rodeo are proud to unveil the Hybrid Light Series, the world's first kites and wings to feature a hybrid composite airframe.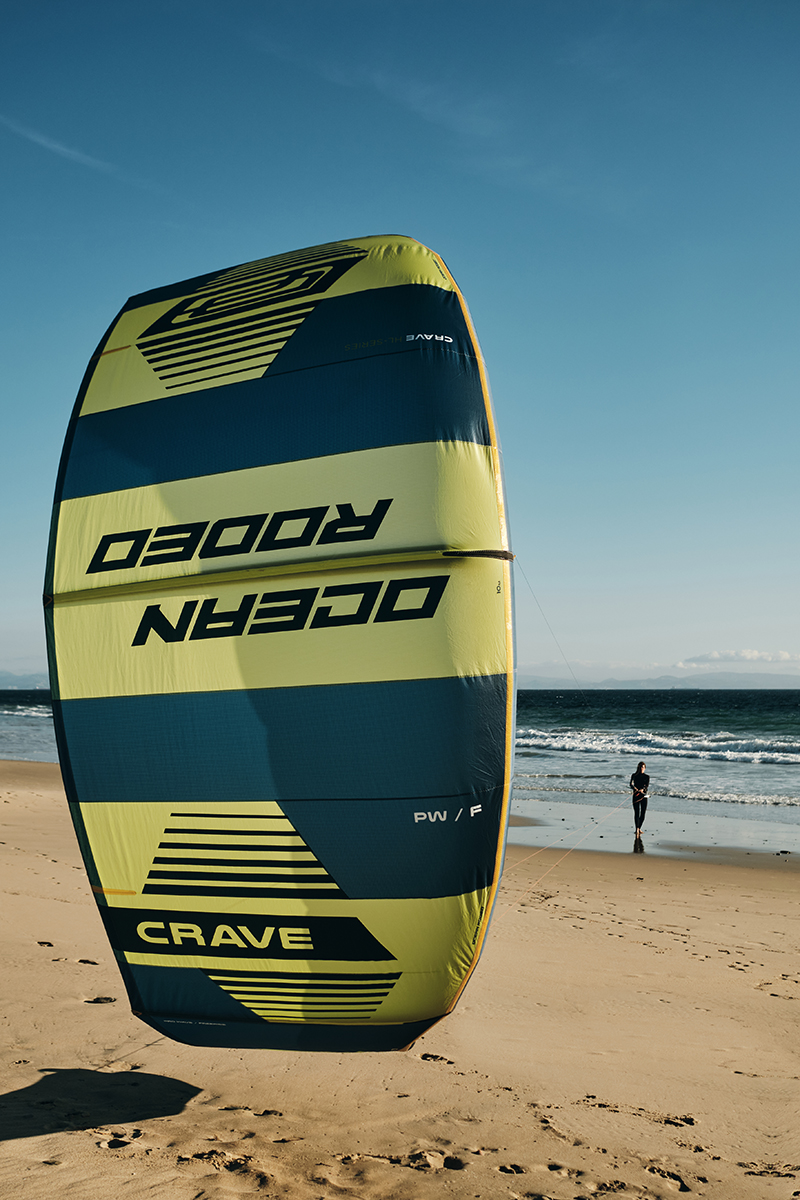 HYBRID LIGHT
Next level light wind performance, with airframe stability built for all conditions.
We gave our R&D department a challenge: how do you greatly improve standard Dacron framed kites? Their answer was to 'add ALUULA' of course…
20% Lighter than our 2020 Dacron-Series kites, the new HL-Series kites are the second lightest inflatable kites in the world, second only to Ocean Rodeo's A-Series kite range!
Strategically placed ALUULA composite materials are blended with Dacron to create a new hybrid construction class that delivers decreased weight with improved airframe response.
ALUULA fabric has been inserted into key overlays and reinforcement panels, while the struts have a full ALUULA panel running from the leading edge to the strut tips. This ALUULA strip is strategically placed to tighten up the airframe flex, providing faster turning and improved stability.
With the HL-Series, we didn't just stop with the introduction of ALUULA… Every single seam and component were reviewed and improved. If any weight savings could be found, we addressed them with new parts and processes, while at the same time maintaining our 20-year legacy of producing "Built Tough" kites that are designed to be ridden hard.
"Our new Hybrid Light airframes are the next logical step in working with ALUULA materials. While not quite as light as a full ALUULA airframe, strategic use of the ALUULA material has allowed our design team to engineer a remarkably light and agile range of kites and wings. This new airframe technology, another first from Ocean Rodeo, gives the consumer the ultimate choice as they build out their quiver between both A-Series and HL-Series in the Crave, Roam and Flite. With HL, we are proud to claim we have the world's lightest and second lightest airframe construction for both kites and wings!" – Richard Myerscough, Ocean Rodeo CEO & Founder
Further new features to be found on all 2021 HL-Series kites:
New bladder install system
New strut and leading edge ends
Refined inflation system
Refined HL-Series seam technology
New low-drag bridle system
Ultra clean airframe
CRAVE HL-SERIES
FREERIDE / FREESTYLE / WAVE
A massive success for Ocean Rodeo in 2020, for 2021 the Crave HL-Series is available in sizes from 12 down to 5m. Its nimble, three-strut design has been lightened up with our new Hybrid Light technology that's powered by ALUULA, with the wingtips being fine-tuned to provide smooth power delivery and predictable handling.
Whether you want a kite that will turn on a dime and keep you in the pocket when in the surf, or something built for committed sending, predictable performance and power on tap, the Crave HL-Series is the kite for you.
The Crave is fitted with graduated Forward Swept Tips (FST) on sizes 7 to 12m – FST deliver crisp, nimble, and controlled kite loops, ensuring world-class performance. The refined wingtip design allows for lightning-quick water relaunches and maximum flying control, even when the kite is at the extreme edges of the window.
With its hybrid composite airframe, the Crave HL-Series has been built to be as light as possible, while retaining the ability to take a beating in the surf and the strength to hold its shape through even the most demanding Big Air maneuvers.
"The Crave is definitely my favorite kite. The Hybrid Light construction along with the refined wing tips on this year's model has just taken the kite to the next level. It feels more reactive and the power delivery and turning is noticeably smoother." – Reece Myerscough, Ocean Rodeo Team Rider
ABOUT OCEAN RODEO
Based in Victoria, Canada, in the heart of the rugged Pacific Northwest, Ocean Rodeo's 20-year journey of building tough, high-performing kites has seen it consistently remain at the forefront of technical and material innovation in kiteboarding. The brand's most recent collaboration with ALUULA Composites resulted in the production and release of the A-Series kite range: the lightest performance kites in the world.
Find Ocean Rodeo on: