Tough Day for Racers as Fickle Breezes Again Stalk Regatta

Joy Sea Beach, Weifang, China

12 September 2017

It was all change yet again at the International Kiteboarding Association (IKA) KiteFoil GoldCup in eastern China as the lead in the men's and women's divisions switched hands on the penultimate day of competition.
But the fickle breezes that have dogged the regatta on the Yellow Sea off Weifang's Joy Sea Beach returned and the one race that was possible when the wind briefly struggled above the 6kts threshold threw up upset.
The overnight leader, Britain's Guy Bridge, who had gone top after scoring four scintillating bullets on day three of the five-day regatta, suffered the crushing disappointment catching debris early in the race ending any hope of a good finish.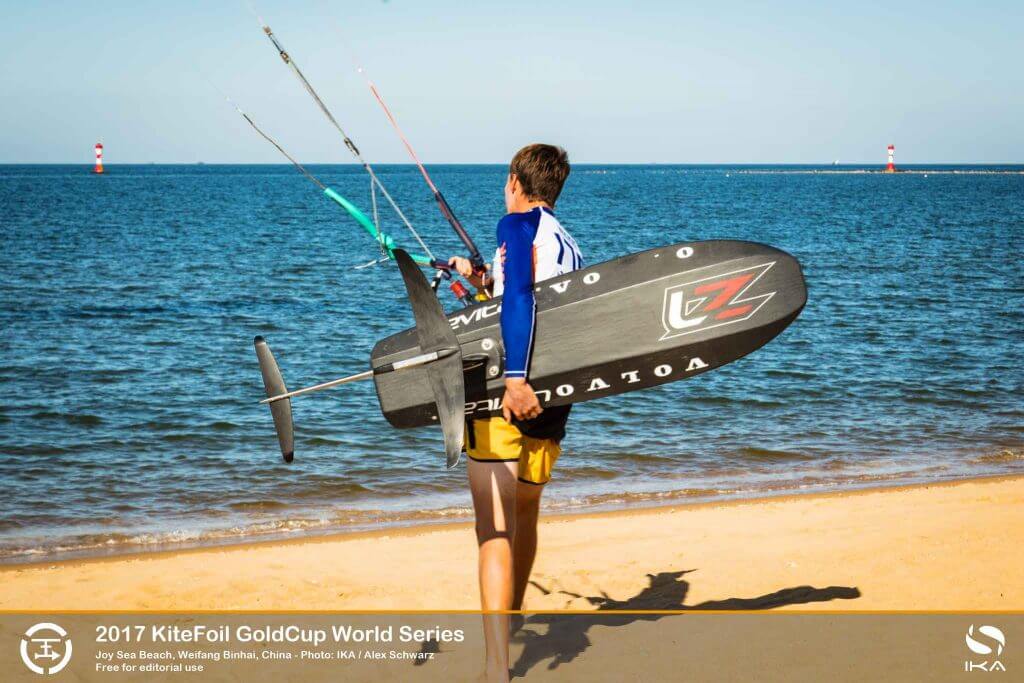 "I caught a plastic bag or hit something on the first upwind leg and fell off the foil," said Bridge, 18. "Just to get going again in the super-light wind I had to loop my 21m kite like crazy. There were so many holes in the wind and glassy patches on the water all over the course."
The misfortune cost Bridge the top spot on the leaderboard—even though he was able to discard the eighth place finish—and allowed France's Axel Mazella, of Team Enata foils and kites, back through into pole position with another crucial bullet to bring his tally to five.
Former Formula Kite world champion, Russia's Elena Kalinina, finally grabbed the top of the women's leaderboard with a win over France's Alexia Fancelli, but only by virtue of count-backs as both remain locked equal on points as they race in the mixed fleet.
The 26 riders from 14 nations endured a long day waiting for the breeze to fill, a fate they seem unlikely to suffer next week when they travel to the notoriously windy island of Pingtan, the second of two IKA KiteFoil GoldCup stops in China.
The back-to-back events punctuate the four-stop tour, which began in South Korea in May and will conclude in Italy next month with the KiteFoil GoldCup finale in Italy at the Sardinia Kiteboard Grand Slam on Poetto Beach, Cagliari.
Yet at Weifang even Mazella initially had a tough time thanks a poor start when he was caught out by a wind shift. But by the top mark had pulled a minute ahead of of his closest rivals on his 21m kite and foil that work well in the light airs and flat water.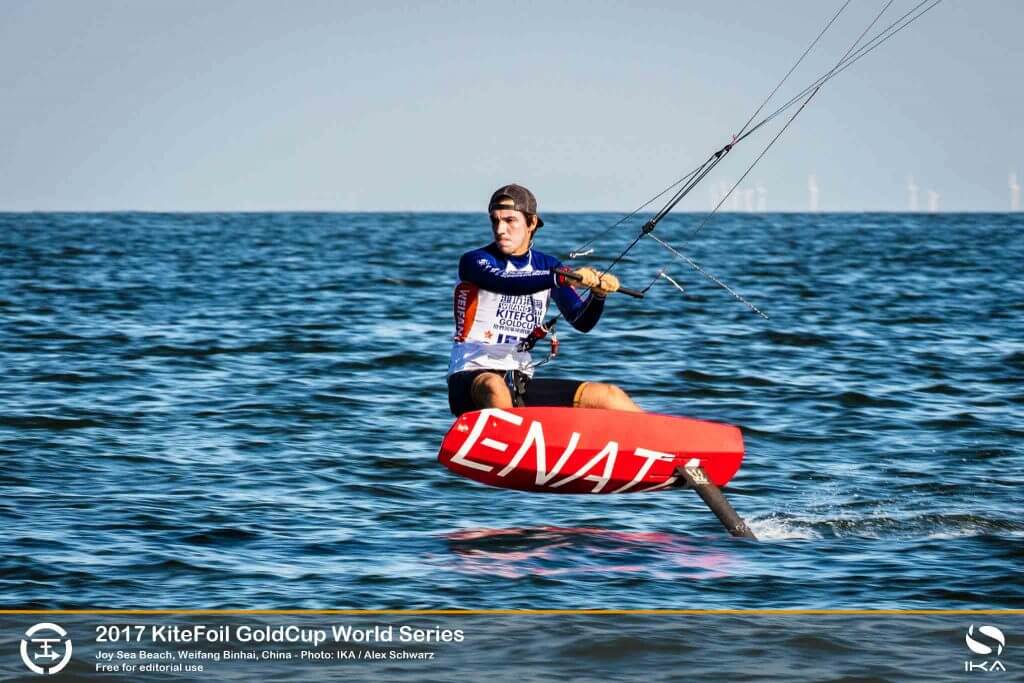 Even then he admitted there was no margin for error with a fluffed gybe or tack—a strong possibility in the unpredictable wind holes—likely to mean the difference between a well-placed finish and a poor one down the order. Mazella conceded he had a few close calls, but saw off challenges from Britain's Olly Bridge in second, and French Enata team-mate Theo Lhostis in third.
"I chose all the time to stay in the centre of the course," said Mazella. "When the wind's so light and shifty it's far less risky staying down the middle as you're far less likely to suffer from a big shift. It's also much easier to judge the layline."
For Kalinina the challenges of racing in such light conditions are immense, but she takes heart from the fact that she and rivals Fancelli and Anaïs Mai Desjardins (FRA) are able to complete the course in tight contests.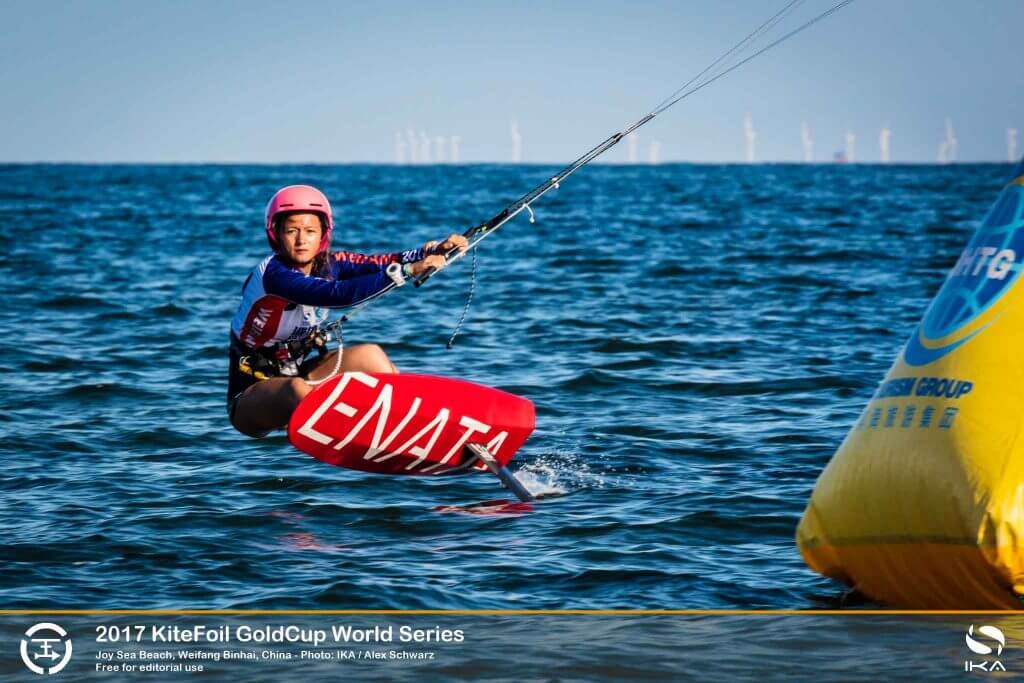 "I'm quite surprised," said Kalinina. "Last year the girls could not have finished the race in such conditions. But now we can, and it's some of the men who can't finish. Kites have got better, but our ability to race in light winds has improved a lot too."
OVERALL STANDINGS AFTER 9 RACES (1 DISCARD)
1. Axel Mazella (FRA) – 12 pts
1. Guy Bridge (GBR) – 14 pts
3. Theo Lhostis (FRA) – 19 pts
4. Oliver Bridge (GBR) – 38 pts
5. Theo De Ramecourt (FRA) – 42 pts
TOP RANKED WOMEN AFTER 9 RACES
1. Elena Kalinina – 122 pts
2. Alexia Fancelli (FRA) – 122 pts
3. Anais Mai Desjarding (FRA) – 145 pts
Full results and live scoring: www.kitefoilgoldcup.com


Racing continues through to Wednesday, September 13, 2017, before the fleet heads to Pingtan Island for the second part of the Chinese back-to-back regattas starting on September 18, 2018.