UPDATE: WOMEN'S AND FREESTYLE COMP WITH HIGHLIGHTS AND PHOTOS
MAURITIUS KITESURFING PRO
GKA WAVE & STRAPLESS FREESTYLE STOP #03

DAY THREE – THE LADIES CONTEST!
Le Morne, Mauritius, 9th September 2016
Photos: Toby Bromwich
The women had to wait until the conclusion of the guy's contests yesterday here in Le Morne to get their first taste of competition at One Eye. Three days spent training upwind at Chameaux paid off as we were treated to a show of measured power and finesse in the surf.
In truth, the women's contest was only confirmed just a few short weeks ago thanks to extra sponsors making that possible, and what good news that was with nine ladies eventually either making the long journey here, or registering as a local.
The line up in round one was:
Heat 01:
Kathrin Ernest
Larissa Fadeeva
Laila Puehringer
Heat 02:
Lyde Heckroodt
Milla Ferreira
Moona Whyte
Heat 03:
Tatiana Mukhina
Ninja Bichler
Uli Holzi
At the end of a three further rounds we were presented with an intriguing final that saw local hotshot and winner of the KSP event here in 2012, Ninja Bichler, go up against Moona Whyte from Hawaii and Milla Ferreira from Brazil.
As you know there's been an absence of credible, elite wave tour competition in recent seasons, and that wait has been as frustrating for the women as the men, but it's obvious that although there hasn't been a specific contest focus for these ladies, they've been pushing themselves as hard as possible either at home, or away at the world's best breaks.
The final was tight, but each managed to pick good waves and show true surfstyle commitment and flow. In the end it was local Ninja who once more proved her prowess at this most hallowed of cross-offshore kiting wave spots. As she says, she "likes the risk!" and there's no doubt she's very comfortable here.
Let's hear from the top three now:
1st: NINJA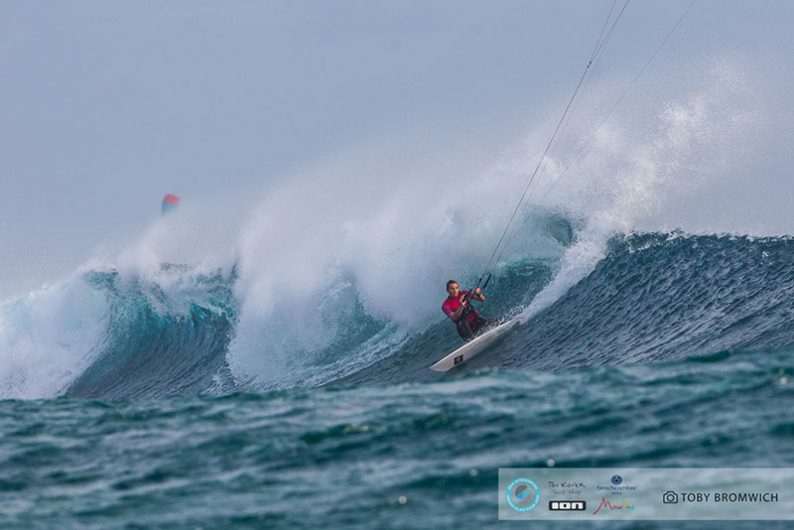 "I actually haven't been kiting that much recently because I had a baby in December, it was only really last week that I kited a lot. But of course before having the baby I used to ride this wave almost every day… and being able to read it properly is an advantage for sure. You learn to know when the waves are coming and how they will develop. That's one advantage, but I also like the risk! I try to push myself more and more!"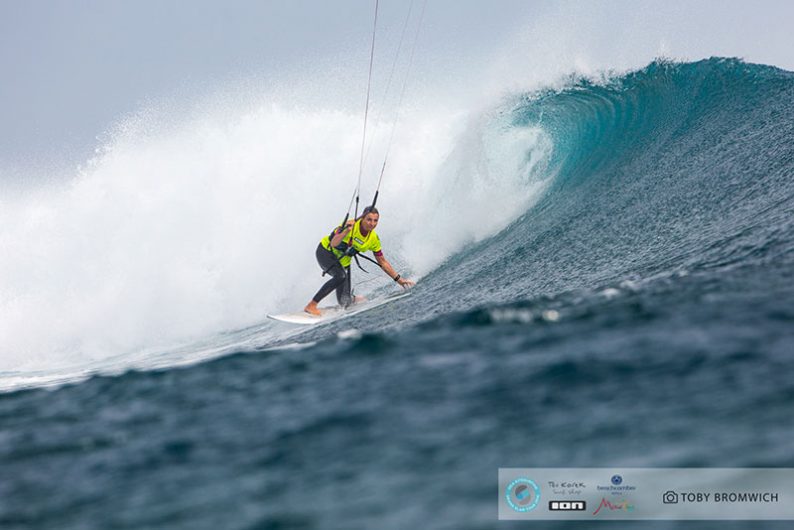 "It was great to have everyone here because I wasn't even sure that the girls would come. I've known the tour was happening for quite a long time, but I thought maybe I'd have to ride with the guys, but slowly the girls signed up and then I started to get really excited and the atmosphere was just great throughout the whole contest. I'm so happy that it happened." NINJA BICHLER
2nd: MILLA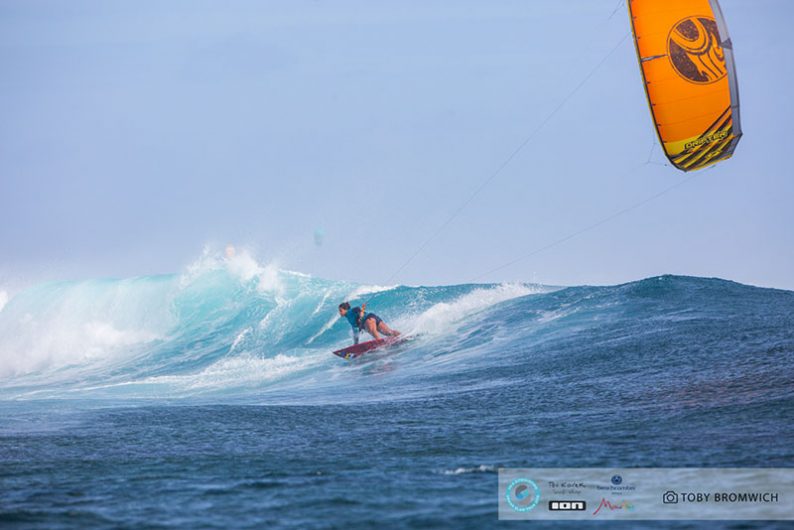 "I'm so happy to be riding here for the fourth time and getting second place. The girls were amazing out there. Ninja always rides so well, and it's great to compete against such a good standard of riders. We spent a few days training here before the contest started and all got more comfortable out there, so it was hard to know if we were going to make it through the heats or not."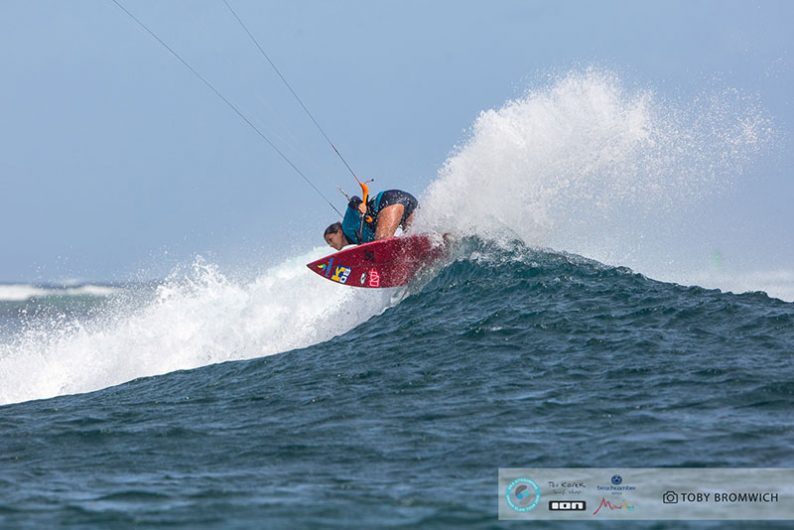 "We all had fun on the beach but out there at One Eye it's very different. Before the heats I wished them all good luck, but in the heats we're just looking for waves and trying to do our best. My brother also competes, he got fourth yesterday and we're always nervous when watching each other. It's always like that, we always travel together to compete and help each other, it's nice and we keep each other calm. My dad usually comes too, but he had to go back to work this time." MILLA FERREIRA
Milla and Filippe
3rd: MOONA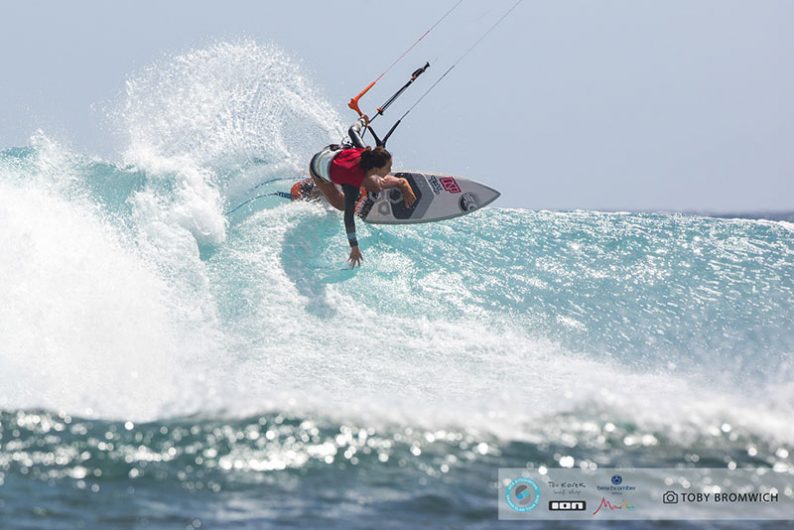 "It was definitely worth the wait for this competition! Conditions here were so good and it was so fun today. We had a smaller swell than the guys but it was still a pretty good size and perfect for the girls. The wind was a good direction too, so we could get a lot of turns as long as you picked a good one."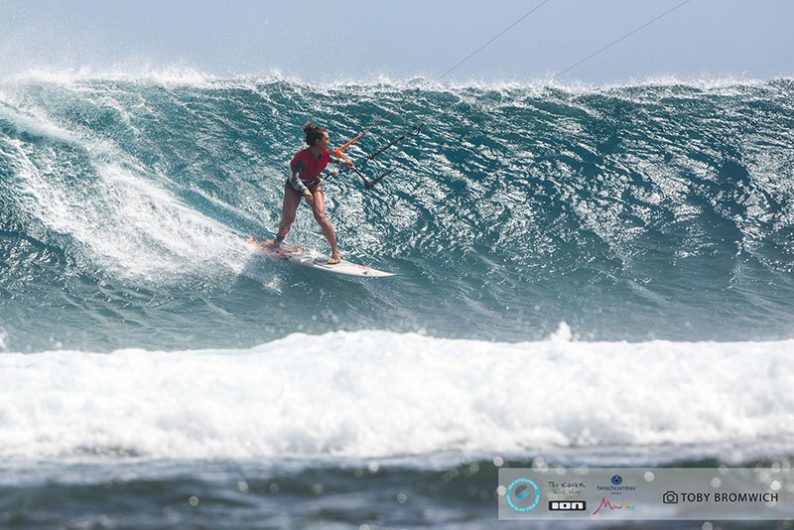 "I was riding my five metre mostly. The wind's lighter at home in Hawaii and I'm not used to going left, but I had I had a couple of days practicing here before the competition and think I got a lot better in that time, but yeah it's really different from home. I always get nervous before competitions, but I just tried to relax and know that I get my best results when I have fun, which I did.

"Both Milla and Ninja picked really good waves. Ninja especially did two really good turns right in front of me. She definitely know this spot and she rides well. Bring the tour to Hawaii so I can try to win at my home spot, ha ha!" MOONA WHYTE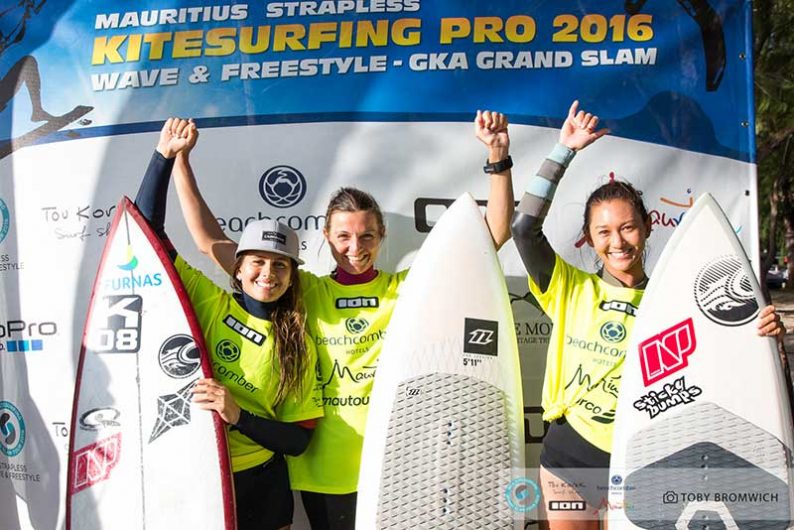 MAURITIUS KITESURFING PRO
GKA WAVE & STRAPLESS FREESTYLE STOP #03

DAY SIX – MEN'S STRAPLESS BIG AIR CONTEST!
Le Morne, Mauritius, 12th September 2016

Photos: Toby Bromwich and Jim Gaunt
Saturday saw the promise of a carnivalesque performance from the strapless freestylers as they put on a show right in front of the spectators, really up close and personal at the offshore point of the public Kite Beach in Le Morne.
Paulino Pereira
As riders sped in towards the spectators they'd pull the trigger on their tricks just feet away from the beach, firing themselves away from the crowd, downwind into the lagoon.
The beauty of this discipline, but more so thanks to this talented and fun-loving pack of riders who feed off each other's enthusiasm, is that the crowds can't help but be absorbed by the action.
17 riders were split into three heats of four and one heat of five, with riders going off like fireworks in an attempt to claim the biggest score in a 'big air' category that was judged 70% on height and 30% on high performance / difficulty.
Tour riders Jan Marcos Riveras, Tundra Max and Carl Ferreira kept the beach party well tuned with info on the mic. On the water, this discipline is so technically difficult that it requires 100% focus… but what these guys manage to do is make it look like all they're doing is having fun on the water.
If you hear of any of these riders coming to a beach near you at some point, make sure you get down there to check out their skills. It's eye opening to see the direction they're taking the sport!
The tour's top four ended up in the final:
THE FINAL HEAT
MATCHU LOPES Vs PAULINO PEREIRA Vs AIRTON COZZOLINO Vs JAN MARCOS RIVEIRAS
Paulino Pereira finally took his first win on tour. Although this big air 'secondary' discipline doesn't count to the overall title, there's a lot of kudos in winning it between the riders, and especially psychologically in getting one over Airton, who always strives to finish on top.
Paulino is like a firecracker out on the water. By trade he's an aircraft mechanic for the Portuguese army, but he's given clearance to come and represent his country at these events. We probably should have applied for air space clearance for him before this final as he earned the win through one of the biggest boosts and controlled board off that we've ever seen, somehow holding it all together, piloting his kite one handed to ride away to a massive cheer from the crowd after he'd soared away from the beach just in front of them.
Airton landed a big kite loop crazy horse, which was his highest scoring trick, touching down very powered, but he's getting better and better at being able to stomp powered landings with the progression of each tour stop. In fact he also landed a super neat 315 which, if you didn't look closely, you'd think he'd been using a twin-tip and participating on the WKL! However, although he scored a 10 for the performance category for that trick, the remaining 70% counting for the big air criterias was lacking. It's a privilege to see his level though and both the crowd and his fellow riders really appreciate everything he brings to the table.
Matchu looked incredibly relaxed throughout the afternoon's event. Having achieved his dream of winning here in the wave contest earlier in the week, he was out just to have fun. He spent most of all the heats he wasn't riding in lying in the water and enjoying the action go down, watching his friends throw down as keenly as the crowd were. He's a joy to have on the tour, and his double front rolls are just getting so dialled in that it's ridiculous. He threw a couple of tight ones in to get third spot in the podium.
Jan Marcos Riveras has managed to develop a uniquely huge front roll with a style that he's made his own. Piloting around a big front roll without grabbing the board takes enourmous awareness of the wind and there's a long moment in the middle of his version of the move in which he gets a much more extended lift than other riders and holds it steady. His cavorting and earning favour with the crowd is one of his increasingly recognisable tricks, but so too is this massive front roll. It got him to the final, but couldn't quite get him onto the podium.
GKA WAVE & STRAPLESS FREESTYLE TOUR: MAURITIUS
MEN'S BIG AIR RESULTS:
1st Paulino Perreira (PORTUGAL) Ozone / Xenon boards / Underwave
2nd Airton Cozzolino (ITALY) North / Ion / Red Bull
3rd Matchu Lopes (CAPE VERDE) North / Ion
4th Jan Marcos Riveras (DR) North / Ion / Wet Watersports
5th= Sandro Pisu (ITA) North / Ion
5th= D'Jo Silva (CAPE VERDE) F-One
5th= Matt Elsasser (USA) Cabrinha / NP
5th= Ralph Boelen (FRANCE) North / Ion
9th= Mervin Louis (MAURITIUS) North Mauritius
9th= Tundra Max (CANADA)
9th= Stefano Di Sora (ITALY)
9th= Jeremy Chan (MAURITIUS) North Mauritius
9th=Keahi de Aboitiz (AUSTRALIA) Cabrinha / NP
9th= Patri McLaughlin (USA) North / Ion
9th=James Carew (AUSTRALIA) North / Ion
9th=Sebastian Ribeiro (BRAZIL) North / Ion
9th=Mitu Monteiro (CAPE VERDE) F-One
After 2 very successful events, GKA moves on to Mauritius and has wind and waves straight away to showcase the riders and the tour. No waiting, all action, all stoke for 3 days in a row. Videos and wrap up from the GKA media:
MAURITIUS KITESURFING PRO
GKA WAVE & STRAPLESS FREESTYLE STOP #03

DAY THREE – THE FINAL ROUNDS AND THE LADIES!
Le Morne, Mauritius, 8th September 2016
Photos: Toby Bromwich
It was a long night's wait for Keahi de Aboitiz and Matchu Lopes who were first up in semi final number one. The waves were a little smaller than day two and the wind a little lighter at times, but as Patri McLaughlin said, "The waves were still really good, and One Eye is really good no matter how big it is!"
Patri himself was up next against Brazilian Filippe Ferreira. Just four guys remained, but the action ran hot as riders traded waves and at times it was wave selection as much as performance that made the difference.
Let's get into the photos and stories from the riders at GKA Wave & Strapless Freestyle day three that saw the climax to the men's and women's competition – full report from the ladies coming up next time…
SEMI FINAL #O1
KEAHI DE ABOITIZ (AUS) Vs MATCHU LOPES (CAPE VERDE)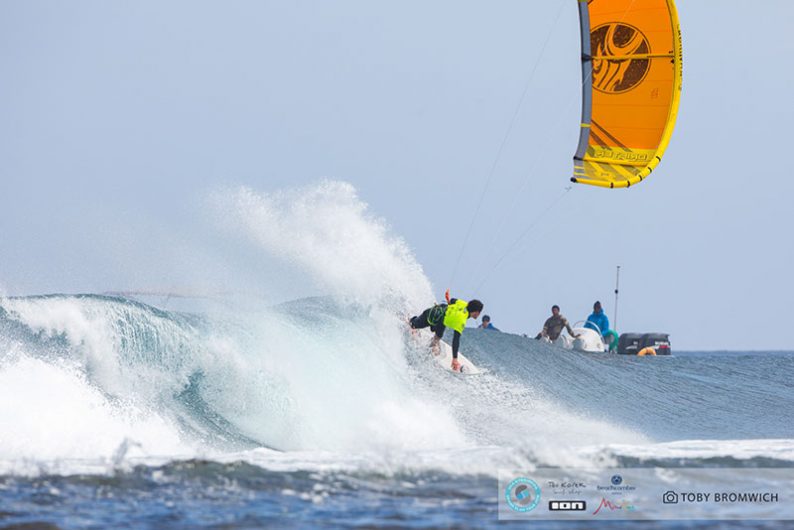 "The wind looked okay and then as we started it dropped a bit. For me backside it was pretty offshore and quite light which made it hard. I saw Matchu got some good waves and had a feeling he'd won that one." KEAHI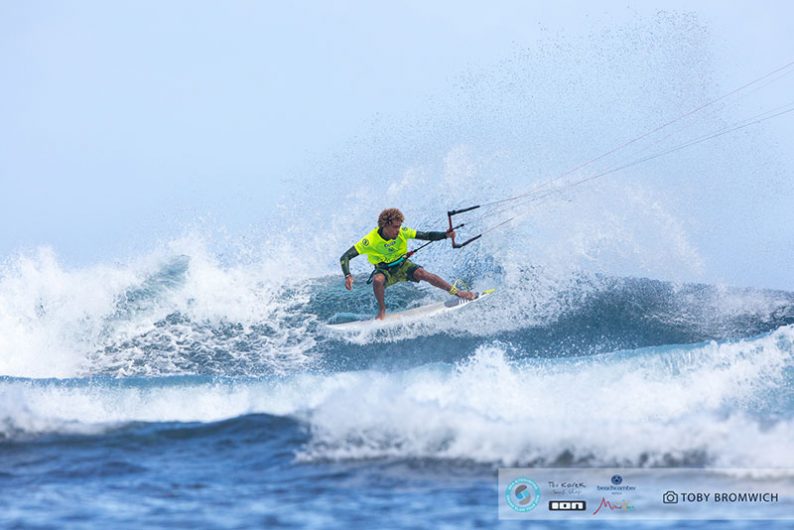 "Yeah the wind was a little bit light, so I got a friend to wait outside the break before the heat with another kite in case the wind did drop – which it did. Luckily I managed to get the other kite, Keahi was underpowered and I managed to get a few waves, surfing them all the way in and finishing them off well. Yeah I made it and I'm stoked to get that over Keahi because he's such a good rider." MATCHU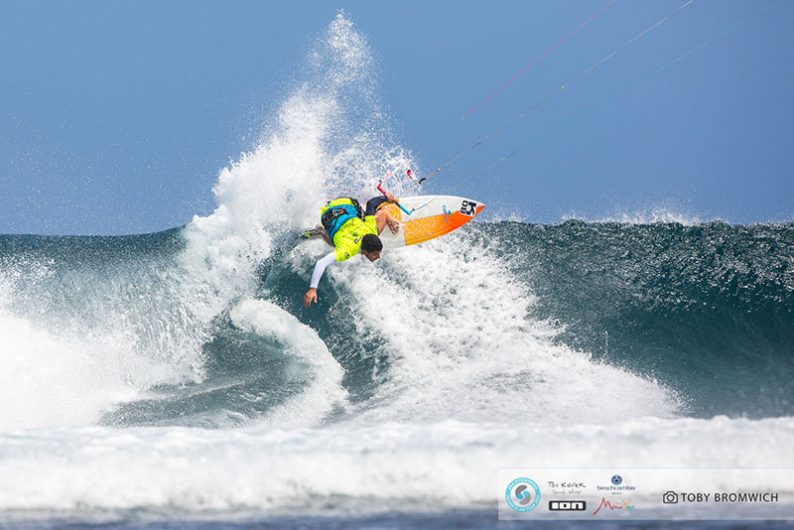 "I live in Rio de Janeiro in Brazil and the wind is like this, more cross-shore from the left, but smaller, more like one metre wave height and I'm usually riding a 12 or ten, not six or eight.

"I've been here twice before for F-One meetings and for the previous KSP competition where I lost to Patri in the quarters. Now I'm here again and I lost in the semi final, but it's okay, I'm really happy for my surf, I did well in my heat, and that's competition." FILLIPPE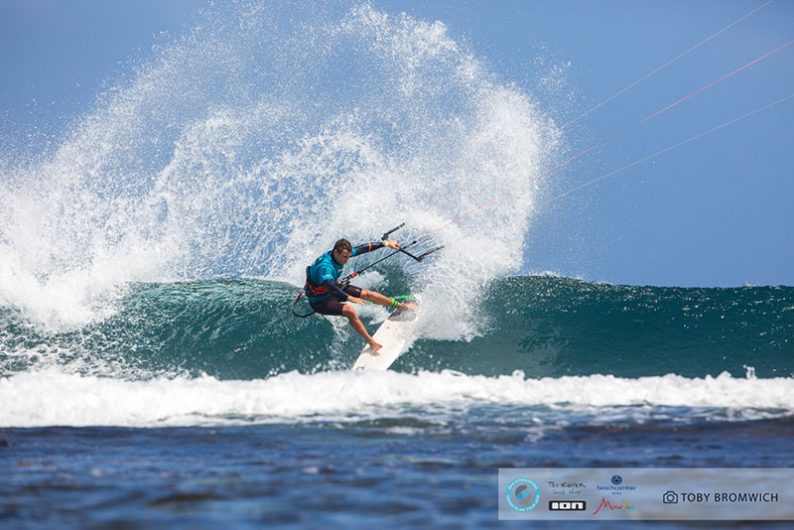 "He´s a great rider and he had a really good heat. I just found my flow in this semi and had some really good waves, got a barrel and like four turns on the same wave, so I was pretty confident that I was going to advance to the final." PATRI
THE FINAL
MATCHU LOPES Vs PATRI McLAUGHLIN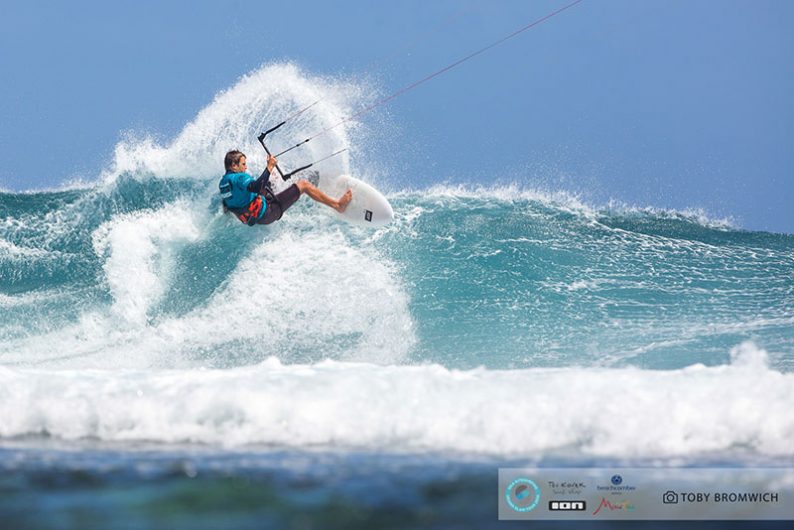 "I knew selecting the best wave of the set was going to be important, and I thought I did. I was out further and I let the first two go by and it was the third one which was the biggest lump in the swell, but you never really know what a bit smaller swell like this going to do when it hits the reef. When it's really big out there it's a bit easier to predict it. But today the swell could hit the shelf down there and close out, or it could line up really well, you don't really know. So it was challenging and then Matchu just turned around on the wave behind and it hit the reef perfectly, lined up and he got four good turns, so I'm sure that was one of his top scores. After that I was trying to hunt down a barrel and I got one, but it wasn't a really good wave. It was a good barrel – pretty wide, but it was short. I kicked out after that and then there were no more sets that came through, so I kind of knew he'd won, even out on the water." PATRI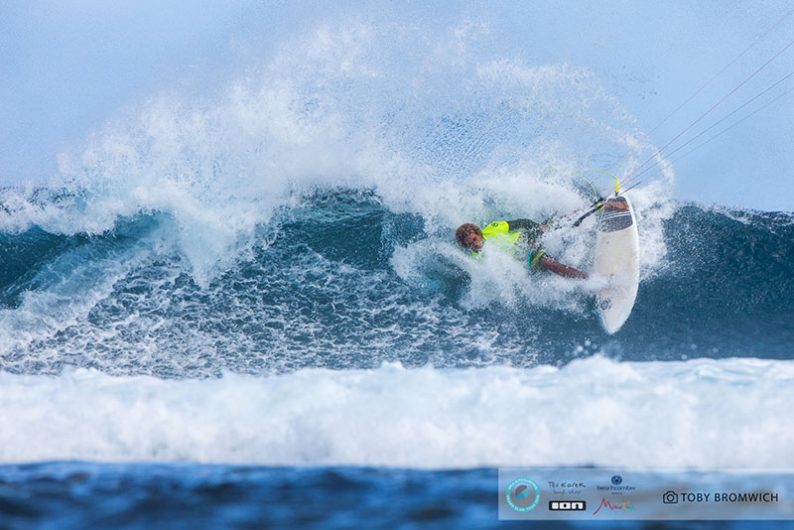 "Yeah Patri is a big wave rider, he just goes, does it and makes it. I just went out there and enjoyed the moment, tried to get the best of it, to make my two waves and get another one. I wanted to make something special and I just feel good, so stoked about it, man!

"I've never done well here in competition before. It's my second time competing here, my first time was four years ago and I was so scared about the waves and the conditions; it was big… insane… crazy… and now for the second time being here I don't believe that I've got this win. I still think that you guys are joking with me!" MATCHU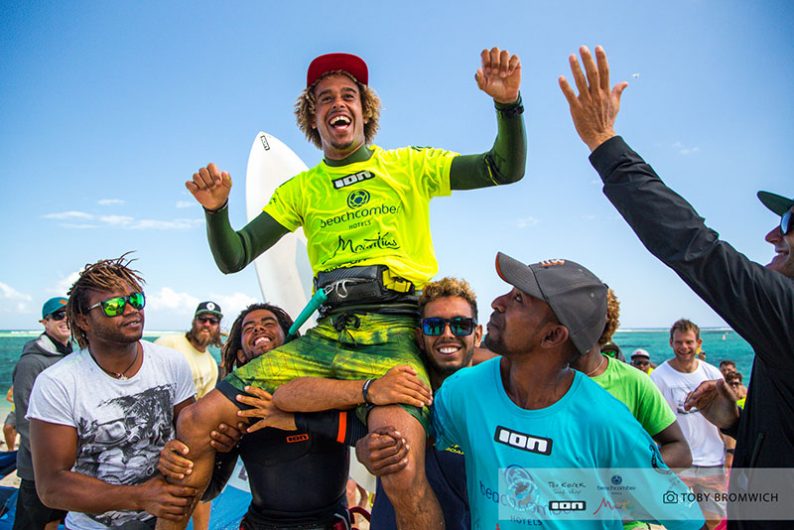 "Matchu got that one for sure, but he deserves it dude, he works so hard and I'm psyched to see him take the win. He's a really passionate competitor, so I'm happy for him. I just want to go kite big waves really, that's what I'm passionate about. I'm psyched with second place though, for sure. It's great." PATRI
MINI FINAL
KEAHI DE ABOITIZ Vs FILIPPE FERREIRA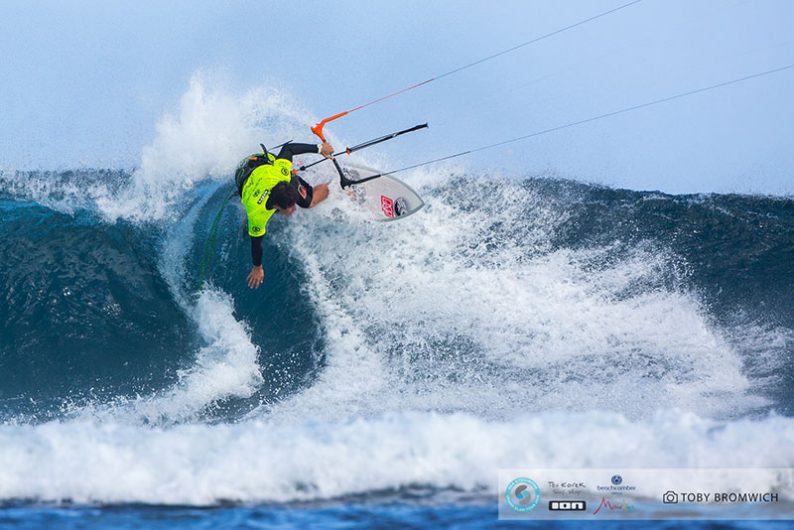 "The loser final was a lot better for me. The wind filled in and especially backside out here it's better to have a little more side-shore wind, which it was. I find I can get some good waves and that heat was good. I had a pretty good warm-up before the heat, figured the conditions out and had a lot of fun. The sets were better and it was basically non-stop waves. It's always fun going against someone that's backside too because you're both on the same playing field. I haven't ridden against Filippe in a while and it's good to see that he's ripping and stoked to come out on top of that one."
KEAHI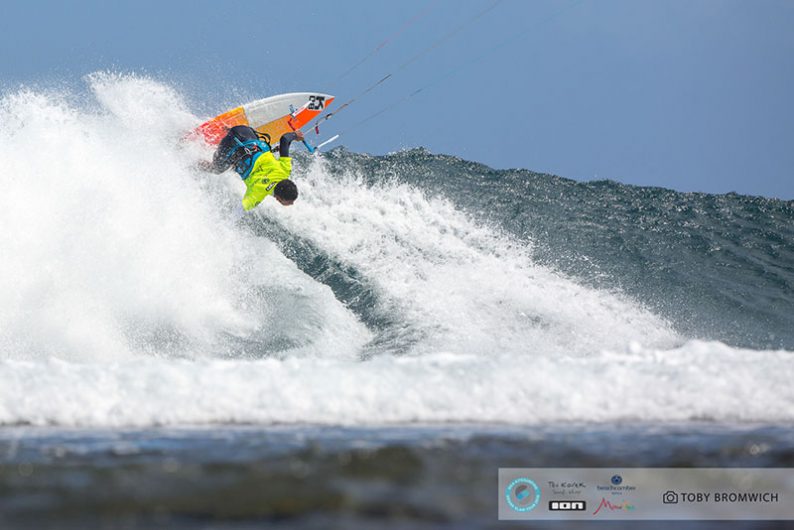 "Yesterday the waves were bigger, and a different wind direction which I preferred. I'm really stoked with my fourth place though and I want to say thank you to my sponsors. I'm really happy!"
FILIPPE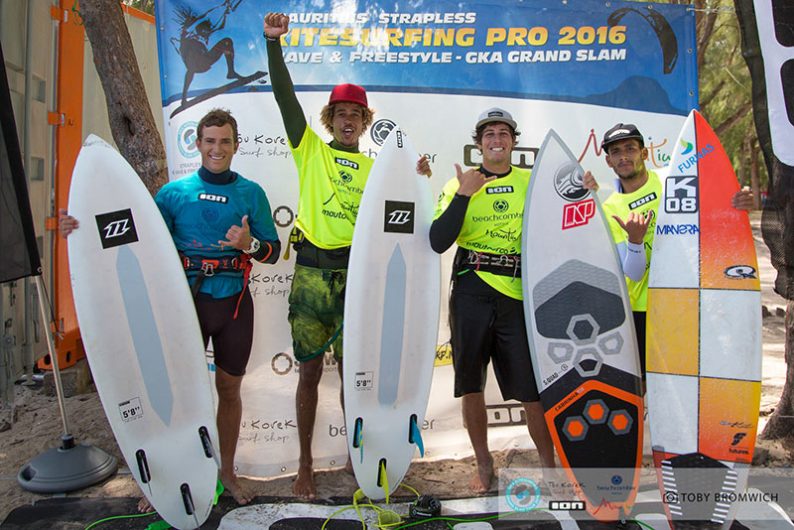 1st: Matchu, 2nd Patri, 3rd Keahi, 4th Filippe
WOMEN
The women took to the water straight after the men´s podium with nine girls competing. The probable favourite was local Ninja Bichler who also took the win at the KSP event when it was here in Le Morne in 2012.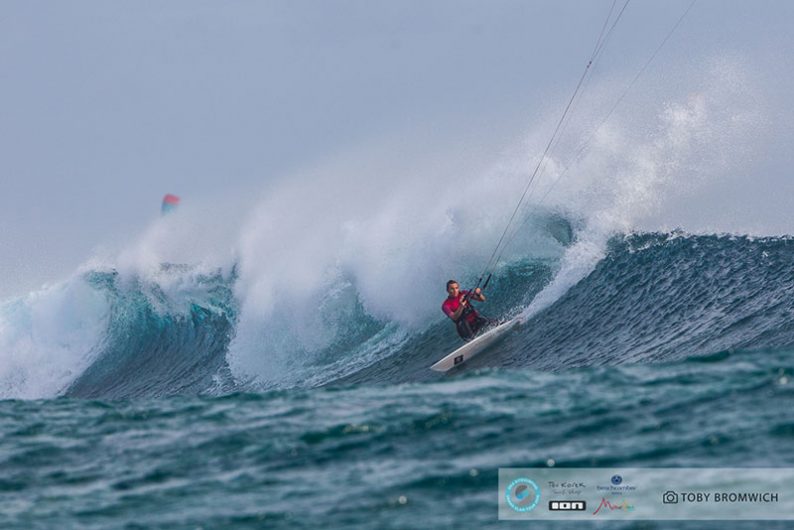 Ninja – she's so comfortable here!
More images and reaction coming tomorrow for this contest, but in the end as you all probably know, it was Ninja who prevailed in a tight final between three excellent female riders, with Brazilian Milla Ferreira (Filippe´s sister) coming second and Moona Whyte from Hawaii in third.
Congratulations to all involved, from competitors to Carlos on video, SAR production for the drone, Toby on camera, organizers, judges and helpers. Great effort all round.