Stellar Racing Upsets the Order in Near Perfect Foiling Conditions
Joy Sea Beach, Weifang, China

11 September 2017
British teenager Guy Bridge notched up a remarkable four bullets to seize to top of the leaderboard at the International Kiteboarding Association (IKA) KiteFoil GoldCup in eastern China.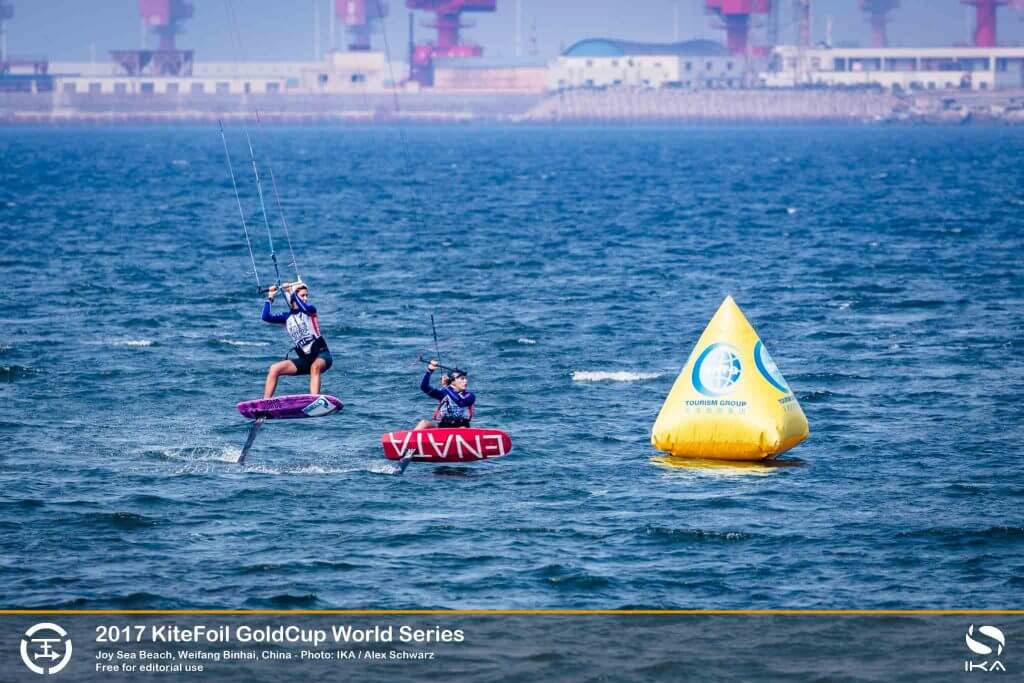 Bridge, younger brother of Olly, might even have made it five wins had he not misjudged a dramatic wind shift that saw him overhauled by his closest rivals on the long reach to finish line on the last of day's six races.
But Bridge's stellar showing at the second of the four-stop IKA KiteFoil GoldCup tour in Weifang saw him leapfrog his nearest competition in the standings, France's Axel Mazella and Theo Lhostis, both of team Enata foils and kites that had dominated proceedings.
Former Formula Kite world champion, Russia's Elena Kalinina, put another dampener on the Enata party when she found her groove and reeled in Alexia Fancelli (FRA), to go even on points.


Day three of the five days of competition—to be followed almost immediately by another KiteFoil GoldCup stop on the Chinese island of Pingtan—saw the 26 riders from 14 nations on the water early as the breeze that had been fickle from the outset finally showed up.
The characteristic north-westerly breeze soon hit an ideal 12kts to 14kts blowing over the clear, flat waters of the Yellow Sea, perfect for the foilers' scorching pace around the two laps of the windward-leeward track with a reach to the finish near the pristine Joy Sea Beach.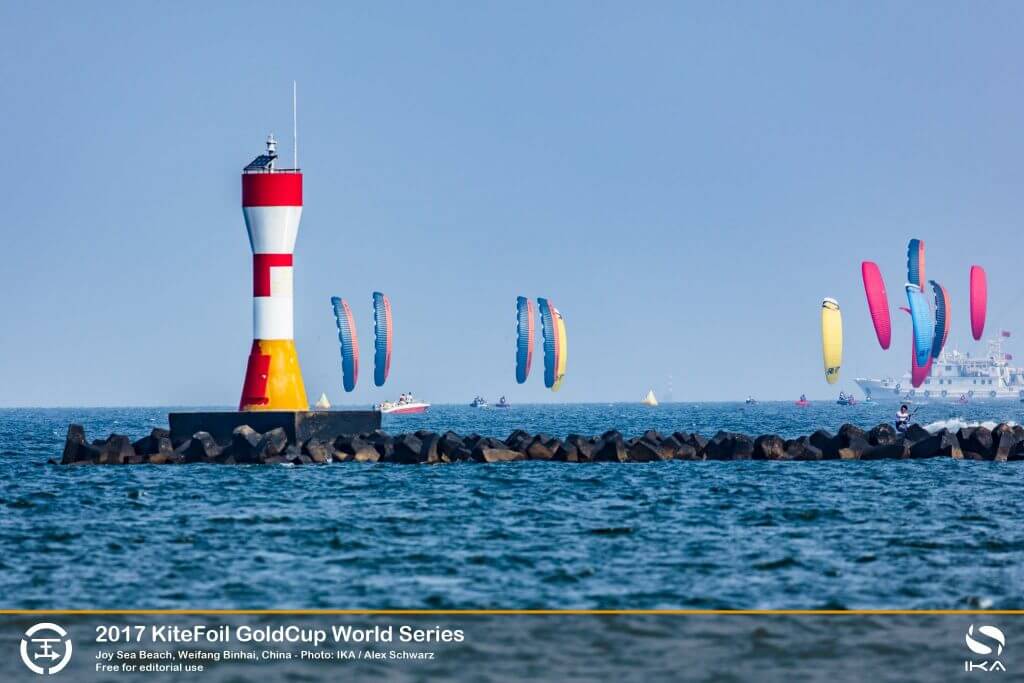 Guy Bridge, 18, won the first three back-to-back races of the day, trading places at the top and bottom marks with Mazella, Lhostis and France's Theo de Ramecourt. But on his 15m Flysurfer Sonic Race and Levitaz foil, Bridge matched the pace he had shown early on with consistency and tactical assurance.
"I stayed on the inside on the left-hand side of the course on the up-wind legs," said Bridge. "The wind was good there and there was a bit of a lift that made it easier to make the mark, though once just skated around it. Going outside it was difficult to see the lay line."
But in his battles with Mazella, who had scored three bullets from three in the opening two days, Bridge did not have it all his own way as the breeze eased and stiffened continually, forcing the riders to come to the beach between races and switch to bigger or smaller kites.
Even though Mazella added another bullet and a handful of second and third spots to his tally, the Frenchman conceded it had not been his best day as he struggled for the lack of a kite to bridge the gap between his 15m and 21m kites.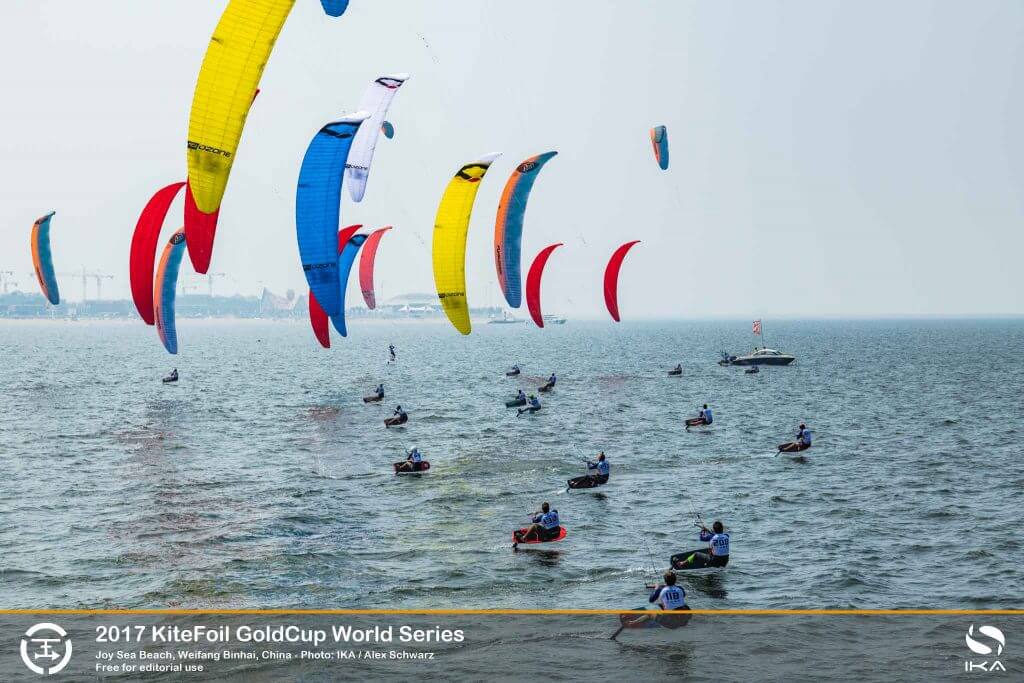 "I don't have a 17m or a 19m kite, so when I took the 21m I was often overpowered, or with the 15m I was underpowered," said Mazella. "I think the kite size thing was my biggest problem, but Guy Bridge is really strong, has good speed and makes no mistakes."
His Enata team-mate and countrywoman, Alexia Fancelli, had another good outing but found herself swapping places with Kalinina as they raced among the mixed fleet.
"Elena Kalinina and I had some good battles," said Fancelli. "I was on my 15m kite the whole time and so was she. But I think that she just better than me on the 15m kite. For example, in the last race I was below where the wind was more favourable, but she still got past me."
OVERALL STANDINGS AFTER 9 RACES (1 DISCARD)
1. Guy Bridge (GBR) – 14 pts
2. Axel Mazella (FRA) – 15 pts
3. Theo Lhostis (FRA) – 19 pts
4. Theo De Ramecourt (FRA) – 42 pts
5. Oliver Bridge (GBR) – 46 pts
TOP RANKED WOMEN AFTER 9 RACES
1. Alexia Fancelli (FRA) – 128 pts
2. Elena Kalinina – 128 pts
3. Anais Mai Desjarding (FRA) – 153 pts
Full results and live scoring: www.kitefoilgoldcup.com


Racing continues through to Wednesday, September 13, 2017, before the fleet heads to Pingtan Island for the second part of the Chinese back-to-back regattas starting on September 18, 2018.