With a hanging heart I drive out of a small town, fittingly named Waves, at the end of another Cape Hatteras Wave Classic: a Kitesurfing Event. This year was a special one and it gets harder to go each time I drive away. With a week spent in hurricane sized swell, it seemed appropriate to leave town because another relentless storm was en route. Highway 12 is a narrow road spanning the length of Cape Hatteras, and is the bloodline for the island. The sand blew past my headlights as our convoy intermittently slowed down to drive through the salt water in the road. The ocean had skirted the dunes during Hurricane Jose and water still lingering in the streets. The elements can be rather raw in Hatteras and it wasn't going to let us out too easy. With a feeling like I could've stayed, my gut knew it was time for the locals to hold it down while, yet again, the anticipated storm surge washed out the road. It would have to be until next time my dear Hatteras!
I want to put some focus on the event, format, conditions, and especially the host/sponsors: REAL Watersports and Patagonia. Each year in mid September, Real's employees change gears to prep for the Wave Classic as a last hurrah of the season. I don't know the precise number of hours that go into the preparation but they're working overtime once the event is finally underway. Staff arrive early at the beach to begin set up. This means tents are put in place to withstand the wind; they need speakers, flags, and banners to create an event site. Then at the end of the day, it must be broken down to do it all over again tomorrow. In the evenings, their photographers go hard seemingly all night to provide sick video highlights and live updates for those following the event. Lastly, to make it all happen, is the unending list of sponsors who provide for and make this event what it is. This group collaboration does not go unnoticed and I will speak for all the competitors when I say thank you for the hard work!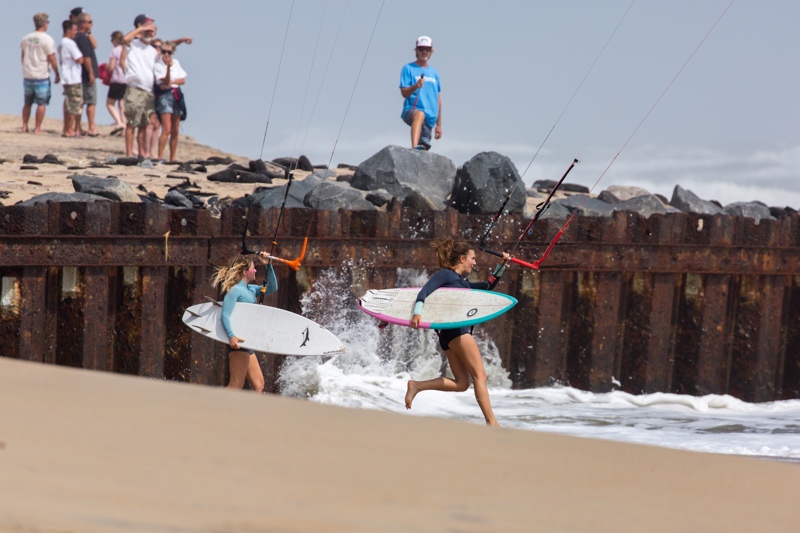 As Hurricane Jose approached North Carolina, riders showed up just in time for the incoming wind and waves. During the two days in which the contest was actually held: the current, munching waves, and high winds all set the stakes for the terrain we'd be competing in. Competitors have 15 minutes per heat to put together two waves down the line, two tricks in whatever you can throw down, and points for overall impression are awarded to tie it together. This is what you are getting judged on so you need to keep those factors in mind in a seemingly short amount of time on the water. This setting required tactics and strategy, just like sailing, where some aspects fondly reminded me of so many days spent racing small dinghies. When the swell grew, some competitors wore a leash to prevent the ocean from tossing their boards to shore like a rejected kids toy. Others left their leashes behind, determined to avoid losing their boards so they wouldn't burn distance down wind and ultimately outside the competition area. Both approaches were practical but anyway if it wasn't your board washing up, then it was often your kite down in heavy surf. The conditions tested everyone out there, but eliminations went on and friends battled it out to finally arrive at the semi and final rounds.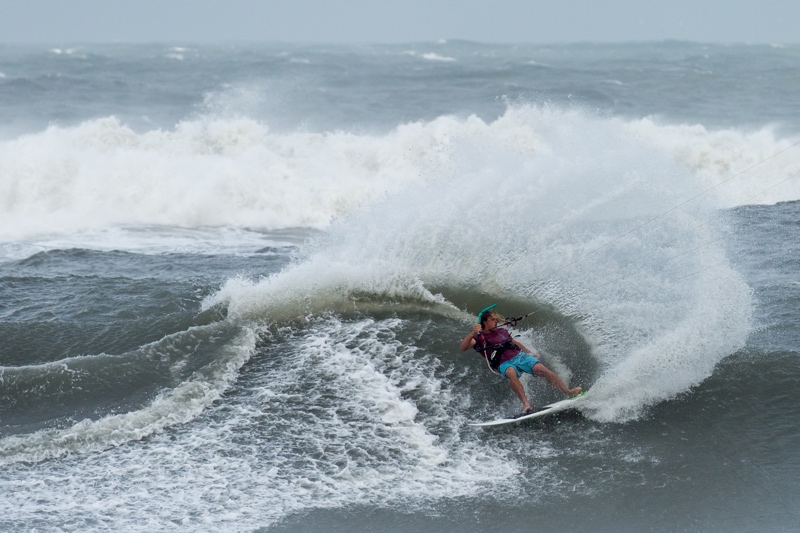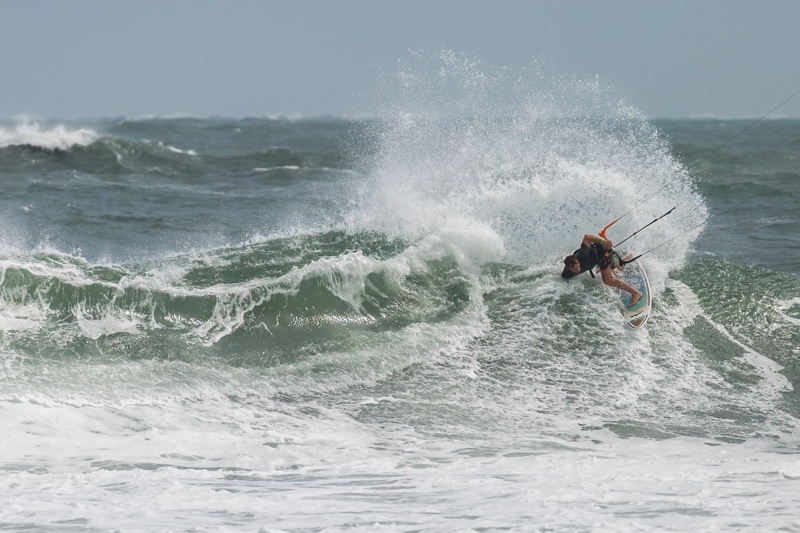 It seemed as though mother nature knew we were progressing through our heats because the conditions became more challenging as we moved on. In the finals, the guys went hard in some of the most critical conditions I've seen on the East coast. The waves were easily double overhead, wind had switched offshore, and the boys were in their own glory for a heat lit up by the sunset's glow. It was an unbelievable sight. Meanwhile, the women pushed all sorts of boundaries in each and every heat held. I want to give props to all the girls who rode and also plead for more to enter in the years to come! This is an open event, not by invitation, and provides opportunity to meet and ride with other girls! Kiting is seemingly a "mans" sport but when ladies are out there charging it changes the dynamic completely. It's not guys vs girls or anything like that but it creates a community everyone can take pride in. As for the Wave Classic, the women had ties for 1st and 3rd place since we couldn't run the finals. I feel a bit shocked and honored to share 1st with my friend Gage Fichter who is due for some credit here. As a local to Hatteras, she shreds so hard!!! To finish the week, Real Watersports still provided routine updates for the women, hoping for improvements in the conditions, but time was spent mostly surfing from there on out.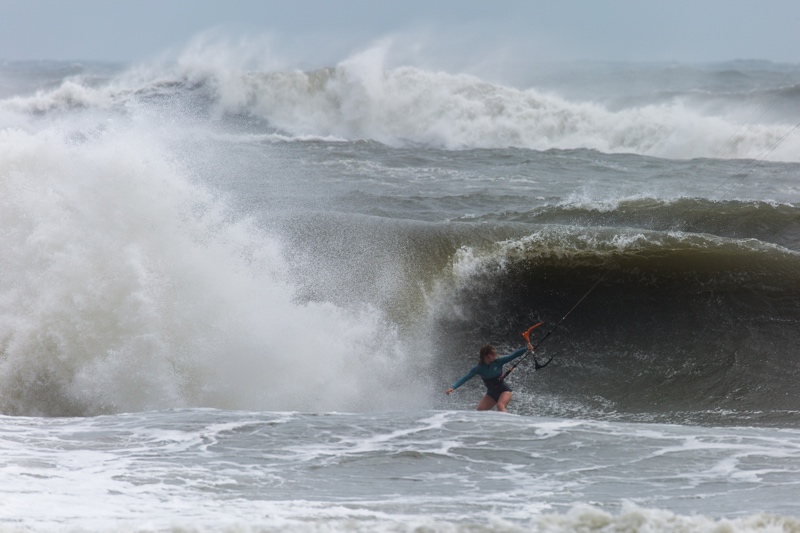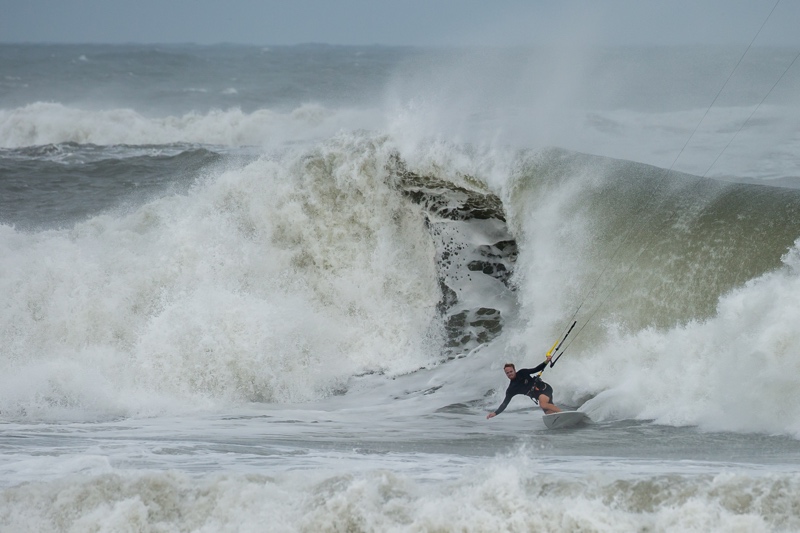 As Trip Forman, co-founder at Real, can be overheard saying on the mic: "the stoke is high with this group!" And here-in lies what I love so much about this week: the people. We're celebrating a last hurrah for the summer and are finally in a position to really let loose. This group is constantly itching to get on the water and experience what mother nature has to dish out. To some, we must seem crazy to be so engrossed with weather reports, but this incredibly pure addiction to the ocean is undeniable. We all speak the same language: following the tides, incoming swell, and the blowing wind. These natural forces get us moving and provide us the opportunity to experience flow and focus on a small section of now. This connection breeds a brotherhood, a sisterhood, unlike anything I've experienced and those ties will last a lifetime. In the best way to describe Hatteras: session, beer, hot tub, Waves Market burritos, and repeat. It's a constant pleasure being in Cape Hatteras even in the face of mild hangovers that, thank god, seem to wash away in the surf.
I know Cape Hatteras holds the hearts of many and for very good reason. Like most places in this world, you have to go to experience it, and it can hold a piece of you forever. I'm picturing a good friend telling me "You were there during my first summer in Hatteras; I love when you guys come to town!" I'd have to agree with that because time seems to stand still when I'm there. Until next time, I'll keep in mind the oceanside sessions and group bonfires on the beach. I'll hear the wild exclamations from the girls who discovered bioluminescence glows when you pee at the waters edge. And in my head I'll roll my eyes at the boys marvelous burrito count for the day. Such debauchery. But I love it. And there's Hatteras for you.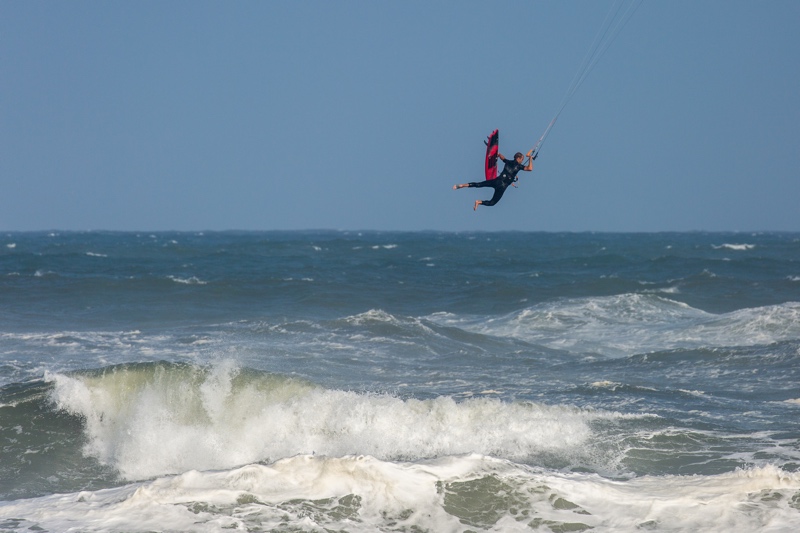 To travel to places like this or others, visit www.kitesurfholidays.com