Bonaire is one of the Dutch Caribbean islands off the coast of South America. Bonaire is politically part of the Netherlands. There are about 18,000 people that live on Bonaire and the island is 294km2. The people mostly speak Dutch and Papiamento, but also English and Spanish. The currency is in US Dollars and the time zone is UTC-4. On the island there is a wide and varied selection of restaurants and bars in beautiful locations around Kralendijk. Kralendijk is the main town in Bonaire. The prices are comparable with the prices in Europe, and the best way of exploring Bonaire is with a rental car.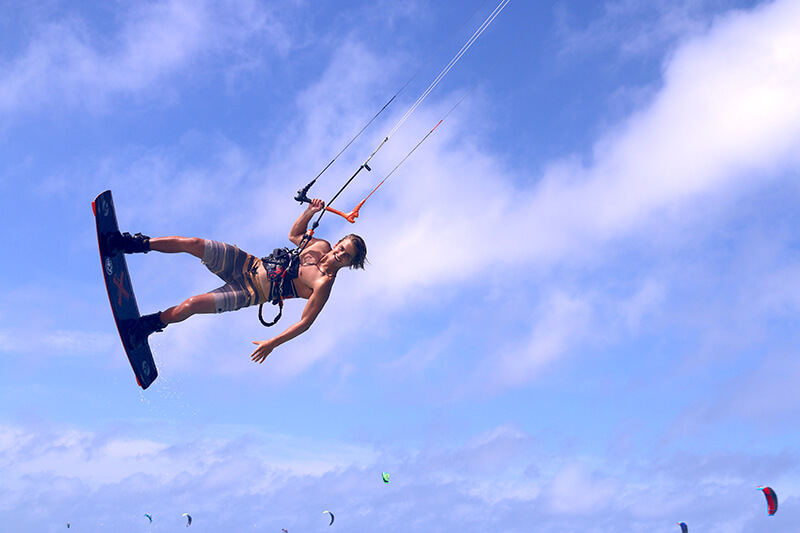 Atlantis kite beach Bonaire
Atlantis kite beach in the south of Bonaire is one of the best kiteboarding spots in the world, and the wind has an average speed of 17-22 knots 300+ days a year. The best wind season is between January 'til July. An average day at this spot is side-offshore wind the whole day which makes it quite gusty most of the time, but enoyable for freeride, freestyle and big jumps. Daily around 5pm, the wind turns completely offshore and gets more stable, and usually during the sunset the conditions become the best to enjoy kitesurfing here.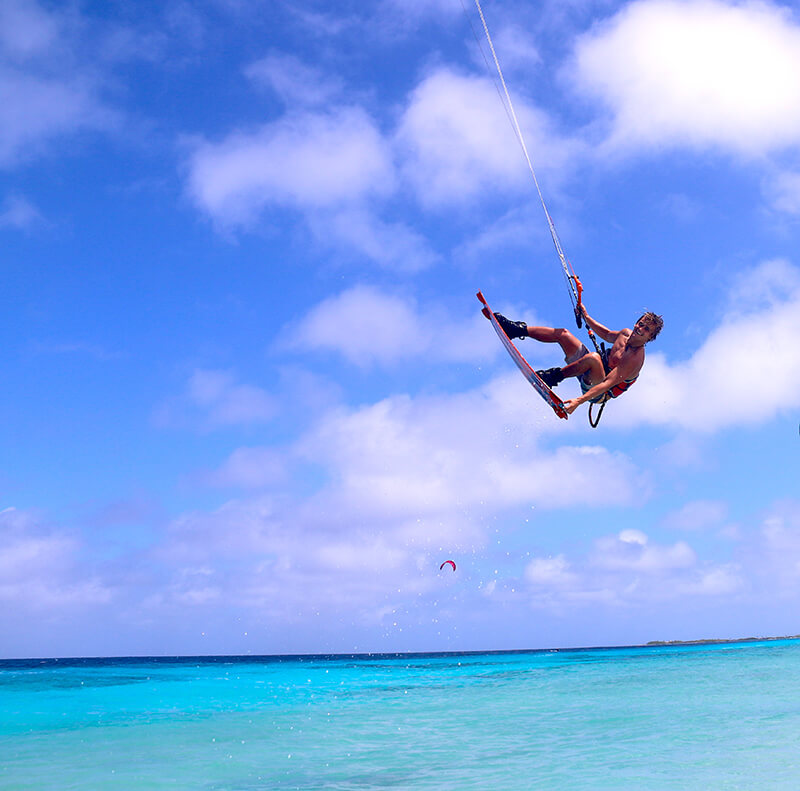 The weather temperature is above 30C degrees, with a sea temperature of about 28C. That in combination with the blue-green flat water, makes this a beautiful kitespot in the Caribbean. After a 15-minute drive from Kralendijk you will find this spot. There is a large parking spot around the Kiteboarding Bonaire kitebus. Here you can relax in bean bags with music, Wi-Fi and cold drinks between your kite sessions.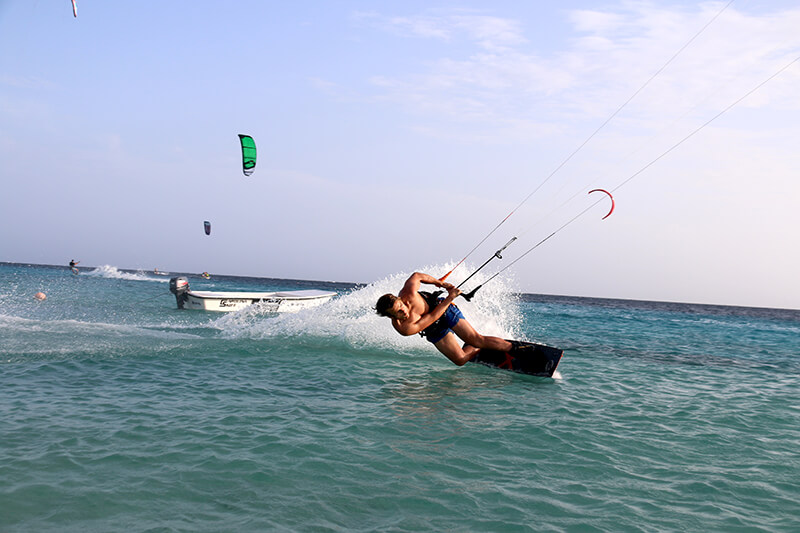 Other spots
Besides Atlantis kitebeach, Bonaire offers a couple of other spots for advanced kitesurfers. Little Bonaire for example, is a small beautiful island in front of Bonaire where you have some great kitespots. If you would like to kite there make sure you have a boat with you for safety reasons as the wind is offshore. The island is beautiful to enjoy a beer or a BBQ after your kite session as there is nobody around. That's why it is also better to bring a boat with you to make sure you will come back safely to Bonaire. Furthermore, Bonaire has a few wave spots as well. Most of these spots are surrounded with rocks, so a lot of experience is necessary to ride here. The spots are Lac Bay, Baby Beach and Playa Grandi.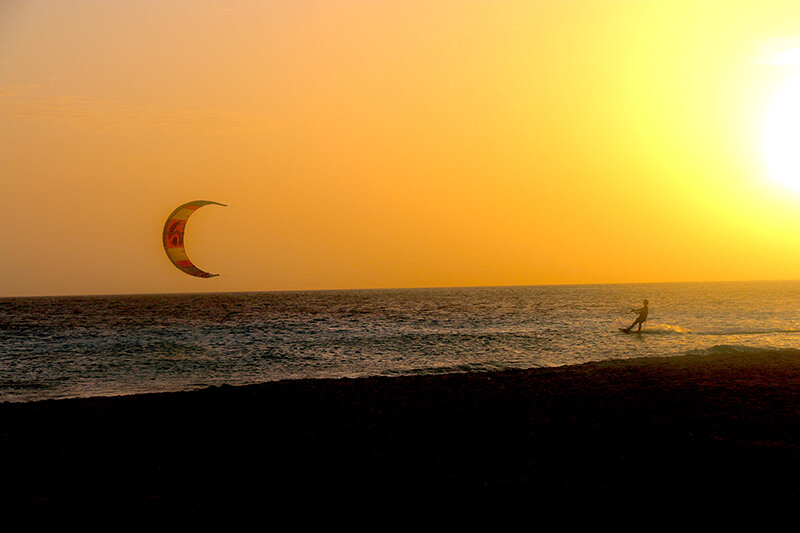 Staying on Bonaire
Bonaire has a wide diversity of hotels, apartments and villa's. Depending on your personal desire there is enough choice to find an accommodation that matches your wishes and needs. Popular with families and couples are the all-inclusive resorts where everything is fully arranged for you so you don't have to think about anything. However, there are a lot of people who don't prefer this and would rather explore Bonaire from their rented apartment and be more active throughout the day. Especially for kitesurfers this is more common. It's good to know that a lot of tour operators book a residence in advance and sell it to individuals. It sometimes can be more attractive to book a complete trip including the flight to avoid unexpected extra costs and effort of arranging your trip and accommodation yourself. Of course this depends on what you prefer.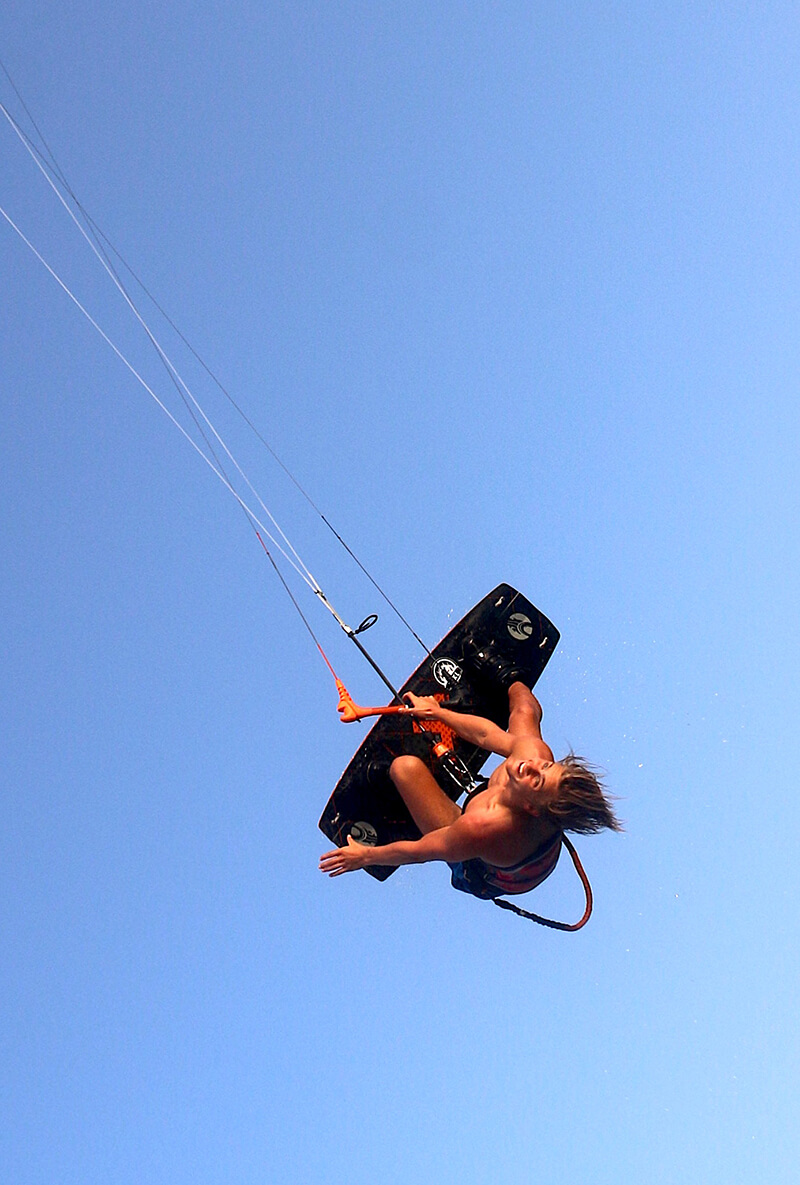 Sightseeing / Other places to go
As Bonaire is not really a big island, you don't have to travel by car for hours to do some decent sightseeing. Bonaire has unique nature and therefore most sightseeing options will be focused on nature and wildife.
• The Marine Park is a good place to go for beautiful dive locations as it is the oldest sea reserve in the world. So if you're in to diving besides kiting you definitely should visit the reserve.
• Slagbaai National Park. A 55 square kilometre park of wildlife that covers the whole northern part of the island.
• Goto Lake. If you would like to see thousands of flamingo colonies you should visit Goto Lake. This a a salt lake where many animals are breeding.
• Salt Fields. Salt making is one of the most important sources of income on Bonaire. You can see the salt hills from a long distance, close to Atlantis kitebeach.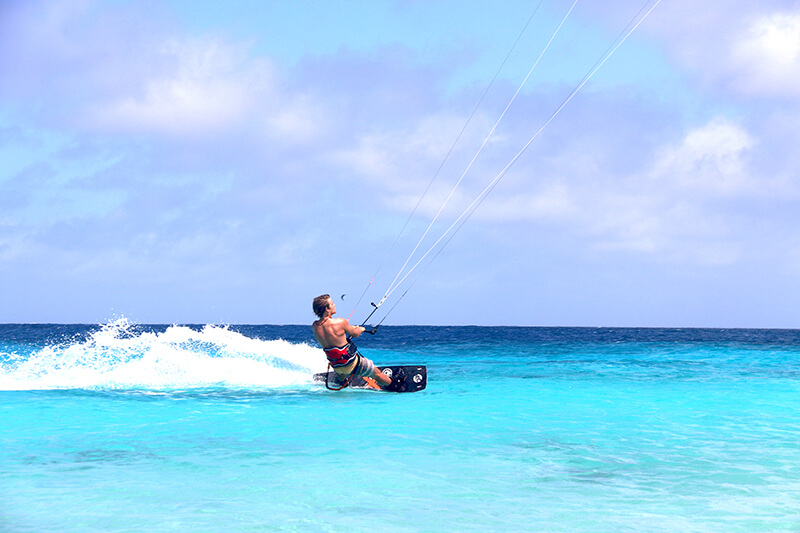 Other activities to do
Besides kitesurfing, there are many other things to do on this beautiful paradise in the Caribbean. There are many activities on Bonaire where you will be able to enjoy yourself on the land, in the air and of course in the sea. Because of the warm temperatures of the air and the sea, many activities will be related to the sea. Bonaire is famous for its coral reefs and numerous of rare fish species. That's why diving on Bonaire is a really great activity to do and a highlight in the activity program for a lot of people.
But if you prefer to do an activity out of the water, because all the kite crashes gave you enough water in the ears and nose already, there are the unique mangrove woods at Lac Bay which provide you the opportunity to go on a kayaking tour. The Mangrove woods at Lac Bay are the largest untouched mangrove woods on earth. You can also do some golfing, which also belongs to a popular activity on Bonaire. If you would like to play golf go check out the Bonaire Golf Club Piedra.