When Victor Hays was looking for a quick hit somewhere close to home he decided on Greece, and called on his good mate Andre Magarao to come along to get the goods… Both of them were a bit dubious about their chances of scoring the kind of conditions that they get in the more bankable places to shoot, and both of them were very pleasantly surprised with what they found.
AM: I've been curious about Greece for a couple of years now. Paula Novotná always says great things about the spots there. But on the other hand, every time I talk to a rider that I would like to go somewhere besides Brazil, they always say: "but you'll never find conditions like Cumbuco!" It was time to find out.
When we arrived at Drepano the local guys were super nice and welcomed us to what they called "not the best conditions" as the wind was blowing from the opposite side to usual. But the spot was still amazing in my eyes. I was blown away to see a beach that had only rocks, so there wasn't anything floating on the water and the water was crystal clear. This made it an ideal place for some waterhousing shots that I usually don't do very often in Brazil.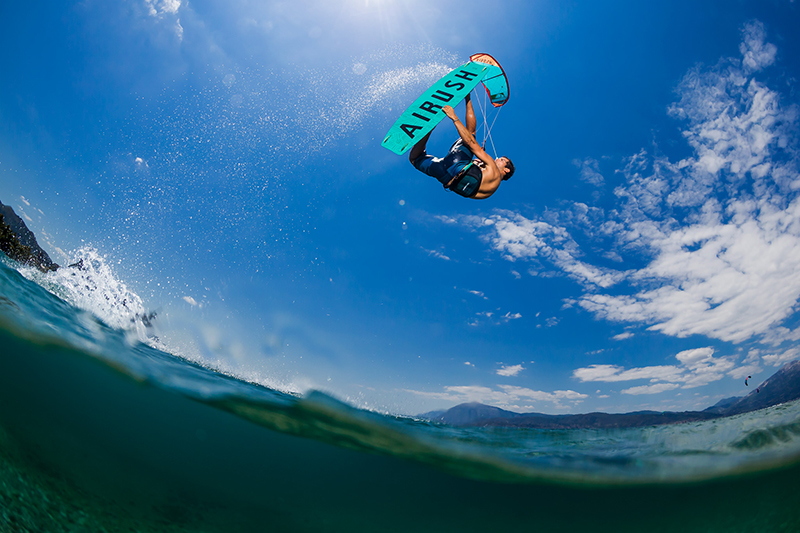 Above: Since the water was so clear I had to go take advantage of it. I got my flashes and my waterhousing with the biggest port I have and went to the water.
The spot is super beautiful with the big mountains around, and because the wind can change directions – almost a full 180º some days – for a photographer this is a real plus as it feels like two places in one.
It was definitely trickier to shoot there than in Brazil. The water isn't as shallow but the conditions are still very good and with a little effort you can get some pretty amazing shots. I was pretty bummed that we didn't get any windy nights, unlike Brazil every day the wind died pretty soon after the sun went behind the mountains.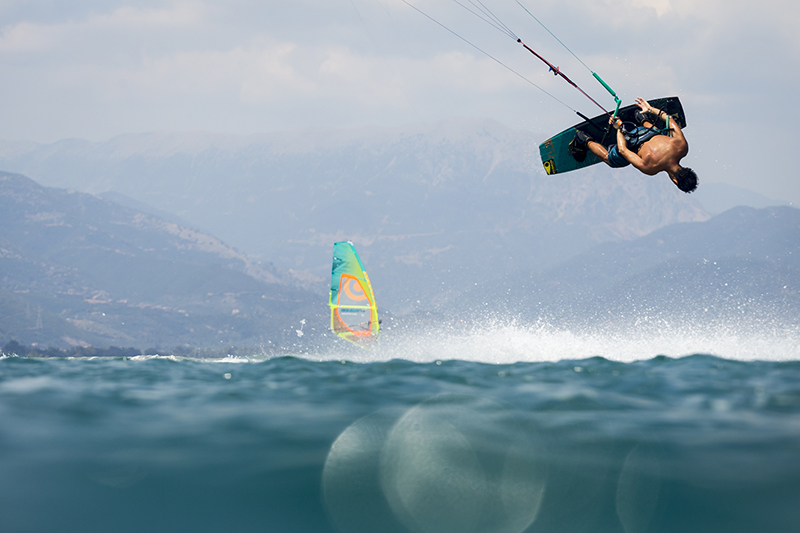 Above: During our time there we saw quite a few windsurfers. I was honestly pretty impressed by it because I don't get to see people windsurfing so much anymore. At least not at the places I usually go to.
We were pretty lucky with the conditions though, so we ended up staying in Deprano most of the time and didn't really explore a whole bunch. But we did go to one other spot that was equally beautiful. It doesn't have crystal clear water but it was butter flat with these two pretty pronounced mountains in the background. It's completely in the middle of nowhere and was definitely pretty unique from a photographer's perspective. If you have a chance, this part of Greece is definitely worth going to and it's no wonder a lot of pros have been going there lately.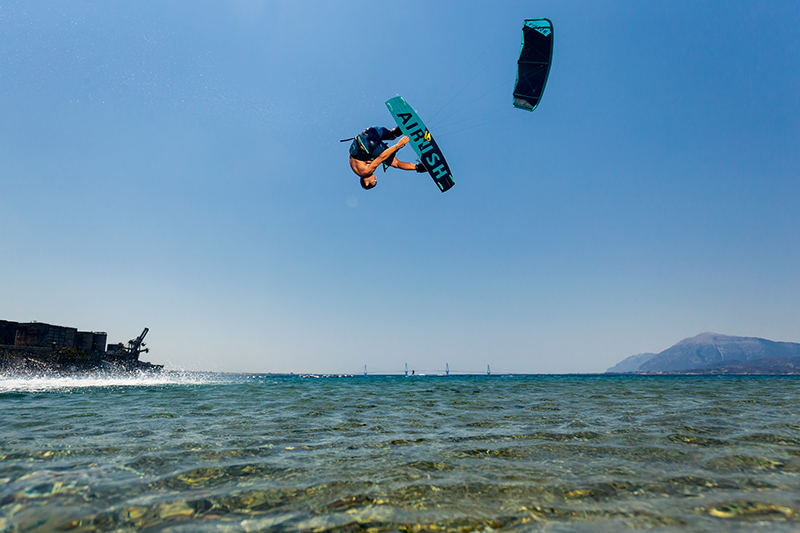 Above: The bridge in the background there has a €13 toll. It might have been the most expensive bridge I've ever crossed! But it did a good job as a background for some of the photos, so I guess it was worth it.
VH: Early August and it was time to set up a new trip, and when it's about shooting and filming, I always bring over my friend Andre!
We had to find a place close to Europe to make it work with Andre's schedule, and we had to find a place with consistent wind and flat water. So not too much to ask! After a few calls with the guys at Airush, and with some new equipment to shoot, we had the all clear and the trip was on.

Above: This was the only day we had wind until sunset so we took advantage of it and tried to shoot for as long as possible…
As a freestyle rider, we're always dreaming about a perfect flat water spot with steady 11m weather, and this is exactly what Greece has to offer. Iliana from Airush Greece was at the airport to pick us up, and to show us some of the best places around, and the potential of each spot was unreal. We ended up riding two of the main spots, Drepano and Tsimari.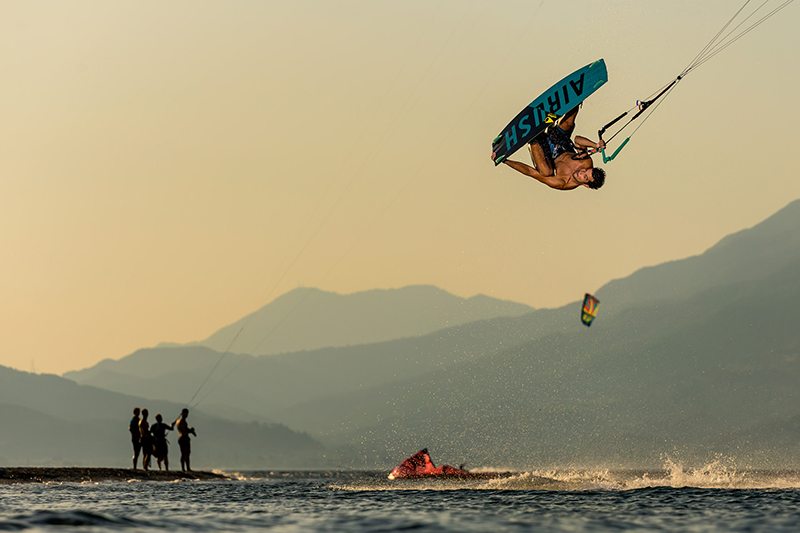 Above: This was the only day that we got the "regular wind". It was super cool to get the change because it completely changed the backgrounds I worked with. This was also the only day that we had wind late in the afternoon.
The first spot is a two hour drive from Patras and gave us the kind of conditions you can usually only dream of, with a huge sandbar which the wind came across – either from the east or the west. We got east wind mainly and as the locals said "it's not the best conditions" but for us it was perfect, with perfect right and left foot tricks and many photo angle possibilities for Andre.
Tsimari was completely different – driving an hour and a half to the west of the mainland and having a huge sandbar with some mangroves behind it, surrounded by the mountains. We only spent one day there, but it was completely worth it.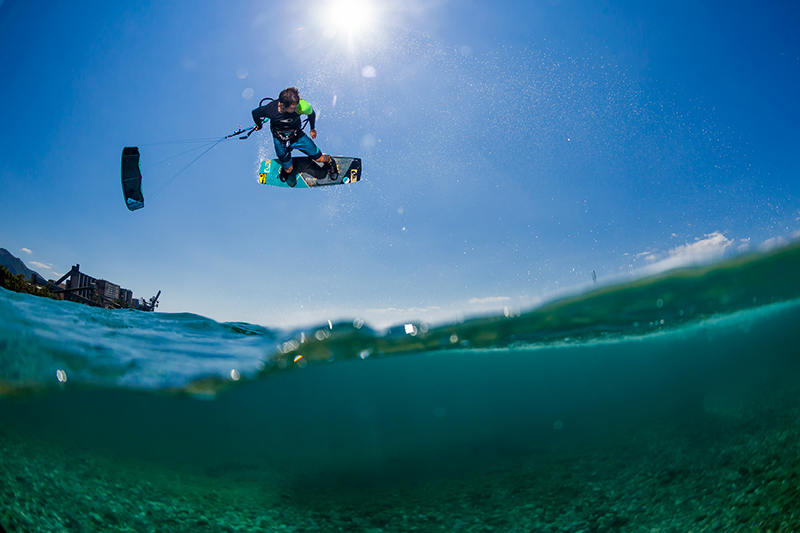 Above: We worked on these half and half shots for a bit. It's not every day you find a place that has water this clear…
Unfortunately we didn't have enough time to cruise around and discover some other insane places as our main focus was to shoot the new kit, but we will come back soon for sure. Greece was one of my best trips so far; there are thousands of spots around, good food and super nice people.
For me it was definitely the Brazil of Europe!
This article originally appeared in TheKiteMag #21. To subscribe, go here.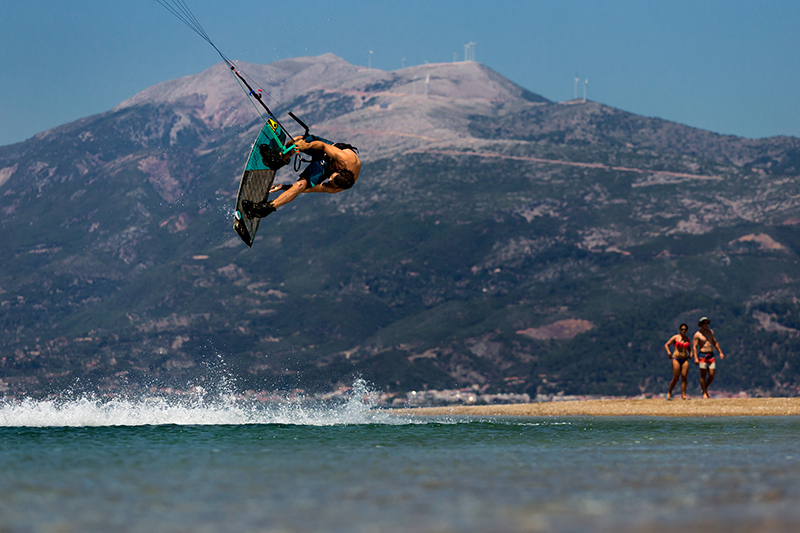 Above: You can't beat these amazing mountains in the background. The spot is really unique.