There are only a handful of spots in the world that pretty much every kiter or surfer would consider – on their day – to be 'perfect'. Teahupoo is one of them. Keahi took a flyer on a forecast and it paid off. Eventually.
Tahiti is a place I've wanted to get back to for a long time, but surprisingly this trip was actually a super last minute one for us. Funnily enough, both myself and Reo Stevens were actually on a flight home from Fiji after a coaching gig for one of his clients when we saw the swell. After not really getting the kiting conditions we were after at Cloudbreak for ourselves, and with some time to spare, this swell looked too good to be true and before we knew it, we were lining everything up for a quick four-day mission to Tahiti. It's rare to actually have late season swells like that in the South Pacific, but due to the time of the year, it had the potential to be empty with perfect wind for kiting so – after a quick stop back in Hawaii to top up on some gear – we were on another plane to Tahiti.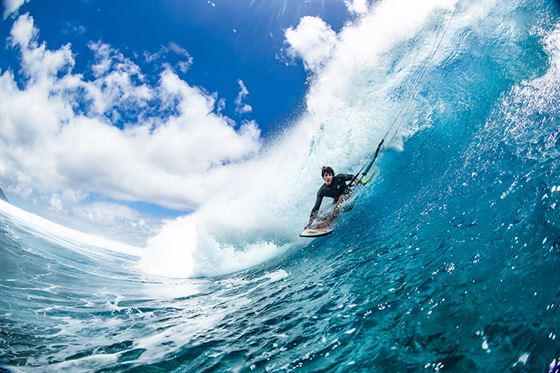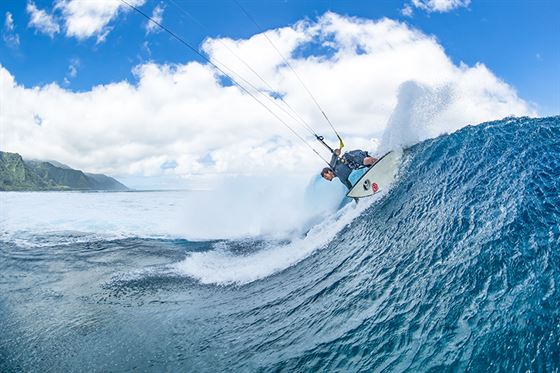 Going into it, the forecast actually looked pretty amazing. Solid swell, three days of wind and relatively clear skies. As we found out though, Teahupoo really has a mind of its own when it comes to weather. Even though it was mostly clear skies on the road out there, for two days we sat in the car on the point at Teahupoo battling squalls and waiting for it to clear up. That mountain range is incredibly beautiful but it really catches a lot of rain even when 10 minutes back up the road is sunny. It's still an amazing place to be, but man it's frustrating when it's so close, but not quite doing it! There's a reason why it's so beautiful and green out there…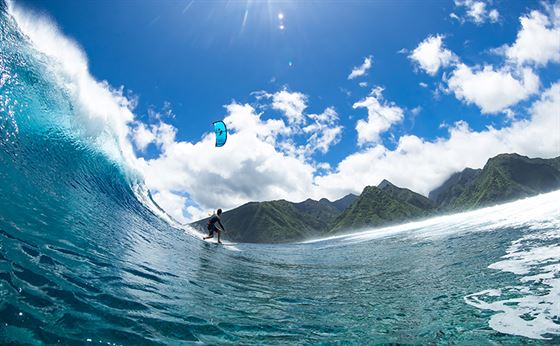 After a lot of stress, thankfully it all came together in the end and for a brief window, the sun poked through, the wind was on, and it was just myself and Reo trading perfect barrels for four hours at one of the most beautiful line-ups in the world. It's hard to believe, but photos barely do that place justice. The waves, the water clarity and staring out of the barrel at those mountains is a view I'll never forget. It was inconsistent, but some absolutely perfect waves when they came through and I had some amazing waves that will definitely keep the stoke going for a while. To top it off, to be shooting with Ben Thouard was a dream. He knows that wave so well and has captured some amazing shots over the years.
As fun as that session was, before we knew it the rain was back and our time was up. It ended up being a short window, but that session will still go down as one of the best I've had. Things like this always make trips tough, but in a way it actually makes those moments even more special. You only need a few good ones to make it worthwhile and I can't wait to get back and spend some more time there next season…
This article originally appeared in TheKiteMag #29. To subscribe, go here.