The Slingshot crew head to Mauritius to get the photographic goods of their latest products. The full top-tier crew are cued up as well as team rookie Pablo Amores, and Sam Light is in charge of logistics in his first big job as team manager. So, how did things shake down?
Photos: Andre Magarao
The Rookie: Pablo Amores
This wasn´t the first time or the last time that I will visit Mauritius, I am in love with the island. The vibes and the conditions make this beautiful country one of the best strapless kitesurf spots in the world. It is not only about the riding conditions, this country is full of peace and good vibes from the locals, and I always feel somehow that I'm where I should be: a pure place. Mauritius is the home of the extinct dodo, full of coconut trees, tropical animals, incredible landscapes, and amazing sea life. The locals are really friendly and they will help you in everything you need, which is not so true with other inhabited tropical islands, such as Hawaii, where the vibe can be very different.
One Eye is not an easy spot for a regular stance kitesurfer, as the wind can be very offshore, which makes riding backside very technical. However that offshore wind is what makes One Eye one of the most glassy kitesurfing waves in the world. Mauritius has a huge tropical reef surrounding the entire island that creates endless perfect waves as well as amazing lagoons inside the reef, which are perfect for everything from learning to kite, to Big Air. And that's the reason why it is one of the best kitesurfing spots in the world.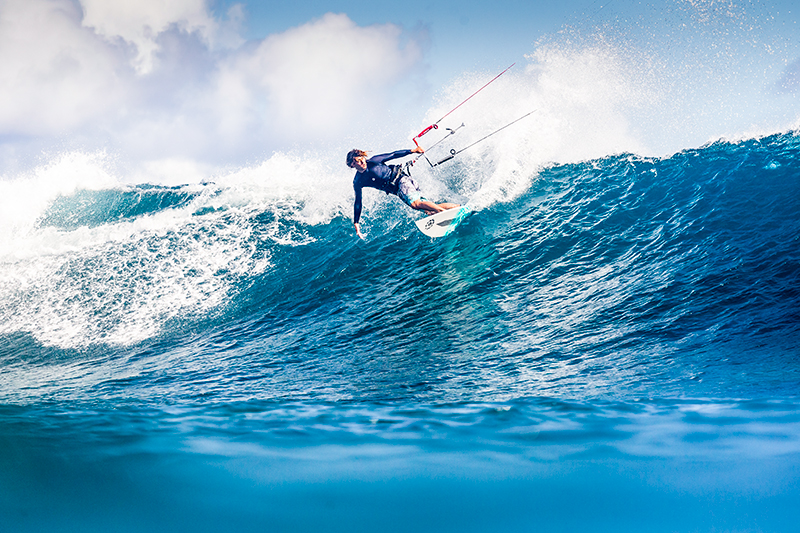 My home spot is Tarifa, famous for consistent strong wind, not waves. This is why I love to go to Mauritius; the conditions are totally different from home. Perfect waves with side shore wind are not the same as the onshore wind I get at home, and the feeling of riding a wave and looking down and seeing all the reef below your feet is indescribable. Truth be told, we were a bit unlucky with the conditions and we only had three days with light wind, and riding a powerful wave like 'One Eye' with a 14m kite isn´t an easy job. I had one day riding with a 12m SST and the new Tyrant, with around one-meter-high waves, which was really nice and it was all worth it for that one special session…
I'd only just signed my contract with Slingshot and this was my first team trip, and I felt such amazing vibes from the Slingshot crew. They gave me a good welcome into the team, and we even went to a music festival whilst we were there for my birthday. We spent every moment we could on the water shooting. It was crazy to see Carlos Mario in action, regardless of what he is riding – even on the more 'beginner' focused kit. It was also really nice to see the different styles of riding and how we all brought something unique to the team. Sam Light and Alex Fox's stylish freestyle, and Reed Brady shreds everything, in the waves or on a twintip.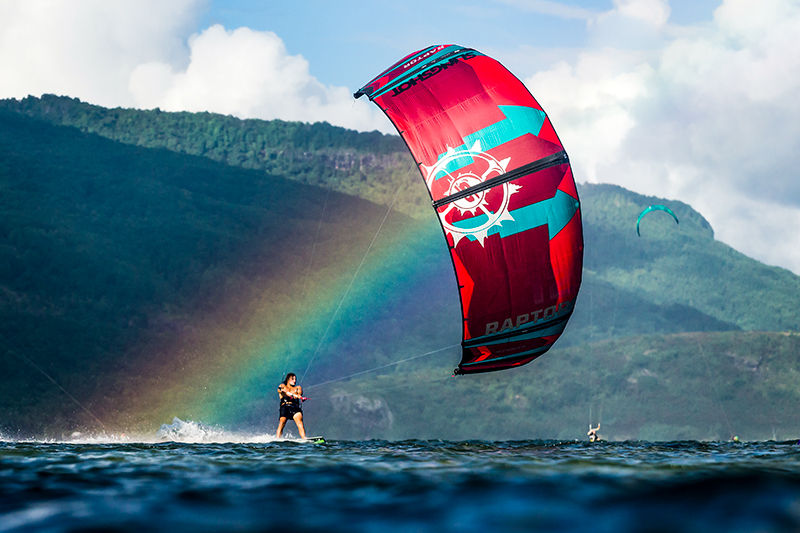 It was Sam Light's first trip as team manager and he organized for us to stay at Dinarobin Beachcomber Hotel, which was super nice. An eco-friendly hotel in the perfect location in Le Morne, full of restaurants, swimming pools and the best spa I have ever seen, perfect for relaxing after an epic kite session.
I was using Slingshot products in 2015 when I learnt to kitesurf, so I knew the equipment was good, but I have to say I didn't expect that the new SST had such amazing drift riding down waves… I've never had such a good feeling from a kite. It was fast, and really easy to turn even when depowered. Then I was most excited about the new surfboard constructions. They have a completely new surf range this year, all the boards are much lighter than previous years and I was loving the Tyrant for waves and the Sci-Fly for strapless freestyle.
Following the trip, I have been back in Tarifa, training for the strapless freestyle competitions and learning new tricks. I want to push my strapless freestyle skills as well as the wave riding skills to be a complete, well-rounded kitesurfer. I am excited about traveling around the world, catching waves with the new Slingshot gear, knowing in the back of my mind I will be back in Mauritius in September for the GKA Wave competition…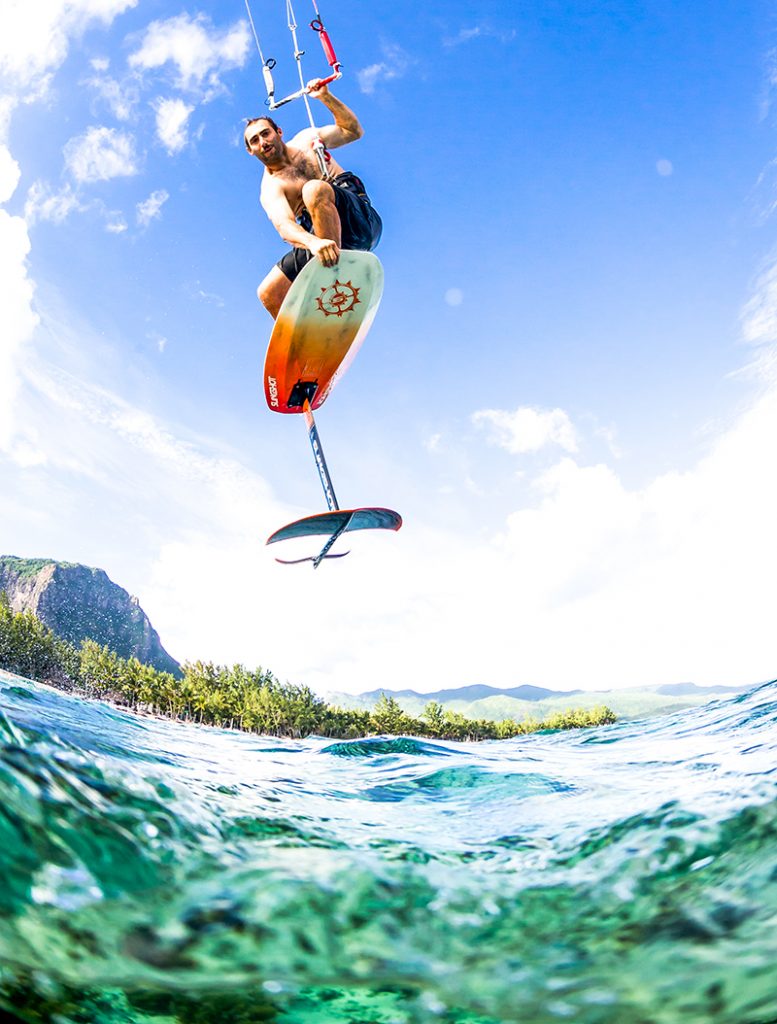 The Boss: Sam Light
I have organized plenty of photoshoots in my time but this one was different, it was the first one that I was officially team manager, so the pressure was on and we had more new products being released at one time than I have ever seen before, including a completely new range of surfboards, a new improved Misfit, the 147 Refraction, two new kites, the Rally GT, the ultimate all-rounder, and the Raptor, an easy to use Big Air machine.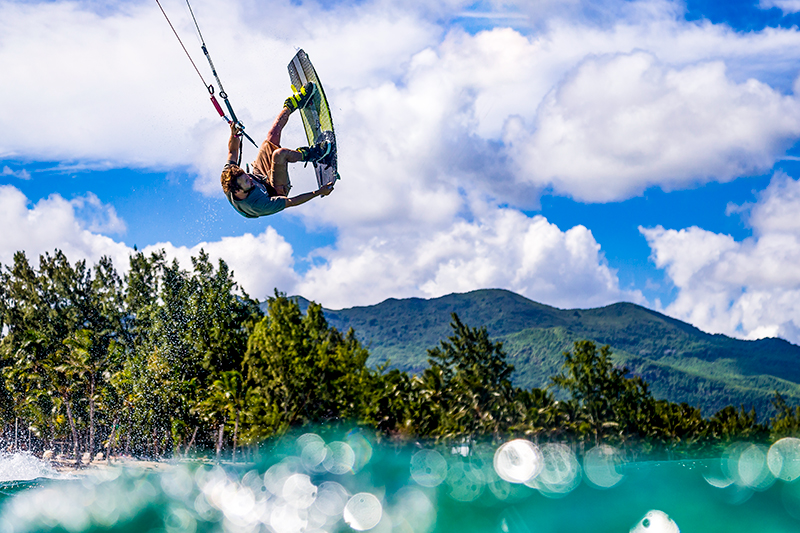 Having planned many shoots before, I was confident I would use my experience to make the right call, but it makes it a little more stressful when there is so much riding on a successful shoot; there are many factors that affect how productive a photoshoot can be, everything from personalities to feeding eight hungry people three times a day!
Firstly Fox (now the Brand Manager at Slingshot) and myself hashed it out and decided what exactly we wanted to accomplish on the trip; we created a shot list, a rough itinerary and a long list of product videos. Fox allocated me a budget and gave me the dates of when the new products would be ready and when the media assets need to be ready. This photoshoot fell in an awkward time of year in the spring, when most destinations are changing seasons… the Northern hemisphere is at the end of their season and the Southern hemisphere is just starting theirs. Our requirements were strong wind, waves, sunshine, warm water, palm trees, and clear water. Is that too much to ask?!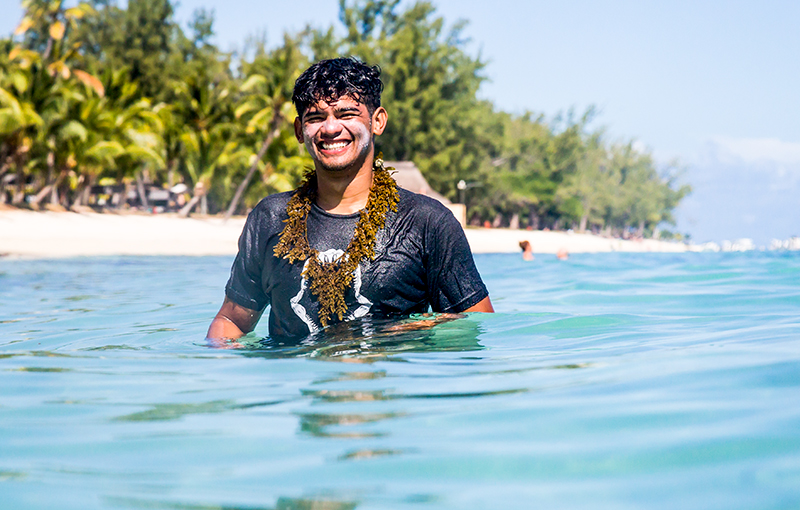 Those requirements narrow it down quickly but then you have other variables such as getting rider visas sorted, and lots of places are hard for Brazilians to get a visa. Maui was on the cards, for example, but it would be hard for Carlos Mario to get an extension to his US visa in time. Then you have the toss up – cost vs. risk, or beauty vs. cost… We could go somewhere in Europe cheaply, but there would be less chance of wind and it wouldn't look as stunning as an island in the middle of the Pacific/Indian ocean.
After reaching out to all my contacts, checking many forecasts, and creating endless different options, I decided on Mauritius. We had been there before and got skunked, but it ticks all the boxes on paper and I heard nothing but good things from my contacts. I had been following the forecast for a few weeks while I was planning the shoot and it appeared to be blowing every day, the season had kicked off early, and it all sounded too good to be true…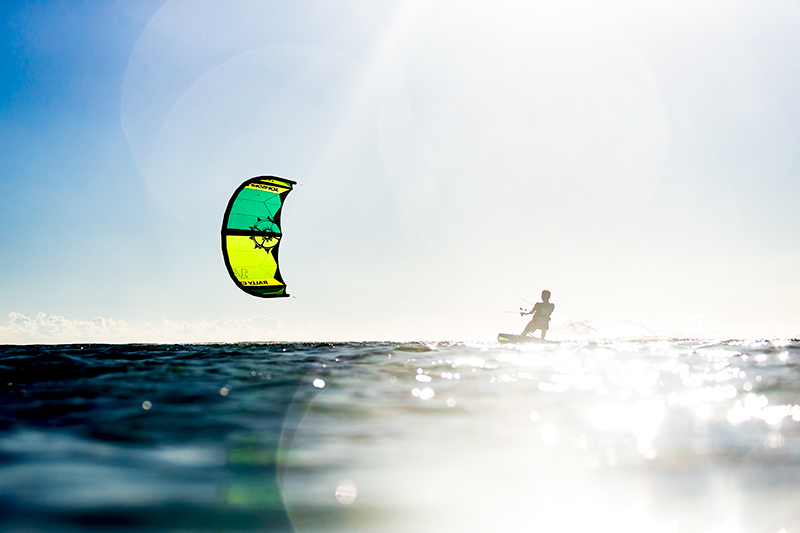 For accommodation, Mauritius is known for its stunning all-inclusive hotels in prime location on the 'Le Morne' peninsula, but they can be pretty extortionate. After researching Airbnb, contacting hotels, and reaching out to all my contacts, I managed to broker a deal with our Mauritian distributor and the 'Beachcomber Le Morne' with an awesome deal in exchange for a wealth of media, a great deal for all of us, but it's harder than you think to convince a hotel of your worth.
After finalizing everybody's travel plans, I had done everything in my power to ensure we would have a productive shoot. Then the rest is up to the wind gods, and I swear you have never checked a forecast so much as I did before this trip. It had been glorious for weeks and it wasn't looking good for us. We arrive in Mauritius to the classic "You should have been here last week!" and "Next week looks insane!"… Yeah, well, we are here this week…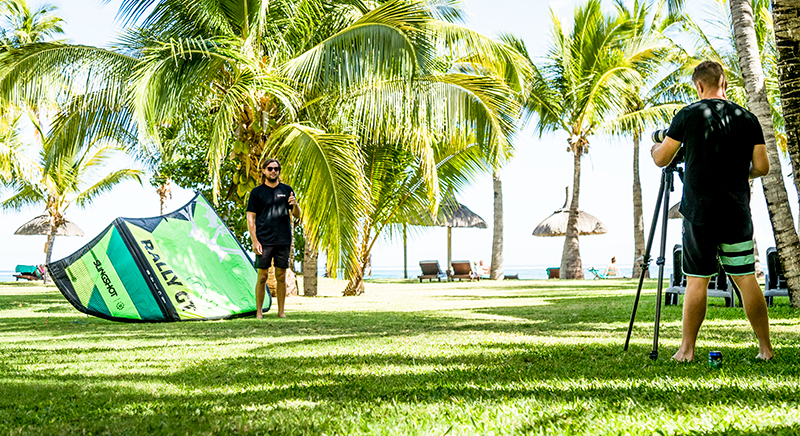 Thankfully things turned out okay, and we had two days of good wind and waves, and two days of light wind foil conditions out of eight days. I am the biggest preacher of saying "there is no point worrying about things you can't control", but you can't help but think, what if? What if we got those epic conditions we had all dreamed about on the long journey here? Pablo's stand up barrels or Bebe's 1080's? The truth is we got skunked, four days out of eight was the minimum we needed, however because Mauritius is so beautiful, every shot we worked so hard to get looked amazing. The convenience of our hotel enabled us to make the most out of every last second of wind. In hindsight, it actually gave us more time to shoot the product videos that were high up on the priority list anyway, because there is so many new products to talk about.
In my new role, I would have to say that the biggest pain in the ass on the shoot is feeding ten people three times a day! It can be very time consuming and the last thing you want to do is miss epic conditions because you're messing around trying to organize food for grumpy media guys! It is also really important for team moral to keep everyone fueled up. Especially for the media guys burning the least amount of calories – for some reason they are more concerned about food than the athlete that has been on the water for five hours!
All things considered it was a successful and productive photoshoot, we got everything we needed and my logistical planning went smoothly. We would have liked a little more wind but the island's natural beauty saved the day, everybody pulled their weight and got along and I would still completely recommend Mauritius… We will be back!
This feature originally appeared in TheKiteMag #33. To subscribe, head here.