Ben Wilson has been kiting since the early days and knows his way around a perfect barrel or two. Originally signed to Slingshot, he left to set up his own brand, however the meandering hand of fate has now brought him back to them. We thought it was a good time to catch up with him in Fiji where he's currently waiting out the pandemic. Pretty tough we would imagine…
Photos: Creative7 and Scott Winer
---
Can you remember the first time you got a kite in your hands? What was it and how did it go?!
Totally! I was staying on Namotu Island in Fiji. Brett Lickle, Pete Cabrinha, Mike Waltze, Rush Randle, Dave Kalama and all their strapped crew were coming to the island each winter (their summer in Maui) to train for all the watersports they were doing, including kiting. Brett had a 5m Wipika Classic and he started teaching me how to fly it on the beach. He said if I could fly it with my eyes closed so I knew where the kite was just from the feel, he'd let me try in the water. I flew the kite on the beach every afternoon until I got it dialed and then the guys got me in the water on an old, strapped surfboard. I would leave the beach going in one direction as far as I could go, and then a boat would come and pick me up and take me back to the beach and I'd do it all over again. I was instantly hooked and never turned back. I am forever grateful for those guys getting me started.


After those early days I guess you then changed to a twintip – was it then a natural progression for you into riding a surfboard with a kite? Who were the other pioneers at the time?
It was a natural progression once it clicked and I started doing it, but I feel like I wasted years before we even figured out you could ride a surfboard with a kite. I'd go surfing whenever I could, even when I was traveling around with a kite and twintip. I always had a connection with being in the surf and that's what I love to do most of all. Back then I used to travel with Mauricio Abreu; he's an incredible surfer so we'd always be trying to find places to surf on any kite trip. One day he called me and said he'd ridden his surfboard on his kite and it was super fun and I should try it. I did straight away and I still remember my very first session thinking this is it, this is what I've been searching for. At the time I was with my best mates, Martin Vari and Jeff Tobias, and they both got into it as well. We were all totally addicted and every session had these huge milestones, and we felt like we had to share this with the world. Jeff and I were already riding for Slingshot, but Martin was riding for RRD so we came up with this idea to pitch Slingshot that the three of us should travel the world showcasing riding waves with a kite on our surfboards. We all flew to the USA and met with Slingshot and they were completely onboard. They hired Tronolone Productions to document everything and John Bilderback to shoot us. It was the beginning of using the kite to whip you into waves to then ride them like you would surfing on the same boards we'd surf.

Fast forward a couple of decades, and you could argue that the best wave riders of the 'current generation' are the Cape Verdean riders – how do you rate the likes of Airton, Matchu etc?
These guys are amazing and it's so inspiring where they have taken the sport and what they're doing. I think there have been some critical guys like Mitu, Airton, Matchu, Keahi and Ian Alldredge that have been instrumental in evolving what is possible with a kite and a surfboard, and I'm a huge fan of them all and follow everything they do! I was actually just telling Airton the other day how I used to dream of doing an alley-oop on the kite, the same as you'd do if you were surfing, passing the bar at the same time like he has been doing in some of his latest social clips, but I never had the skill to pull it off. I can't wait to see these guys go to the next level and do this stuff on a wave!
Tell us about running your own brand. What experiences did you gain?
I had a dream to share kitesurfing with surfers and get them into the sport. I believed (and still do) that it's a natural extension of surfing and surfers should have kites in their quivers to make the most of any conditions. I think we can all learn from both disciplines and this was the essence of BWSurf. My best mate Dano See and I thought we'd make sick products (he is an amazing designer) and I knew what gear I wanted to use. We thought we'd lead the industry in this new discipline. In theory this all made sense and we got some great backing from some incredible crew and created a team with amazing surfers. But a combination of our inexperience working in China and surfers not really connecting with kitesurfing (I'm still super hopeful it'll click one day!) taught us both a lifetime of experiences, and ultimately led us to stop manufacturing products.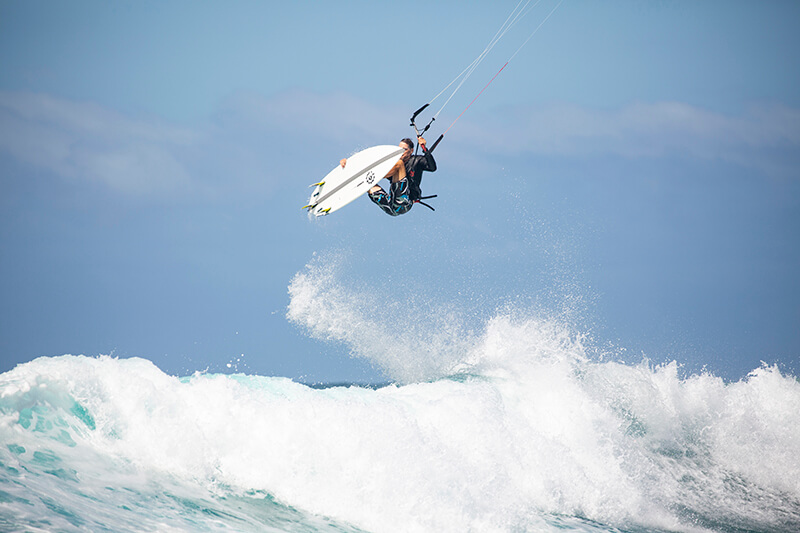 Your video when you wound up BWSurf was interesting (but of course sad!) – how do you see the state of the kite industry at the moment?
I really tried to speak from the heart and keep it real in that video. It was a sad time, but also I felt like the biggest weight had been lifted off my shoulders and it was just time to really enjoy and love kitesurfing again. For me it's amazing as I've reconnected with Slingshot and they're more excited than ever about kiting. There are so many disciplines currently, which indicates to me that the industry is very healthy for those larger, more recognized brands. I still hope that one day surfers will connect with kiting and then the sport will go to that next level.
It's great you've re-signed with Slingshot. How does it feel to be back with them? And what are you planning to bring to their kite development?
It's amazing how the world goes around! It actually feels incredible and like I never left. A lot of the guys are still there from when I was riding for them back in the day and it's such a good vibe. One of the most important things to me is that I'm working with people I love to work with. Slingshot is one big family and it's great to be a part of it. They already have an incredible team of designers and testers, so if I can add just five to ten percent of everything I've learnt from my successes and stuff-ups in the past that's what I hope to contribute. In all my time in the industry I've never seen a more considered testing program than on the latest version of the SST kite – this kite is a complete redesign and every part of it has been carefully constructed – it's incredible.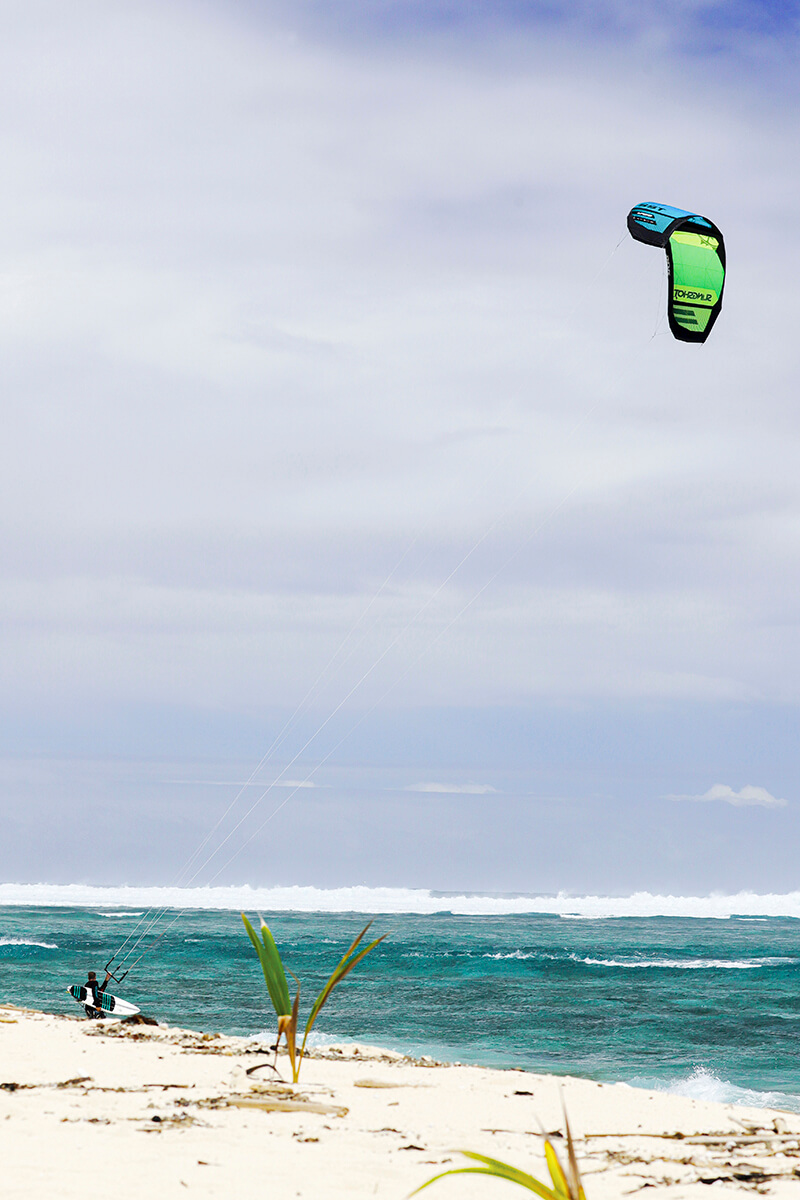 Are you riding Slingshot surfboards or still your BWSurf boards, and will you have any input into the board designs at Slingshot?
I'm riding everything Slingshot – kites, boards, foils etc, and I also signed with Ride Engine. I'm working on all the surf-specific boards for Slingshot and I've teamed up with Al Emery (legendary surfboard shaper in Australia) to design the next generation of surf and foil boards for them. We've already started designing and testing this range, and the best part about Al is that he froths on surfing, kiting and foiling, so these boards are all going to be sick!
You're currently out in Fiji testing, and no doubt hoping your coaching weeks can resume again soon! How has the season been so far?
These kite weeks are a passion project, I just love everything about them and I miss all the crew who join us each year. So yes I hope they can resume soon. We're here and ready to roll when the time is right. All the info is on my website, please come and join us! Our season for trade winds is typically May to October, but you can get wind year-round. April was especially good because we had some really long period swells line up perfectly with some trade winds that are cross-shore at a couple of our best breaks, so yes it's been a good start to the season and I'm expecting it to be a good one. But either way there will always be lots of fun to have between surfing, kiting, foiling and fishing.
Tell us more about the fishing!
Fishing is the best way to disconnect; there's something about being out in the ocean away from land that refreshes me. Fish is also our main source of food here in Fiji and I love to cook as well, so fishing is what I do in my spare time or time off. The fishing in Fiji is year-round; we are so lucky here.
Okay, back to kiting! Put these in the order of your favorite when kiting: barrels, lips, airs…
My favorite kiting is down-the-line turns that you can link together with flow, then airs, and it's fun to get barreled on the kite as a novelty, but getting barreled surfing is my dream – there's nothing that feels better.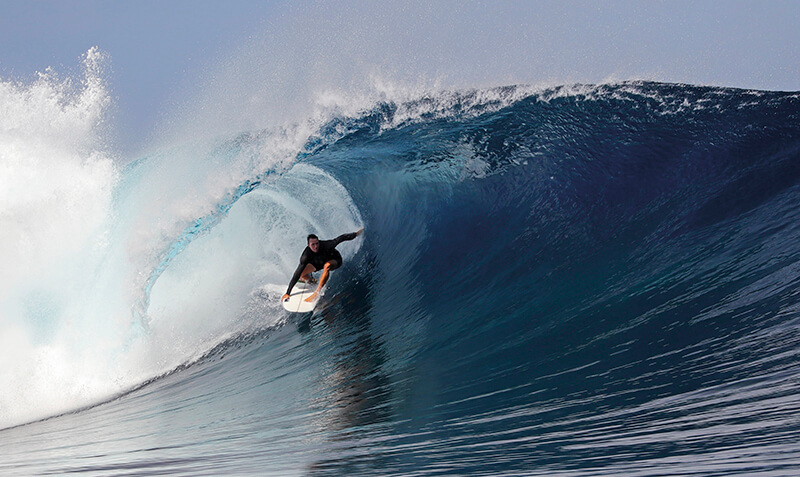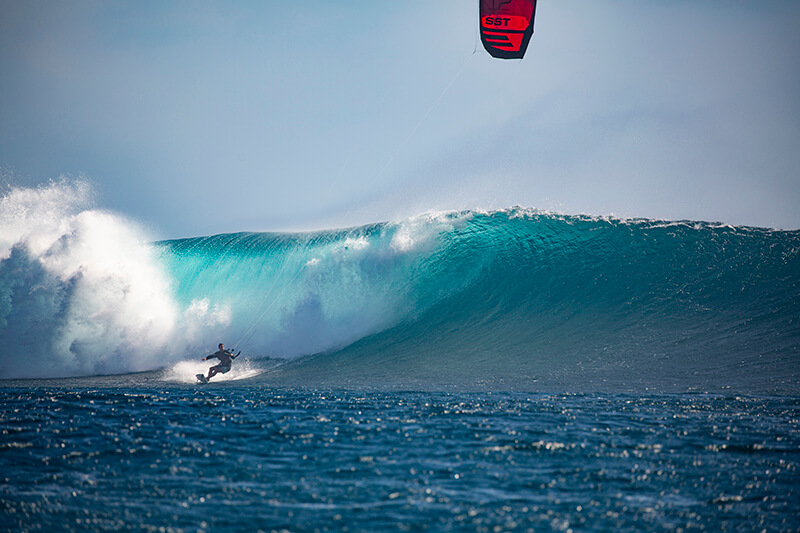 Do you ever get bored of Namotu?!
Never ever, ever! There's no way it's possible if you're open to many different sports. If I just surfed, then 100 percent I would, but because I'm open to anything, then I just let the day dictate what I'm going to do and I'm never disappointed. Having said that, even though it's the best place in the universe, you can lose appreciation for it if you spend too much time there – but that's like anywhere, right?!
What other watersports are you doing out there?
I surf, tow surf, prone foil, tow foil, kite foil, kitesurf, fish, wing foil, eat and sleep!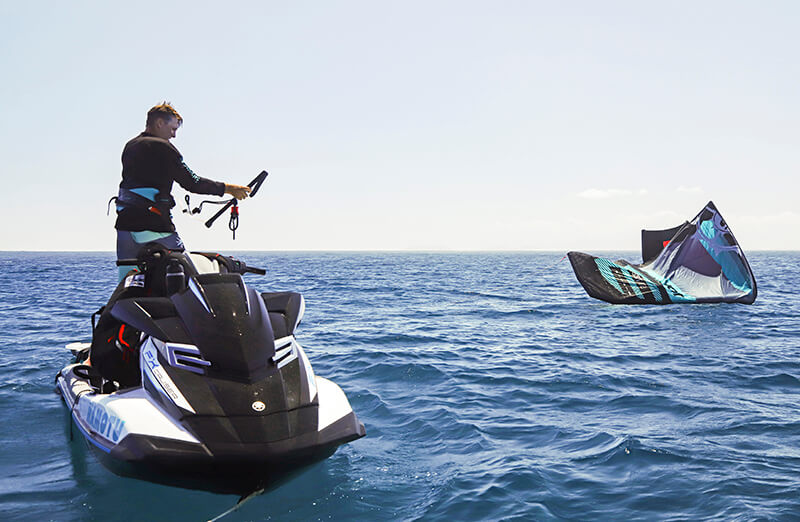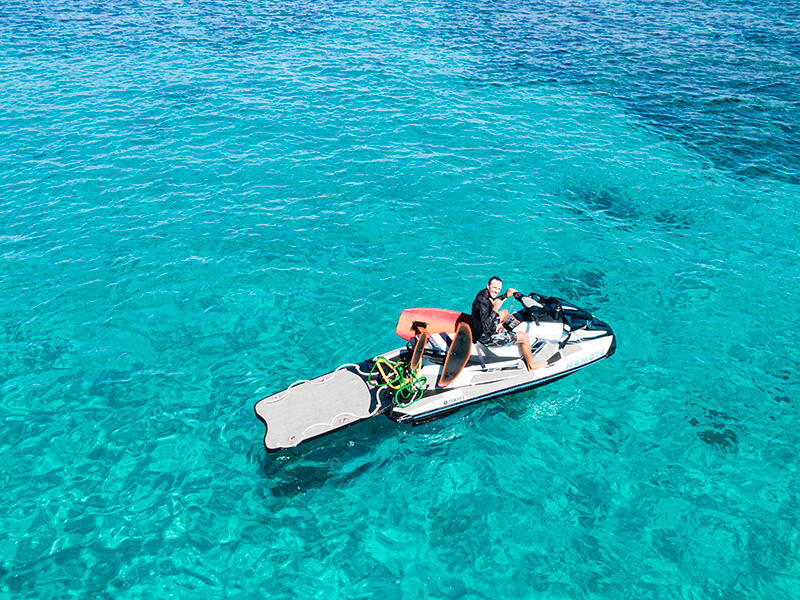 Sounds perfect! How are you finding being away from your family?
This is the only tough part of being in Fiji now – I miss my wife and kids like crazy. However FaceTime saves us and I can still spend some time with them each day. The way we look at it, last year I was home with them for the whole year which never happens, and hopefully things will start moving soon so we can be back together again. ■
This feature originally appeared in TheKiteMag #43. To read the full issue, subscribe here.