Hitting obstacles with a kite has come a long, long way in the last fifteen years. And the great thing about park features is that there is no limit: you can design and ride pretty much anything you want, and wakeboarding provides plenty of inspiration, with most of the park guys spending a lot of time on the cable. So when Craig Cunningham decided he wanted to create the mother of all features, there wasn't anything stopping him. Well, not much…
Photos: Toby Bromwich
TKM: So, where did you came up with the plan to get involved in building/commissioning the slider?
CC: The idea came about over three years ago. Park riding in kiteboarding was just getting to the point where all the top, top riders could do super technical tricks on these very basic box-style features. It was time for something more legit to come into the equation. It almost happened three years ago but the deal kind of fell through with Real Watersports, and then the following year we had some funny stuff that was going on with the brand so it just wasn't an option. Then finally, with the rebranding of the Boards & More kite brand into Duotone it fully made sense to try to set the tone in the park scene by doing something like this.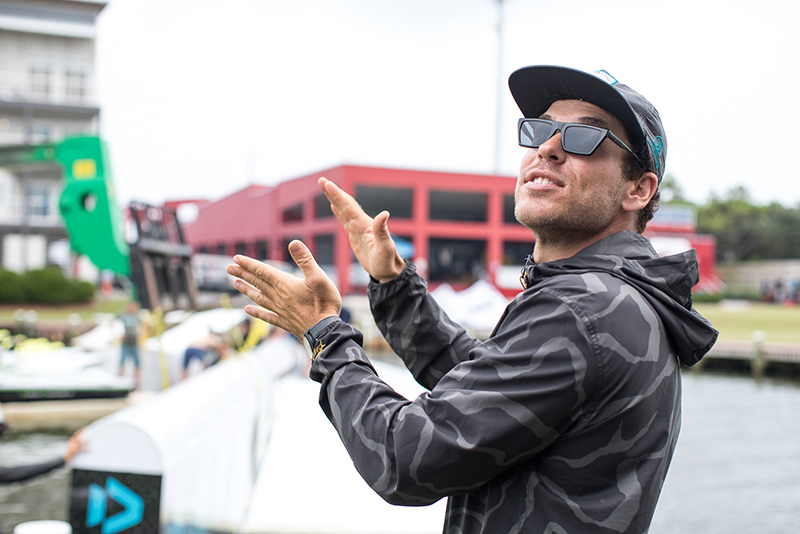 How does the design process work out? Did you work out what you wanted from it and then design it that way?
Believe it or not this is a very scaled-back version of my original plan. That being said, it's still a dream come true to be able to see a project like this through to reality. I basically just played around with Google Sketch quite a lot and when I thought I was onto something I shared it around a few close friends. Eventually, once we finally got the budgets approved, I pitched the idea to a few different HDPE welders.
How do you get the dimensions right without getting too over-excited and going crazy big/dangerous?
Maybe I'm dating myself now but I've been around the park scene for a little bit now and I've hit a lot of features over the years. We knew this was going to be for sure on the bigger side of things but in the end it turned out perfect and it's giving us the ability to do new tricks and take new lines that would have never been possible before.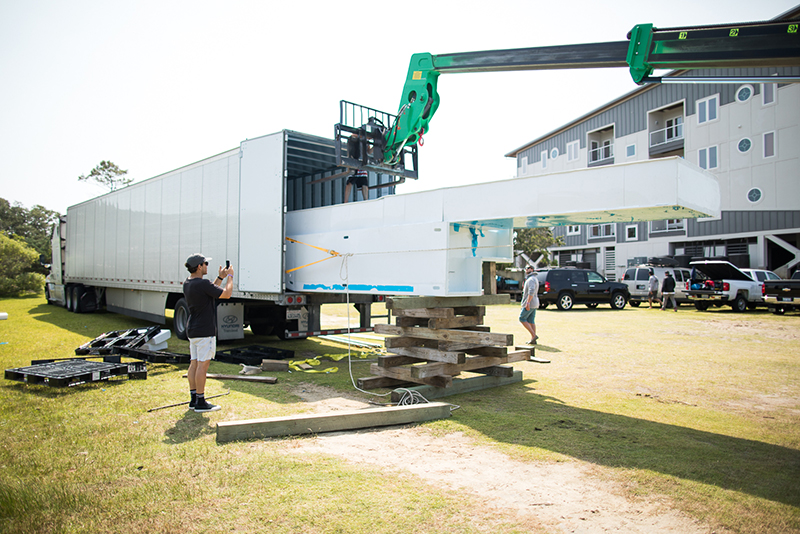 Did you take inspiration from wakeparks and that side of thing?
Hundred percent. This feature takes inspiration from three of my favorite features I've hit wakeboarding, and I have kind of morphed them into a hybrid with a few outside-the-box ideas from some of my friends and myself.
Where was it made and how does the process of getting a slider commissioned and built work?
Originally it was meant to be built in Germany but in the end due to logistics we moved the operation to Thailand. It's built out of HDPE, which is a high density polyethylene. The process seems simple at the start: design the dream feature, contract the build, sort out the shipping, pull it out of the tin and shred the shit out of it. Let's just say it turned into a lot more of a mission than I ever thought possible and I could have never foreseen with all the moving parts required to try to get this thing to Hatteras in time. That plus all the other projects I had going on culminated into me being fully stressed in the last weeks leading up the shoot!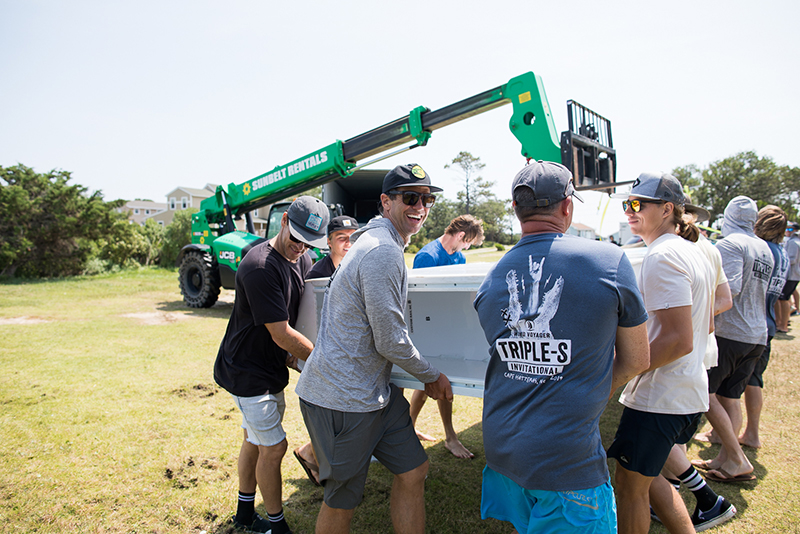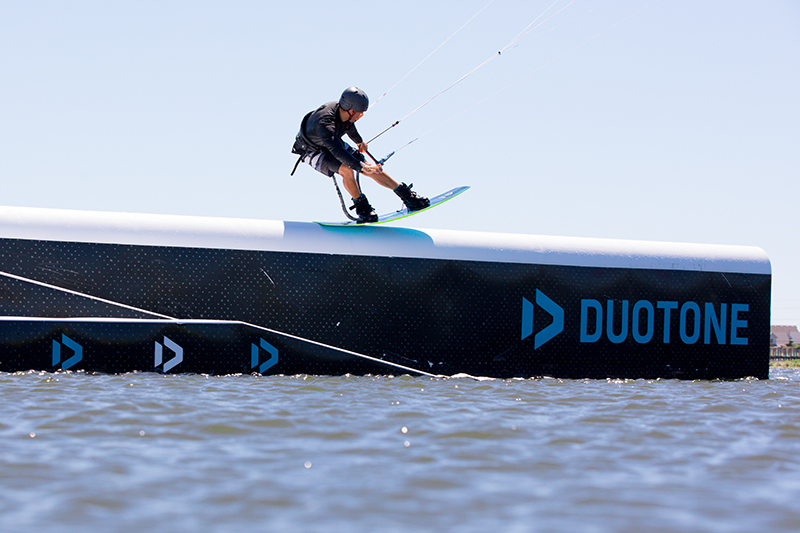 How did it arrive at REAL and how did you go about getting it in the water?
It actually arrived at REAL in the back of the shipping container that had driven across the country in what is now known as a hot truck. Instead of one driver who can only drive 12 hours and then has to have a minimum of a 12 hour break, we hired two drivers to drive back to back across the country in less than three days. When it arrived at REAL we had a crane and a construction crew ready to get down to business, as well as the usual suspects from the KPL who are always down to lend a hand for the cause. It was scary, no one really knew what we were doing to be honest and we had a few pretty close calls, but by the end of the day the feature was bolted together wrapped and, most importantly, floating!
Was it pretty much as you expected it to be?
The feature, yes. The logistics, definitely no…
Then what have been the most memorable moments so far?
When Noè and Xander were finishing up the last bolts and clamps and it was all floating perfectly! A few minutes later we had Toby snap a photo of the whole team who were around to help out… It was at this moment that we all knew it was smooth sailing from there on out and that even though the project turned out to be a bigger mission than we had thought, it was all worth all the time and headaches!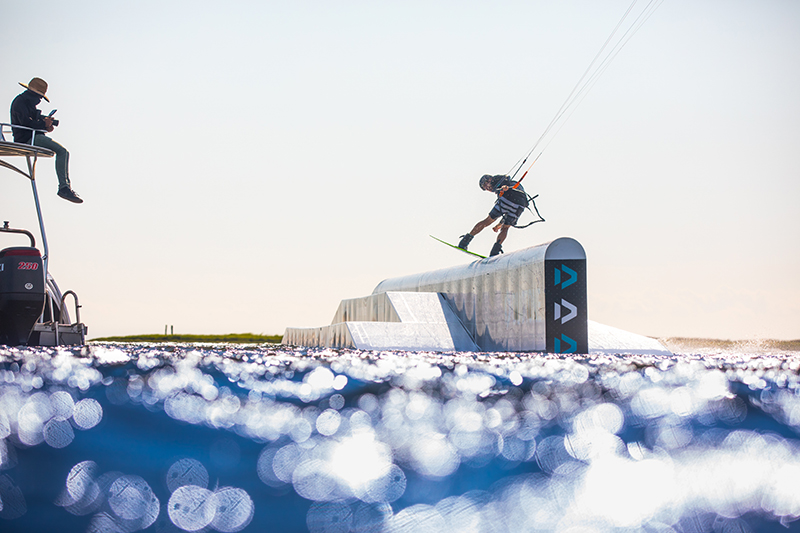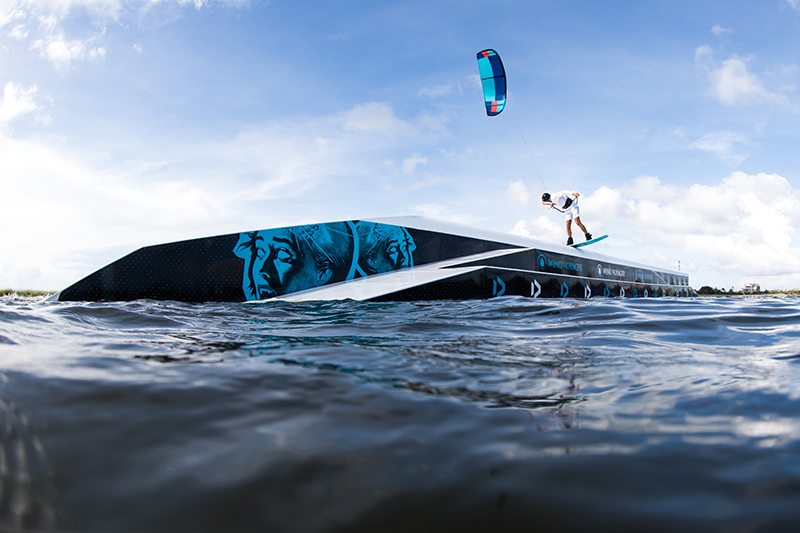 So, the first session… A load of pros had hung around after the Triple-S and there was a lot of stoke. Take us through that first day…
Ya, we had the whole film crew for Duotone and my boss in town. We were trying to get after it, shooting for the 2020 Duotone campaign but I knew keeping all the friends and other pros off the brand new feature was going to be impossible. To be honest I just wanted to shred with everyone and see what everyone could do on the new feature, so we just embraced the 'more the merrier' attitude and had a marathon session with everyone who stuck around!
And who has had the heaviest slam?
Probably Noè, who cracked his shin open on impact, or possibly Erin who smashed his face and gave himself a pretty sore nose and two black eyes. I took a beating as well and have lots of bumps and bruises, but nowhere near the heavy hits those two took.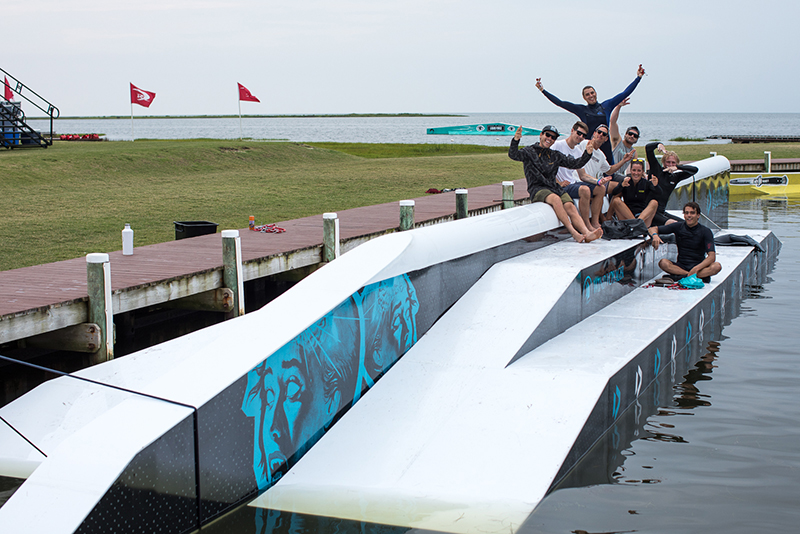 I guess it will feature in next year's Triple-S?
Definitely going to be in next year's Triple-S, and will definitely be the future to set apart the level of riding.
And what are you up to for the rest of this year – keeping busy?!
Always busy. No days off! It's easy when you're passionate and motivated about the projects and the brand you're working on… I'm super fortunate for that! Just keep an eye on the Duotone content channels and you'll see what we are getting up to!
This feature originally appeared in TheKiteMag #33. To subscribe, head here.