What happens when you bring together young kiteboarding guns from pretty much all over the world (Russia, Brazil, Colombia, Italy, France, Czech Republic, UK, Spain and USA) together in a 10 day trip to the world class kite spot of Brazil? It could be the beginning of a joke, a motivational sports movie… But no! This is what Duotone Kiteboarding came up with and, it was an unforgettable trip. Let me tell you about it:

READY, SET, GO! THE TEAM: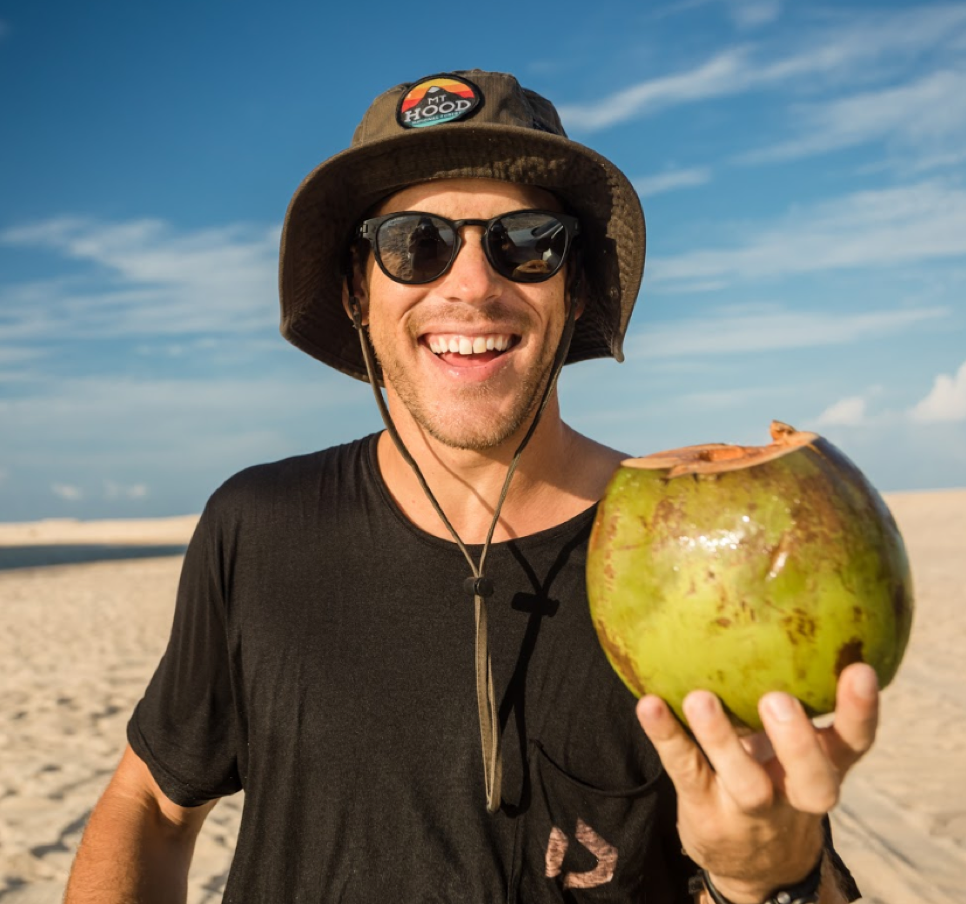 CRAIG CUNNINGHAM "The boss"
You all know Craig; Canadian DT rider since a few years now, style master and park rider… What you might not know is that, back when we did the trip he was going through some (double ankle) injuries and came to Brazil as the boss of the expedition.
Imagine what a job he had, trying to coordinate 12 people for photo and video shooting, daily! He is also the father of Duo or, as he called him or her, Mau (You can see who Mau is below).
"DUO or MAU"
I think it was important to present to you the mascot of the trip: Mauritius (because she only has 'One Eye') or, as I called her (or him?) "Duo", obviously from Duotone. On trip day 3 Craig came back from doing some groceries with this little thing. Duo was the size of a camera mic, she would easily fit in one hand and was in very bad condition. She became a very important part of the trip (at least for me).
TIAGO AZZI – THE MEDIA TEAM
Brazilian kiteboarder and filmmaker, Tiago was in charge of the video production of the team together with Noe.
Always with a smile on his face and a camera in his hand, Tiago was also very handy when we had to communicate with the locals.
SVETLANA ROMANTSOVA -THE MEDIA TEAM

If you like photography you know Svetlana. She's been on the scene for a while and she's a pro at getting people to smile. It was great to have Svetlana on the trip always capturing the best moments and, even though she told me she's not the biggest fan of cats, Duo made it to her heart 🙂

NOE FONT – FILM & RIDE
Spanish young artist, kiteboarder, writer, photo and videographer. Noe has it all. You won't see him smiling so often because he's always in focus 😉 But Svetlana did a great job at catching him 'in fraganti'.
Noe was filming together with Tiago as well as riding, we can assure you, a very hard and tiring job.
MIKAILI SOL
How to be a legend at age 14? Mika can show you all about it. World Champion in the same year in freestyle and big air, first ever tricks lander at competitions, determined, stubborn, a bit lazy when it comes to studying…
You can be sure you'll hear a lot from Mika in the upcoming years. And, well, it was great to have some young energy in the group.
GIANMARIA COCCOLUTO
Countless times Italian freestyle champion. Our style master and pizza boy landed some bangers on this trip. It's awesome to see him ride so perfectly for so many hours. While on the water, he's always going big and he will always get a 'wow' on people's mouths.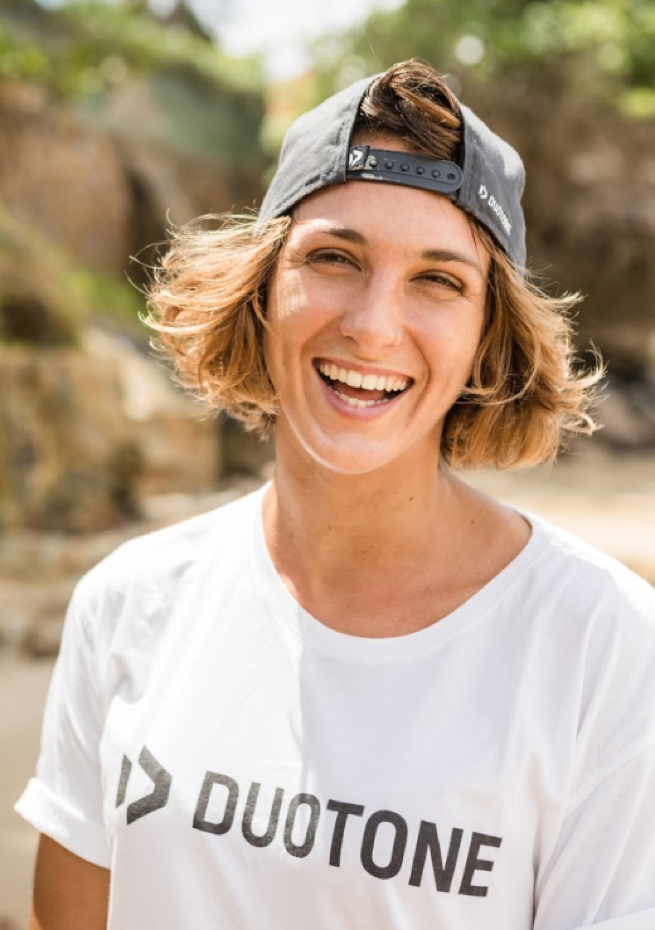 FRANCESCA BAGNOLI
Fran is not only the yoga master of the group (seriously, go over to her Insta to see how awesome she is), she always has a hug and a smile ready for you.
Being around her is refreshing and, on the water she's simply awesome, always pushing the limits, always training hard, always giving it all.
Fran was also a bit sick during the trip but she made the most out of it.

VALENTIN RODRIGUEZ
Colombian power at its most. If you haven't seen Valentin ride I strongly recommend you to go on the internet as soon as possible to check out some of his videos. He lands doubles as easy as you eat your breakfast and he's just 15 years old. For me it was great to have someone I could speak Spanish to for a while. Mr. Rodriguez is ripping it and oh, he also got a new nickname: "Vali" 😛
ARTEM GARASHCHENKO

I've already traveled together with my Russian team mate. Artem is awesome, when you were learning to walk he was already ripping it on a kiteboard. He's an easy going individual, focused and experienced competitor he freestyled for a while and now is focused on to the park riding scene.

VALENTIN GARAT

Oh my god! We've got two Vals in the group, what are we gonna do now?¡ Sadly, Val left a few days after the trip started but we still had the Frenchman with us for a while. He rides with a lot of power and is the small brother of well known Seb Garat.

PAULA NOVOTNA & HANNAH WHITELEY
Paula and Hannah did not spend so much time with the group since they had other commitments, but they were part of the trip too.
I think is useless to present these girls, you know them already; power, smiles and huge tricks. What else?
THE SOL FAMILY
I could not leave this story without mentioning the parents and brother of Mika. They were always there to help us and, If you know them, you know they are awesome, if not, now you know.
Jody, Marcio and Kaiki made our trip just even more awesome.
And me!
My name is Julia Castro, I was born i Fuerteventura 24 years ago. You can also call me the 'cat whisperer'. I was the mum of Duo during the trip and, I focus on the park side of kiteboarding. I love sliders!
This trip was a bit hard for me since there were no sliders but, going back to freestyle was a lot of fun too.
PARADISE + NO WIND DAYS

We had seen some photos of the house before but, when we arrived we directly knew we had the best setup ever. A beautiful house in the center of Taiba in first line, with direct views to the sea. Our office was the terrace of the house and, If you were too warm you could just walk 5 steps directly into the pool. What a way to start.

I had come from the last Kite Park League event of the year. I did not manage to put a great performance on this last event but it was enough to have a 2nd place overall. Needless to say we kited quite a lot and I was quite tired. The rest of the team also came or from the KPL stop or from the last freestyle event of the year in Cumbuco.

We were tired but also very motivated to make this trip happen. There was someone not as motivated as us: the wind.

How can you go to the windiest place in the planet and have no wind, FOR DAYS? Well, this happened to us. We drove around for days looking for wind and were just so unlucky! Also, add to the wind problem that you have a house full of people very eager to kite and with a high amount of energy…
We did spend the windless days on the water anyway; surfing, stand up paddling… (well, okay, I was the only one sweeping the water). We did have our fun on the windless days!
WHEN THE WIND CAME BACK
In the search for wind we drove to Taibinha one day, there was a bit of wind, some of us managed to kite, others not. We really, really just wanted to get a few shots. In an attempt to get a bit of air time we also decided to drive all the way to Jericoacoara and Prea. We were incredibly lucky to have Mika's parents letting us stay in "Vila Bela Vista Prea". If you don't know Prea, it is the little fisherman town just before Jeri.
Mika's pousada is beautiful, from your room you can see the kite spot! Also, they have a garden that makes you feel like you're in a beautiful Brazilian jungle (but without all the possible dangerous animals) and, the fact that the wifi is quite decent, the rooms are just so pretty and quiet and that you can have a very yummy breakfast about 30m from the kite spot makes it one of my favourite places to find some peace of mind in Brazil.
Also, If you want to party you take a 10 minute buggy to Jeri and you are off!

On our Jeri mission we found no wind but we enjoyed doing some tourist life through Jeri, driving down to a beautiful lagoon in the middle of nowhere….

And this is when (for us), magic happened; we arrived back in Taiba and… It was windy! Kites were flying faster than the speed of sound and everyone was throwing down.



THE CHAOS

Imagine having 11 frothers wanting to get their photos and videos done (and that have not kited in days), add a bunch of people that are in Brazil for training and holidays and also have not kited in days and, to finish your picture, put all these people together in the tiny Taiba lagoon.
Chaos.
In Spanish we say "admitting your mistakes makes you wise" (or something like that) and, I think we had to admit that that first windy day did not exactly work like we imagined. There's "just" 2 guys filming video and Svetlana on the photos. This divided in between 11 people and not a lot of space is simply a formula that doesn't work. We were all getting in each other's way, the guys were missing some tricks simply because there were a lot of tricks happening at the same time… But hey, I think we all learned a lot from it.
The next windy day we worked like a swiss watch with German organization, on point! We all knew what we had to do and when. We kited for as many hours as the sun was out and, I think the stoke level was pretty high.



SOME FIRST EVERS

I think you don't need to see a first ever landed trick to completely feel you've seen something extraordinary. For example, I feel like every time I see Mika riding, she does something that the rest of humans are not able to do. She understands kiteboarding in another way, she understands her kite in another way. It is true that she's one of the only girls in the world that can land KGB's and Heart Attacks easily but even though it is not a first ever, I just feel amazed to watch her ride.
Snowie for example, I think, felt a bit like me; lost in that lagoon full of freestylers, yet, as you can see, he got some great shots from the trip.

I also loved to see Valentin ride. He's just 15 years old and he rides so big! And effortlessly! Until now I've had only seen "Vali" in videos or in the livestream of competitions. It was impressive seeing him ride but, I repeat, watching it live was even better. Watching Vali do a huge backmobe 5 was daily breakfast, he also landed some sick mobes 7 and 319's…

GROM SEARCH PROJECT

For several years I felt like kiteboarding was not doing a lot for the new generations… In my case, I started to kite quite late (17 years old) but, it was not an easy path. Gear is expensive and to be seen by a brand that could potentially sponsor you requires traveling. I was lucky to be able to go here and there and end up with the best brand on the market but I knew that a lot of kids out there started where I started, I mean, I know what it is, so I always thought something had to be done with this.
DUOTONE just came up with the perfect way around it: go to a spot in the world, call all the young guns and, to the best out there: give him a quiver and english lessons.

Can you imagine how much you can change someone's life with such a small gesture?
WRAPPING UP

So, Brazil 2018 trip was all about getting all the best riders in a discipline together from our team and put them together in a house for some team building, social media workshops, heat guidance, shooting guidance and to push each other on a daily basis.
After the trip I was tired but super happy. It was time to go home with all the news things I had learn in my pocket.

Thanks Duotone for this opportunity, can't wait for more.

Words by Julia Castro – Duotone Rider