Airton Seizes the Day and the Cape Verdeans Storm the Podium
Day Three GKA Kite-Surf World Tour
2nd August 2017: Sotavento, Fuerteventura
Report: Matt Pearce / Photos: Ydwer van der Heide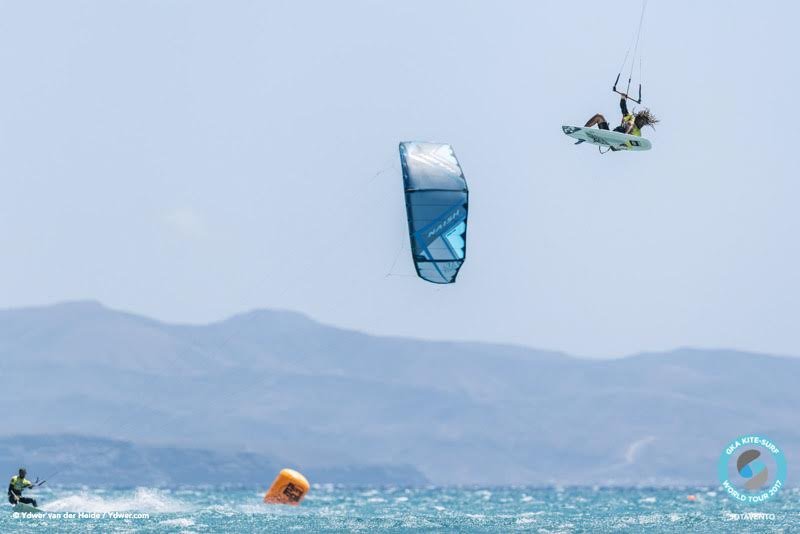 Airton airborne / Photo:@Ydwer
After a packed day of competition yesterday it was straight into the quarter-finals today as the remaining eight riders pushed for a place in the finals. The Alisios trade winds were blowing stronger and cleaner than they were on day two and Keahi and Matchu were up in the first heat.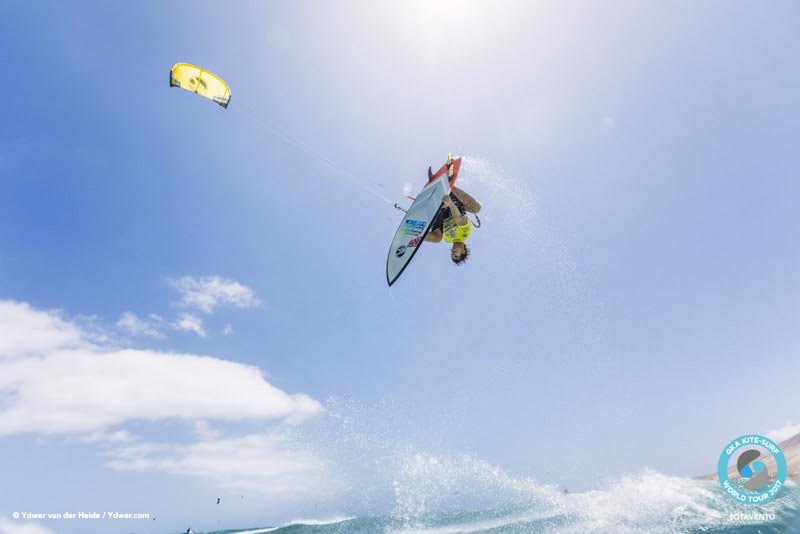 Keahi goes down to the wire against Matchu / Photo: @Ydwer
Both riders were quick off the blocks and Keahi opened with a huge rotation before going trick for trick with Matchu. Matchu remained calm and composed, sticking some of his bigger tricks before sealing the deal with a front shuvit in the last minute to end Keahi's competition there while he progressed to the semis.
Airton then hit the water and was utterly relentless against Gustavo Arrojo. Airton stuck the biggest rotation of the event so far but Gustavo didn't back down, coming close on a front to blind after taking hands down the biggest crash of the event but he couldn't overcome Airton.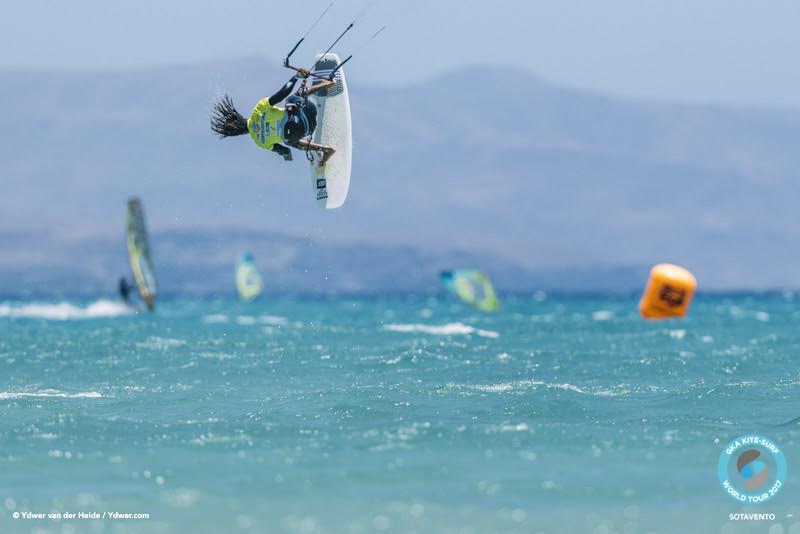 Airton at home in high winds / Photo: @Ydwer
In the following heat, Portuguese powerhouse Paulino Pereira took down Camille Delannoy. Camille was sticking some of the smoothest front and double frontrolls yet seen on this year's tour but Paulino took the win with a truly massive rodeo kiteloop which the crowd went wild for.
From there the remaining four riders battled for a spot in the finals and Airton and Matchu were first up. Fully aware of his old friend Matchu's ability, Airton was leaving nothing to chance. He put together a surgical yet savage display with a stomped flat-3 before coming close on what would have been his biggest shifty-3 to date in competition. Matchu met Airton's powerful barrage of tricks with his own big, but fluid, moves nailing a smooth front to blind before coming close on a double frontroll varial. However, Airton then pulled ahead with a powered shifty-3 and Matchu came close to a triple frontroll but it was too late. The buzzer sounded and Airton was through to the final.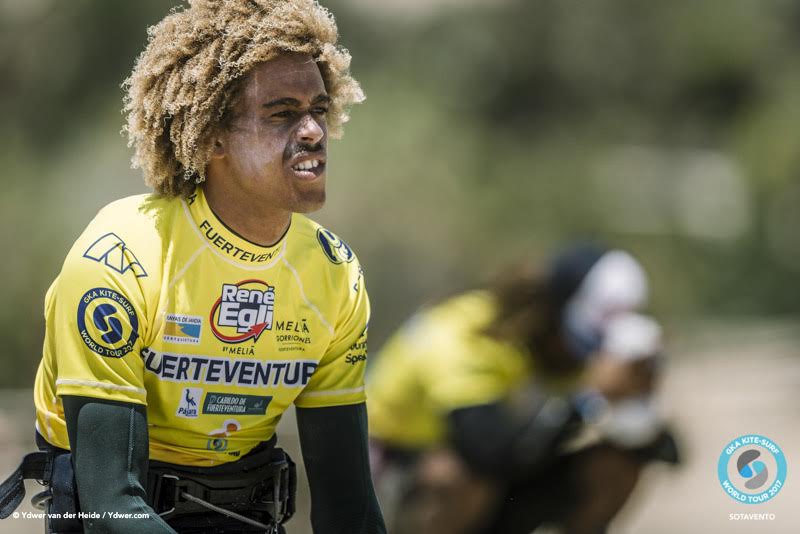 Matchu considers his options as he prepares for the mini-final / Photo: @Ydwer
Paulino and Mitu then locked horns as they vied for the chance to take on Airton and this was the tightest heat of the day. Paulino went so hard he snapped his board in half after one of the heaviest landings ever seen in this discipline, let alone the competition, but he couldn't match his opponent on style and execution and Mitu, although still nursing an injury and in increasing pain, battled through to the finals.
It was down to Paulino to dust himself off and head back out against Matchu for third place in the mini-final and both riders had their hearts set on the last place on the podium. Matchu edged in front though with a nice front to blind followed by a double frontroll to claim his place on what would be a full Cape Verdean podium.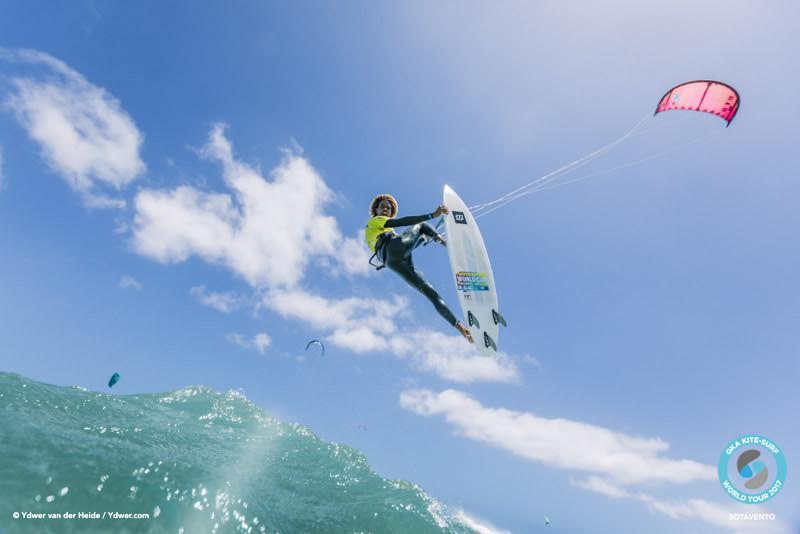 Punting to third place / Photo: @Ydwer
The final went off in ideal conditions for Airton's aggressive riding style as he launched huge rotations from the start. Mitu gave it his all, coming close on a flat-3 and nailing some stylish tricks but Airton was unstoppable sticking a shifty 3 and a super-powered front to blind. Mitu put it all on the line and went for a massive board-off kiteloop but he came down too hard and the landing took its toll. He rode back to the beach without any more trick attempts and limped from the water before the buzzer sounded. Airton had done it!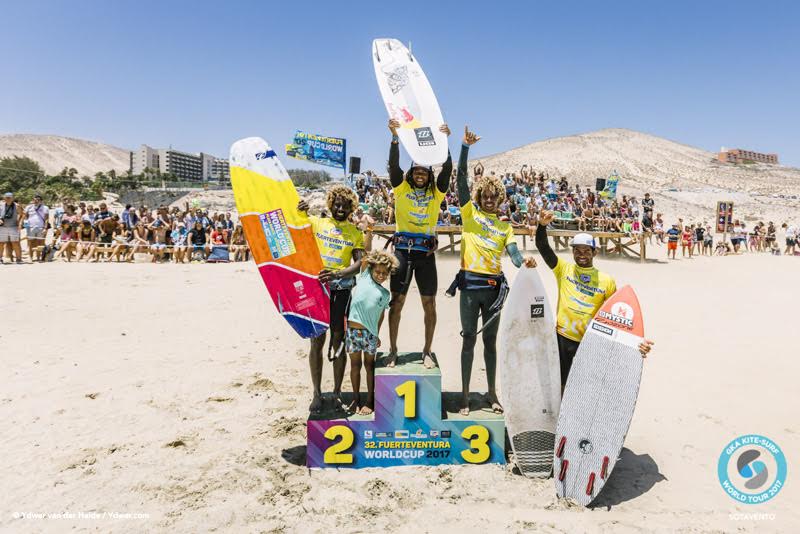 This now puts Airton back in the lead on the tour and he'll be looking to build on his performance at the next event in Fehmarn later on this month. This event is far from over though and the riders will take part in a big air and best trick competition later on this week with the main event now complete. Tonight though, it's the afterparty at the infamous La Calpa where the Cape Verdean contingent will have some serious cause for celebration!
For regular updates during the rest of the event please follow the GKA on social media:
Facebook
Instagram
YouTube
Web
Find the full GKA Kite-Surf World Tour 2017 event schedule here:
www.global-kitesports.org/world-tours/wave/