Did anyone get the license plate of the truck that ran me over? Damn my body hurts. I am definitely not the man I used to be.
As I, let's call it, roll out of bed, my bones ache like a twenty year NFL lineman veteran the day after Super Bowl Sunday. I swear I could hear creaking like old barn doors those first couple of steps off my horizontal heaven. Did we really cover almost 70kms yesterday along the Brazilian north coast? By the pain I feel everywhere in my body, that is a big ten four.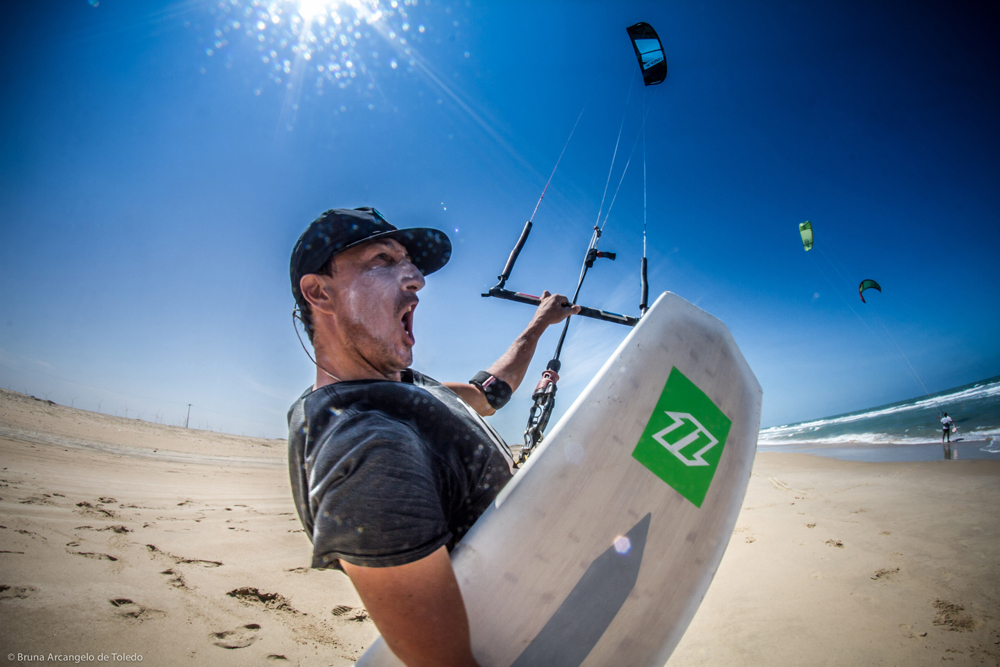 In my dreams I saw perfect barrels with dolphins playing like toddlers in beautiful head high waves. I open my eyes only to realize, that my dream will again be today's reality. Another day, another epic trip along the coast. But first, fuel…
Again I'm late to the party, as it seems hunger has the best of everyone else on the voyage. First course is a mountain of fresh papaya, mango, pineapple, and etcetera. Then some protein washed down with 3 freshly hacked off coconuts to rehydrate. Fueling done, time for our briefing. Again Wandeson, a.k.a Wonderful, from Surfin Sem Fim explains with fantastic precision all the treats we'll see again along today's route. Again the list is long.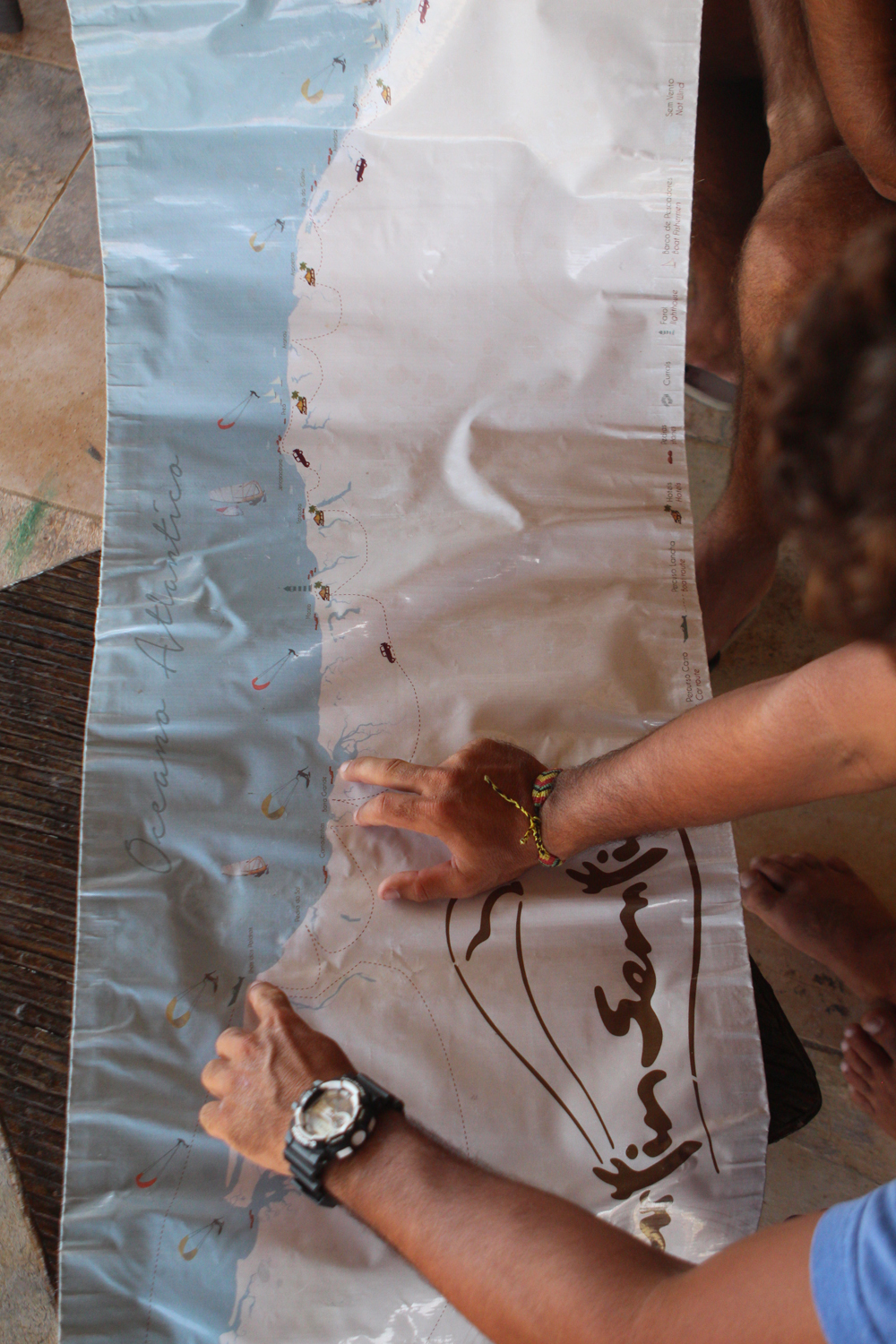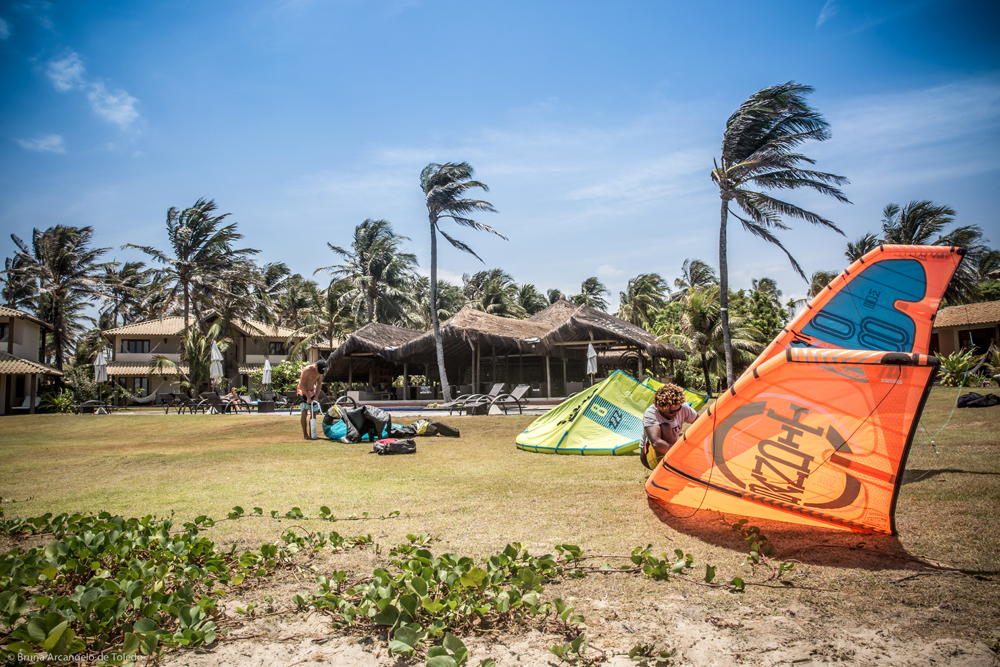 Mounted up like wannabe Jesse James Regulators, we launch our air-filled tubes of happiness into the blue heavens, step onto our foam epoxy-filled steeds, and rip away from the shoreline like thieves with a stolen TV under their arm. Right off the bat, waves, waves, and more waves. That same song is playing, and I still love it. Now into our third day, everyone is well into their kite groove, and discoing across the ocean like Travolta. You can tell by the way I do my walk, I'm a kiting man, no time to talk. You better believe I'm feeling alive.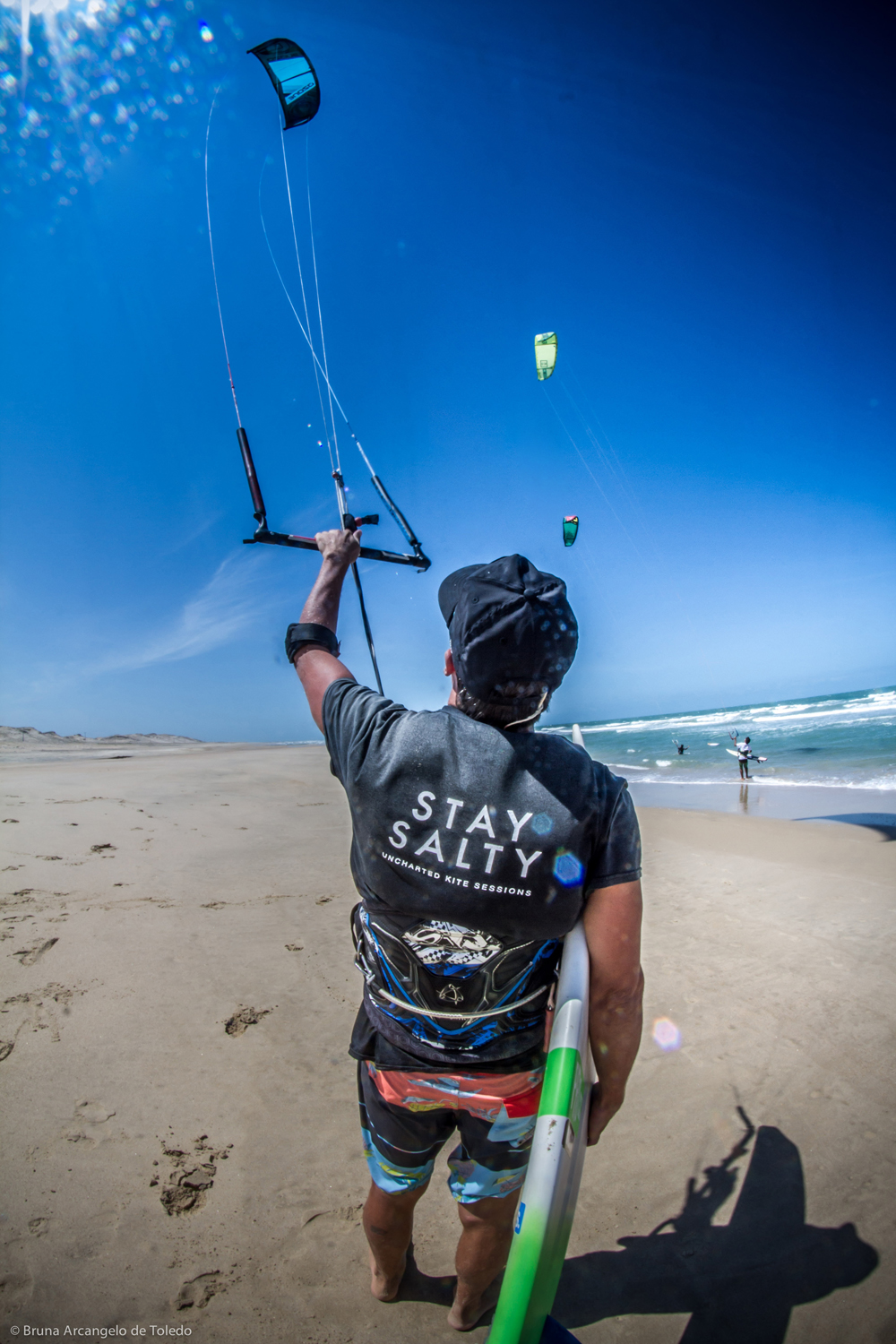 There is so much to absorb as you ride the coast, that remembering all the details is a workout for the brain. The coast varies from fantastically smooth and curvaceous sand dunes, to dense tropical coconut tree jungles that look like we're actually riding along the Bali coast. Massive wind turbines hundreds of meters tall scratch the sky as they rotate in their slow, deliberate rhythm pumping out kilowatt after kilowatt. They are everywhere, and they are hypnotic to watch. A graveyard with stunning all white tombs pressed into the side of sand dunes seems oddly out of place, but at the same time not. Occasional buggies race down the beach fishtailing like Café Racers, barely in control, perfectly out of control. Our Landrover, trailer and all, ascend and descend impossibly steep dunes like they were Lawrence crossing Arabia on a camel. And you know the drivers love every minute of their job. Seriously skilled motorcar drivers. Jacky Stewart would be proud.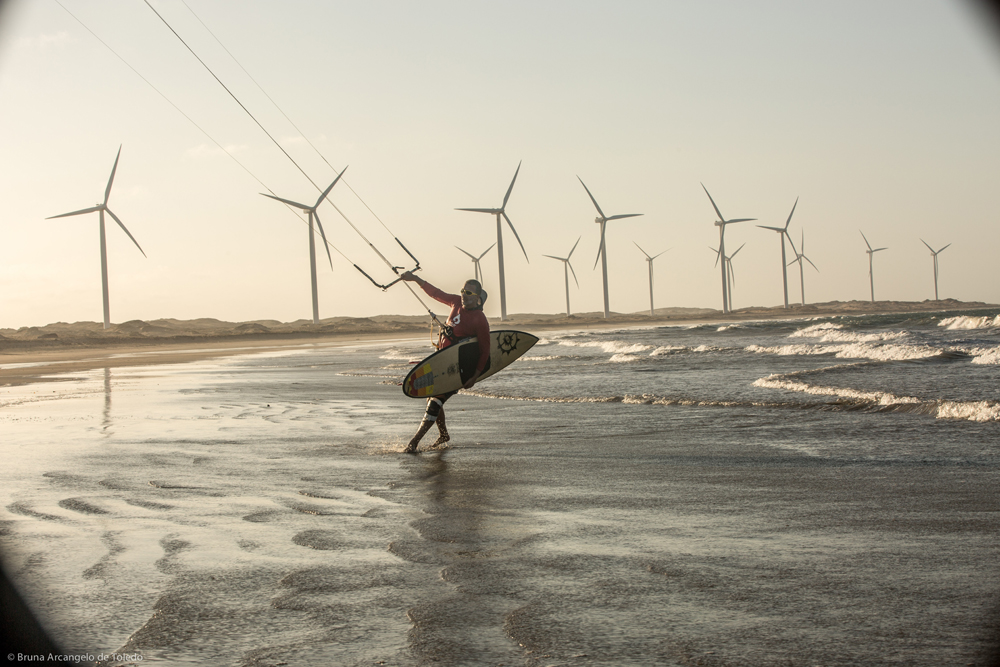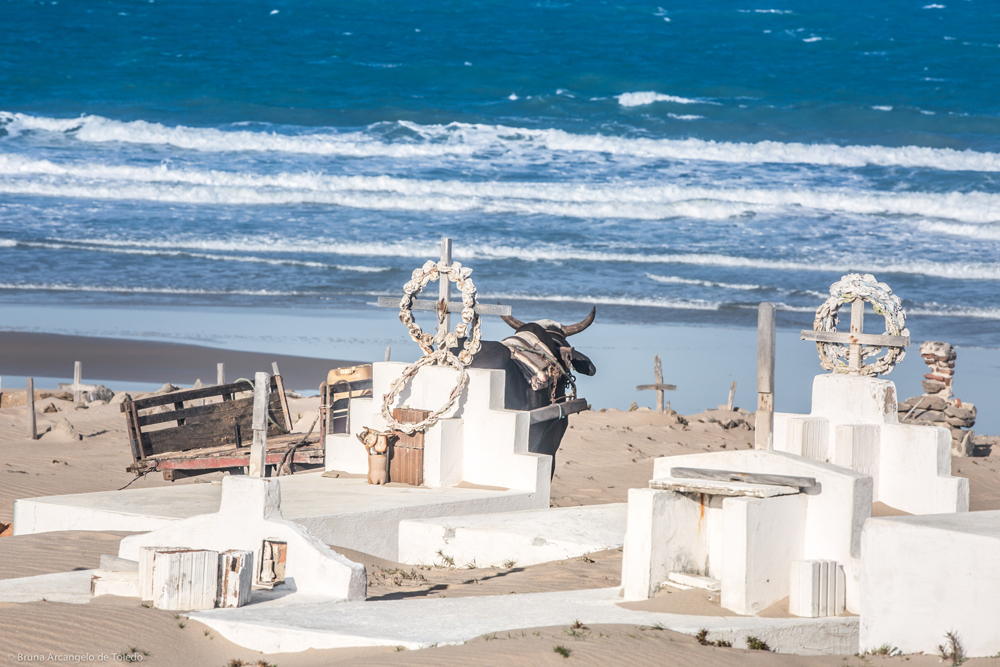 Blue. Yellow. Green. Purple. Every color of the rainbow are the triangular sails of the tiny local fishing boats as they head off to sea to catch the evenings haul. Unlike America's Cup super yachts, these vessels aren't decked out with million dollar North Sails, but more like handmade cloths hanging from masts made of coconut tree trunks, curved and twisted, imperfections and all. But they couldn't be more perfect. The boats are so small and so low to the water; one man drives while the other bails out the seawater that flows over the bow as it crashes into every wave. He bails with a cup nailed to the end of a stick so he can have a faster bails per minute ratio, without having to bend every time to exit the water. Each toss of the water looks like a superstitious man throwing salt over his shoulder after accidently spilling some on the dining room table. Sprays of water tossed aside like used, old school river paddle boats.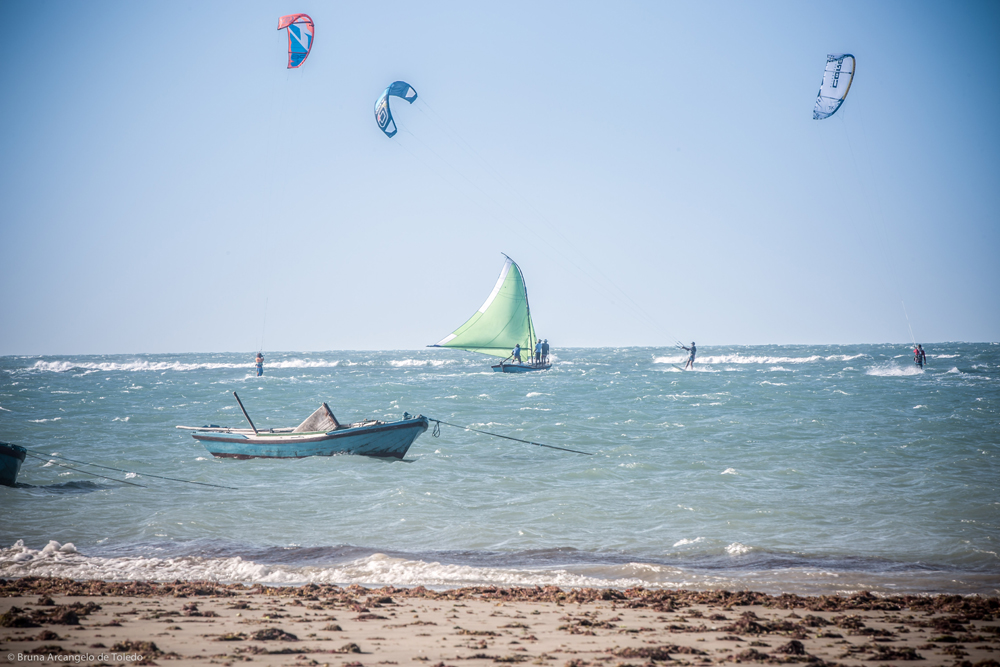 We zig zag between the boats as they sail into the deep blue. All the men smile, wave and give thumbs up as we pass. Mitu rides along the boats, talking with the fisherman in Portuguese, asking about their day, and asking if the fishing is good. It's funny to watch Mitu kite feet away from these small vessels, cruising at the same leisurely speed, talking like old friends catching up over coffee at the local coffee shop. It puts a serious grin on my face. But not as much as when he decides to give them a little show before he moves onto the next boat. So just for fun he throws a few quick 360's and a rodeo for good measure. The smiles and laughter of the fishermen is more entertaining than the Mitu show. You can see the wonder and awe in their eyes. The same wonder I had when I first put a kite in my hand. Grins like school kids.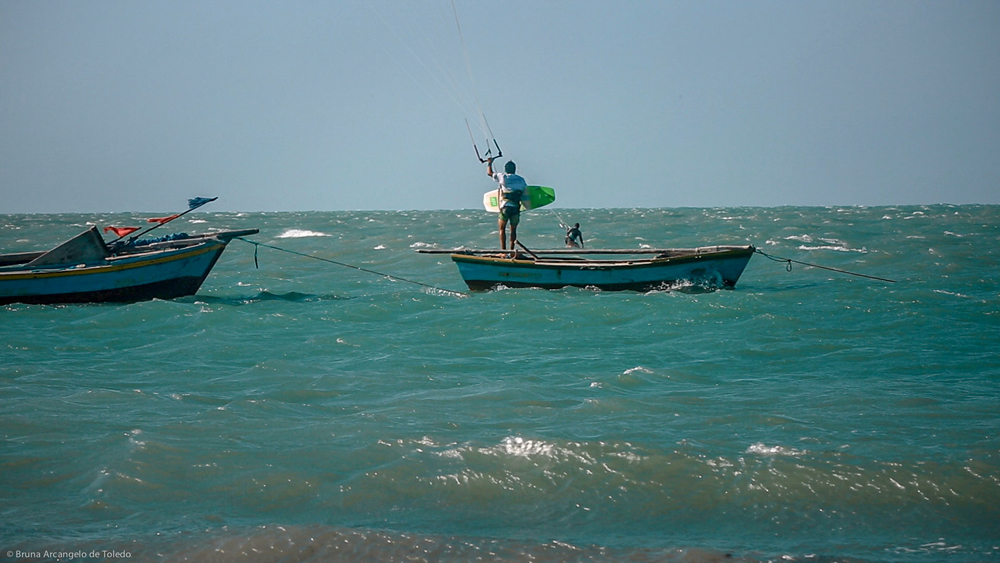 I think it was national turtle day, because they all seemed to be out partying today. And not little tiny turtles, but massive sea monsters that looked more like hippopotamuses' cruising the deep than hard-shelled super dudes. Almost colliding with one, I realize quickly I would be the losing competitor in this welter weight title fight. So instead I just try to give them a brush across their shells with my hand as I glide by. Usually they're too fast for my reach, and dive down into the blue, like Das Boot.
Between the fishing nets, occasional massive reef sections, and a few sharks, today was a day to keep your wits about you. Not to mention that for over an hour we had no vehicle support as there was no way for the truck to follow across the river delta's that poured into the Atlantic. They were busy having an adventure of their own trying to fit a massive Landrover and trailer onto a raft built for a motorbike. And then trusting the two men with very long sticks to push that dingy across a rushing river with the force of just their arms. I'm pretty happy I was on a surfboard at that point, and not a passenger in the car.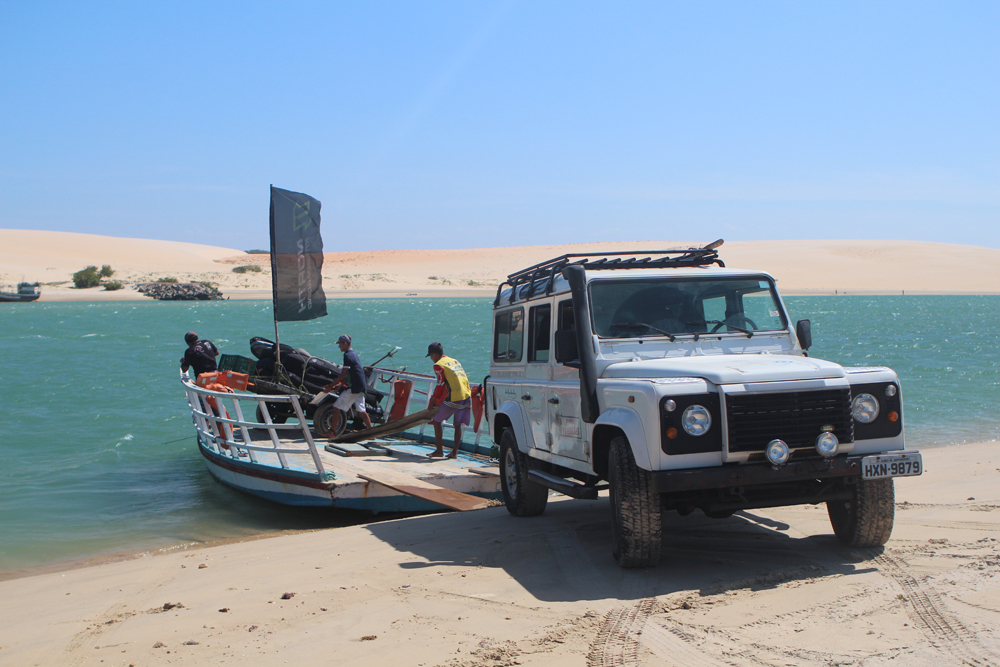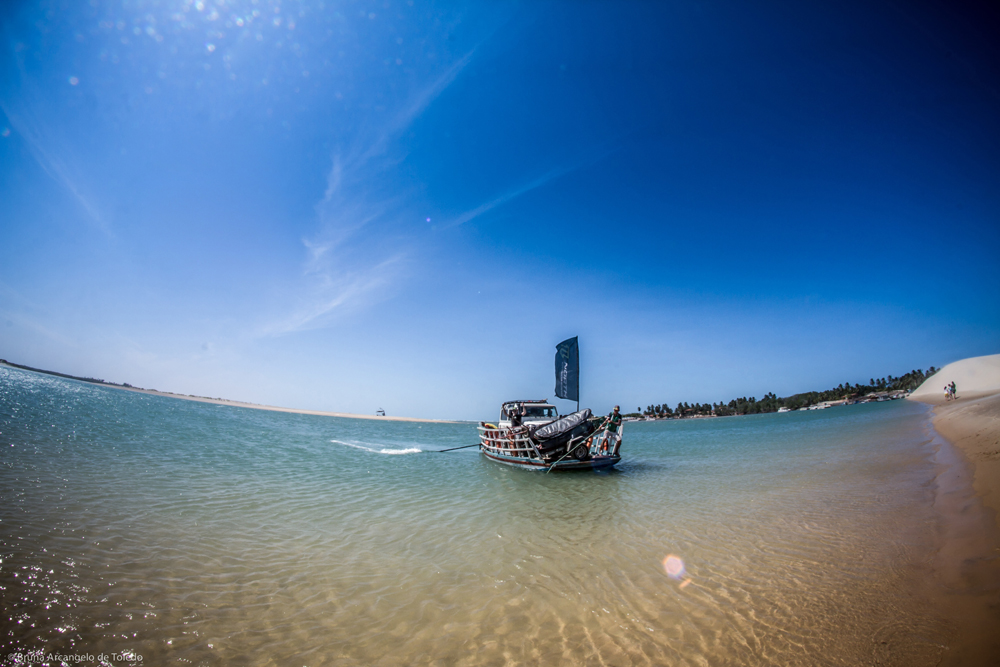 As the sun begins to set slowly in the west, behind the ever spinning turbines, we roll up to our home for the night – the Vila Mango in the beautiful town of Icarai. Bungalows dot the side of the steep dune, each room providing a picturesque view of the brilliant Atlantic. And like every place we roll into, the paparazzi run out, cameras in hand eager to snap their picture with the legend, Mitu. There are a lot of selfies being posted tonight with many smiling kiter faces.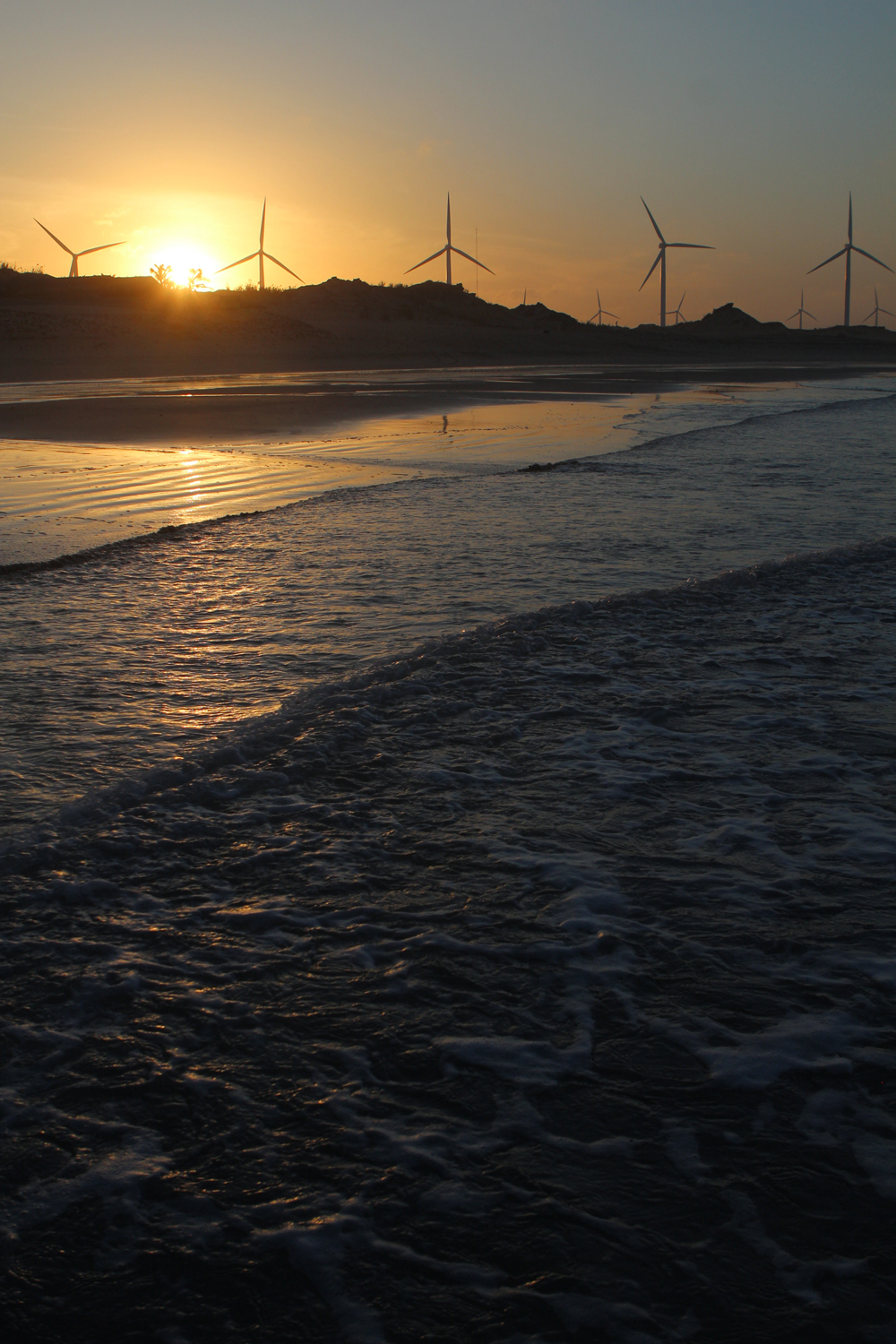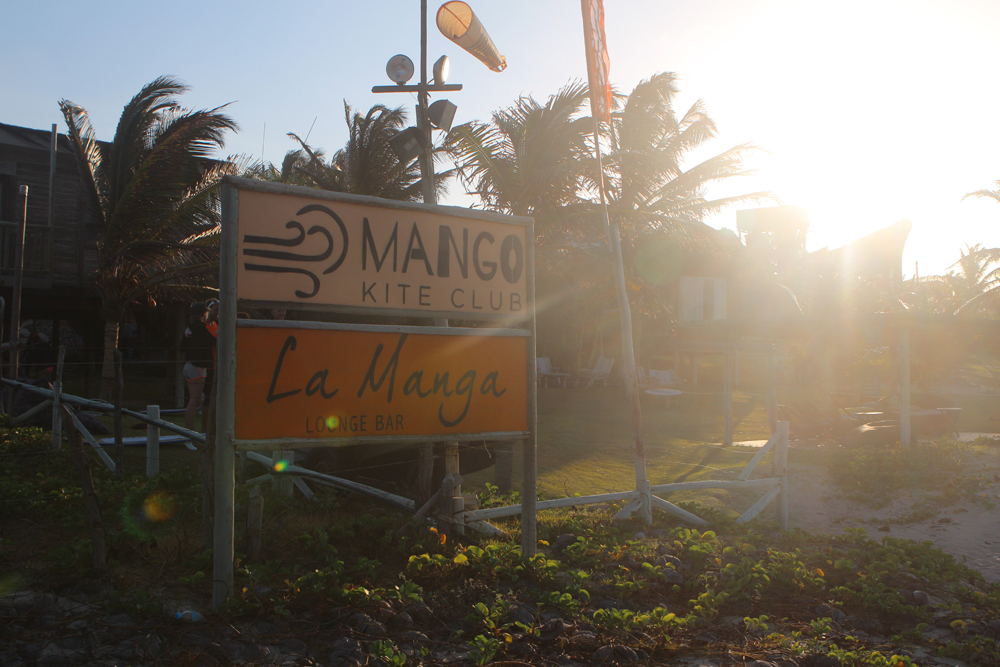 As with every stop, we are greeted with cold caipirinha's, soft dry towels, and the national dish, a cold bowl of acai with bananas and granola to take the edge off the ravenous hunger developed from 5 hours of ripping the north coast. I think these kite-to-your-door pousada's provide the most fantastic reception of clients I've ever seen. Amazing to feel so welcome in such a beautiful paradise.
Showers, steaks, tiramisu, several coconut waters out of the husk, and we are all burnt to a crisp like the sunburn we all possess. Funny to see the expression on the waiter's face when you ask him for a bag of ice so that you can put it on your knee. After the fourth person asks, it gets pretty comical. It will be interesting to see what lasts longer, this down wind voyage, or my body. Place your bets…
Andreas Lagopoulos
Updates | Uncharted Kite Sessions
Images: Bruna Toledo // Surfin Sem Fim // Justin Dalegret