ION have dropped their new winter peripheral gear range. It's comprehensive, full of tech, and, as ever, impressive to look at…
FOOTWEAR | JACKETS | NEO ACCESSORIES
Whilst others like to snuggle up inside at the thought of cold winds and freezing temperatures, dedicated water athletes can't be kept from the chilly tides. Empty lineups and deserted beaches attract fearless winter warriors and lets their heart leap when thinking of the jolly times ahead. The key to long sessions and getting through the cold month lies in technical gear that cares for extra warmth.
FOOTWEAR
ION understands that there is nothing better than riding barefoot that is why our aim is to preserve that feeling even when wearing boots. Every piece of feedback delivered from the board to the receptors in the toes is imperative. ION's Neoprene Footwear enables progression even in Baltic conditions.
BALLISTIC The Ballistic range is ION's premium line of water footwear. With support and stretch in all the right places, this line is further enhanced with well thought out and cleverly designed features – for a direct boardfeel even under layers of neoprene. The infamous aramid sole protects against the cold as well as hazardous objects in the water and wraps around the foot to guarantee a snug fit. The abrasive resistent knit structure on top of the shoe rounds up these high-class booties and cares for many sessions to come.
MAGMA The Magma Line stands for the perfect blend of that desirable barefoot sensation and unrivaled warmth. An external split-toe and ultra-thin rubber layup are incorporated into its forward-thinking design. The creative and strategic design of the sole areas provides a good mixture of support and flexibility. An extra ankle strap secure these neoprene shoes and prevents water from rushing in.
PLASMA The Plasma line meets the demands of more budget orientated riders looking for quality. Offering a great fit and protection from the elements, ION wraps it all up in a spicy and unique design. Like all models this line features a segmentes sole concept for more support and flexibility. Additionally, support at the vulnerable ankle areas was added.
All models are available in these sizes: 36/5, 37/6, 38-39/7, 40-41/8, 42/9, 43-44/10, 45-46/11, 47-48/12
JACKETS
ION NEO JACKETS & HOODIES are essential companions for cold and windy days on or off the water. Serving as an additional wind stopping outer layer, these tops can be worn whilst using a harness thanks to the harness hole opening. Designed with a relaxed fit for extra comfort on action packed sessions or while chilling on the beach taking a break.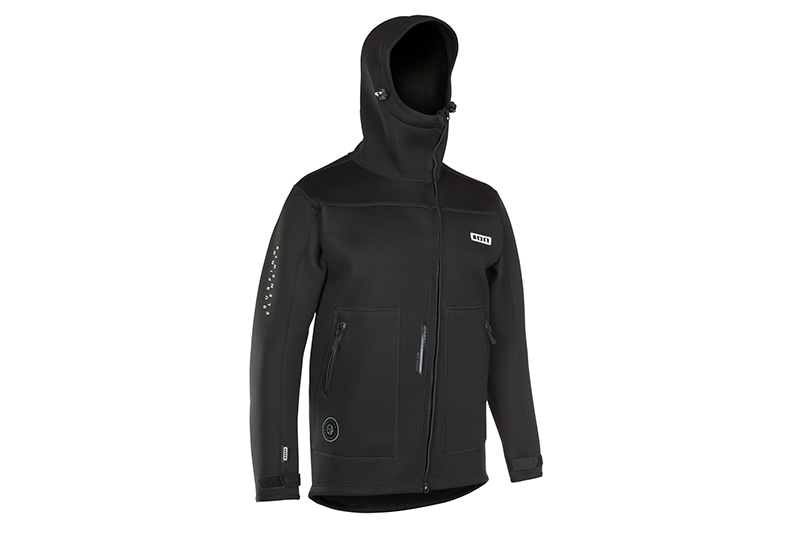 NEO SHELTER JACKET AMP | RRP: 199,95€
Sizes: 48/S, 50/M, 52/L, 54/XL
Colors: Black, Marine/Olivegreen, Red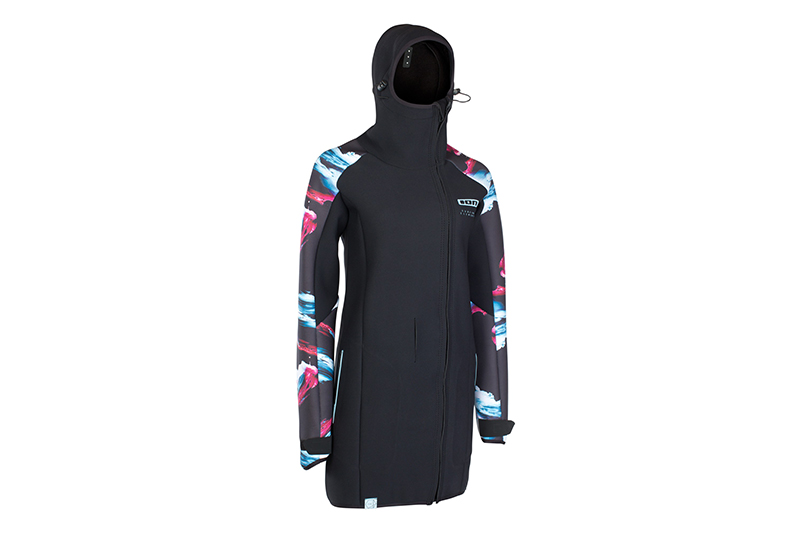 NEO COSY COAT CORE WOMEN | RRP: 159,95€
Sizes: 36/S, 38/M, 40/L, 42/XL
Colors: Black Capsule
NEO ACCESSORIES
In ION's point of view, the smallest items in the product range deserve the same dedication and precision as every complex item. Therefore, the neo accessories are a small but essential part of the whole equipment and sometimes these small items decide whether you have a great day on the water or you go home in deep frustration. Neo Hoods, Neo Beanies as well as gloves in different designs and level make long sessions in the cold enjoyable.
For further formation about ION and the product range please check ion-products.com