Swollen and puffy eyes like I went seven rounds with Mike Tyson look back at me in the mirror. My legs are limp noodles. I hear the hypnotic rhythm of the Forró band playing in my head, and my brain is still repeating to itself, two left, two right, spin, doh!! Fail.
Blessed are we to have a day 'off'. There will be kiting going down today, but at least we'll be spending the day in Preà and the night in Jericoacoara; so no rush to run out the door as usual. Seb is cheerful and full of energy like every twenty one year old kid would be after a night of drinking and dancing. Mitu, Jalila and myself, not so much. You have to love the bottomless two-liter glass bottle of fresh coconut water served at breakfast. Nectar of the gods I swear. 2 liters in an IV in the morning and I'm right as rain.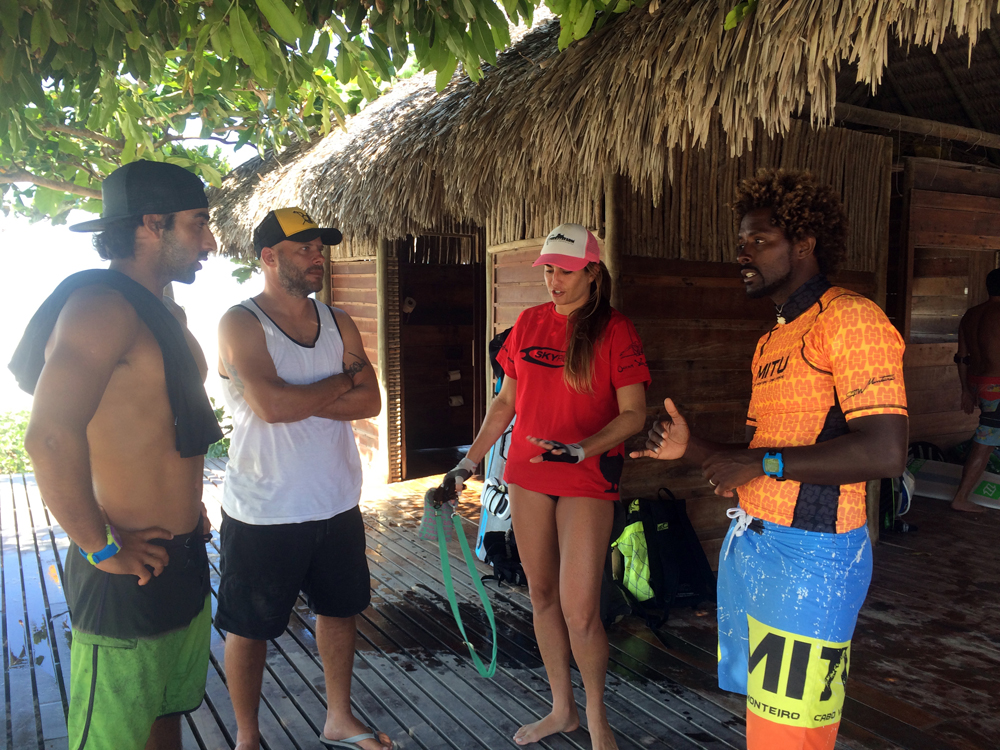 1pm we load into the back of the pick up truck, gear strapped to the roof, we make our way from Vila Kalango in Jeri to Rancho do Peixe in Preà. Today is coaching day. Although every day there has been coaching, today, as we will be in one spot, we can really work fundamentals. Mitu and Sebastian explain in detail under the shade of Rancho do Kite the essential things to concentrate on for tacking, jibing, airs, and high speed heel side to toe side turns. Everyone took notes, as it's not everyday that the best in the world let you know their trade secrets. Class is in session bitches!! Now time to put it to practise and we run onto the water. Blood, sweat and tears; the best way to learn.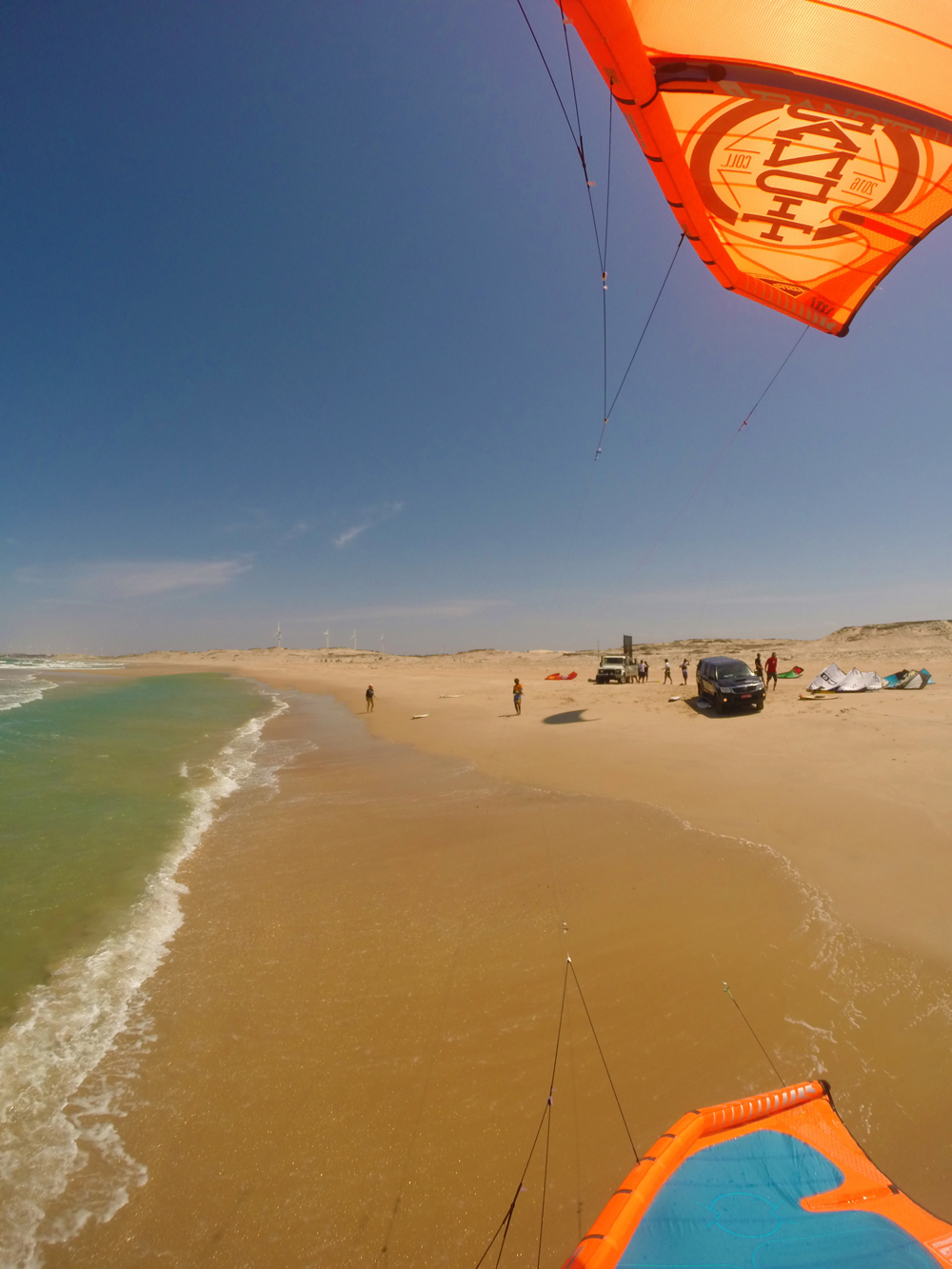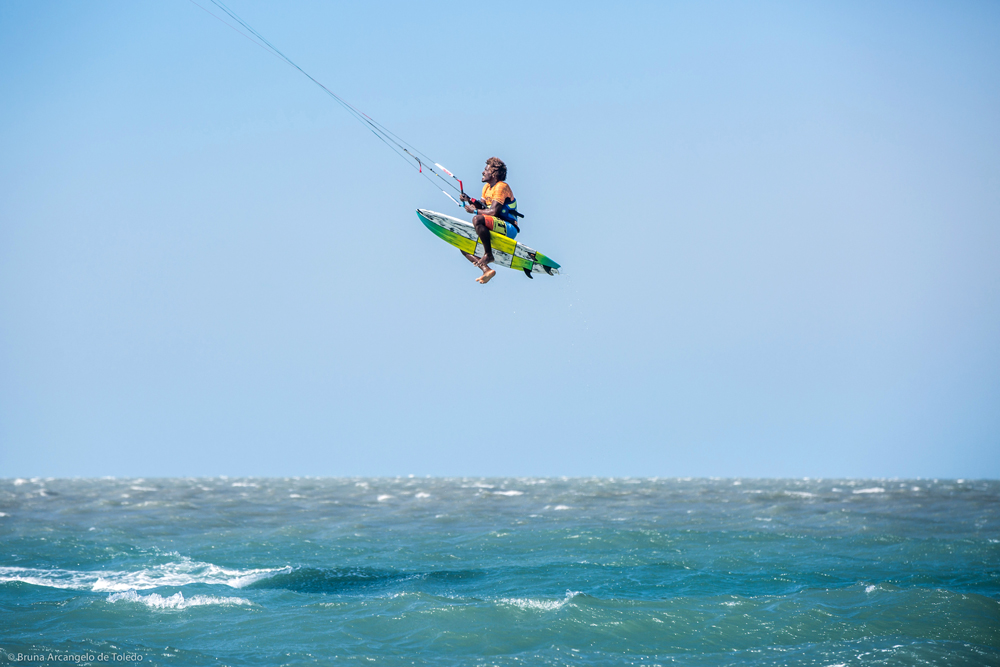 A quick Açai bowl and a few fresh coconut nectars, and its time to rock another sunset downwind session back to Jeri. And like the previous day, it didn't disappoint. Golden rays reflect off suntanned faces. Shit eating grins from ear to ear could be seen for miles and miles.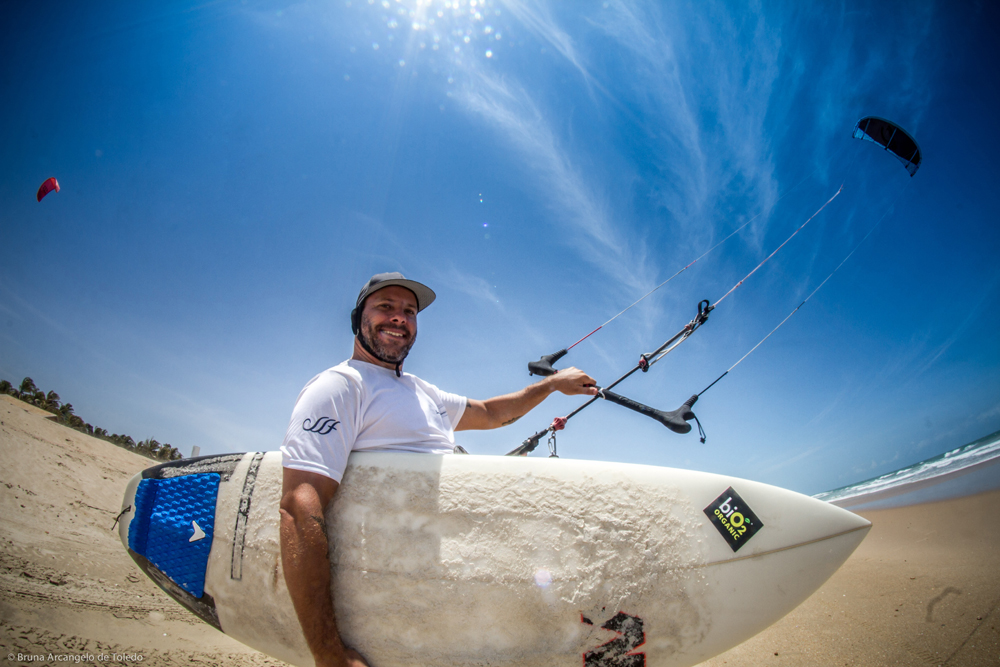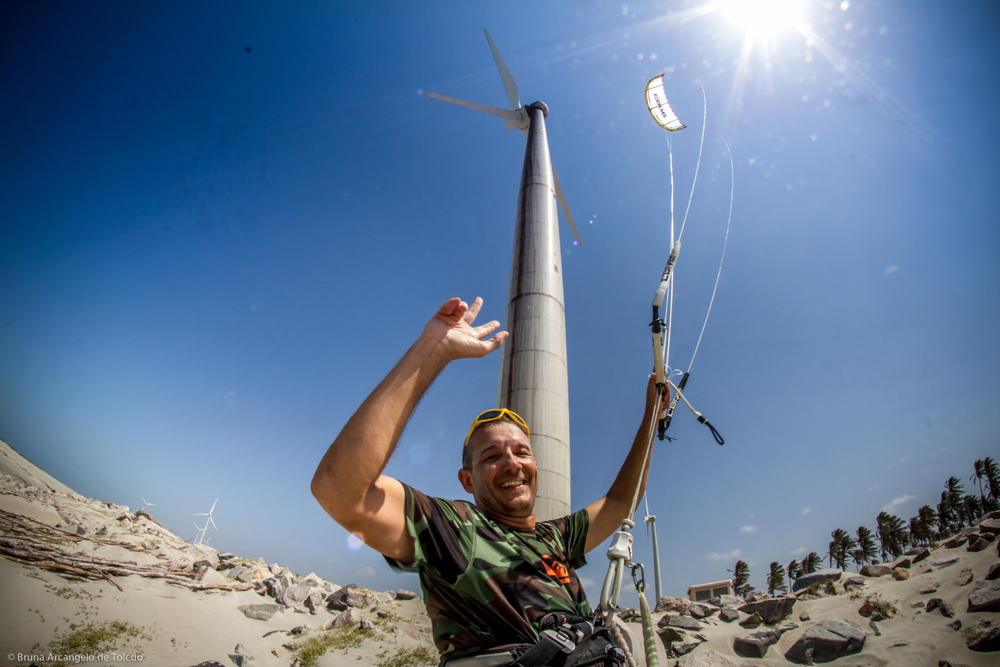 Landing on the beach past the dune, two beach buggies from Surfin Sem Fim wait for us like golden chariots in anticipation to take us to the evening ball. And the ball was the pool at Vila Kalango. Sitting in the perfect temperature water sipping caipirinhas, it was only the moon rising between the palms that told us that it was time for dinner.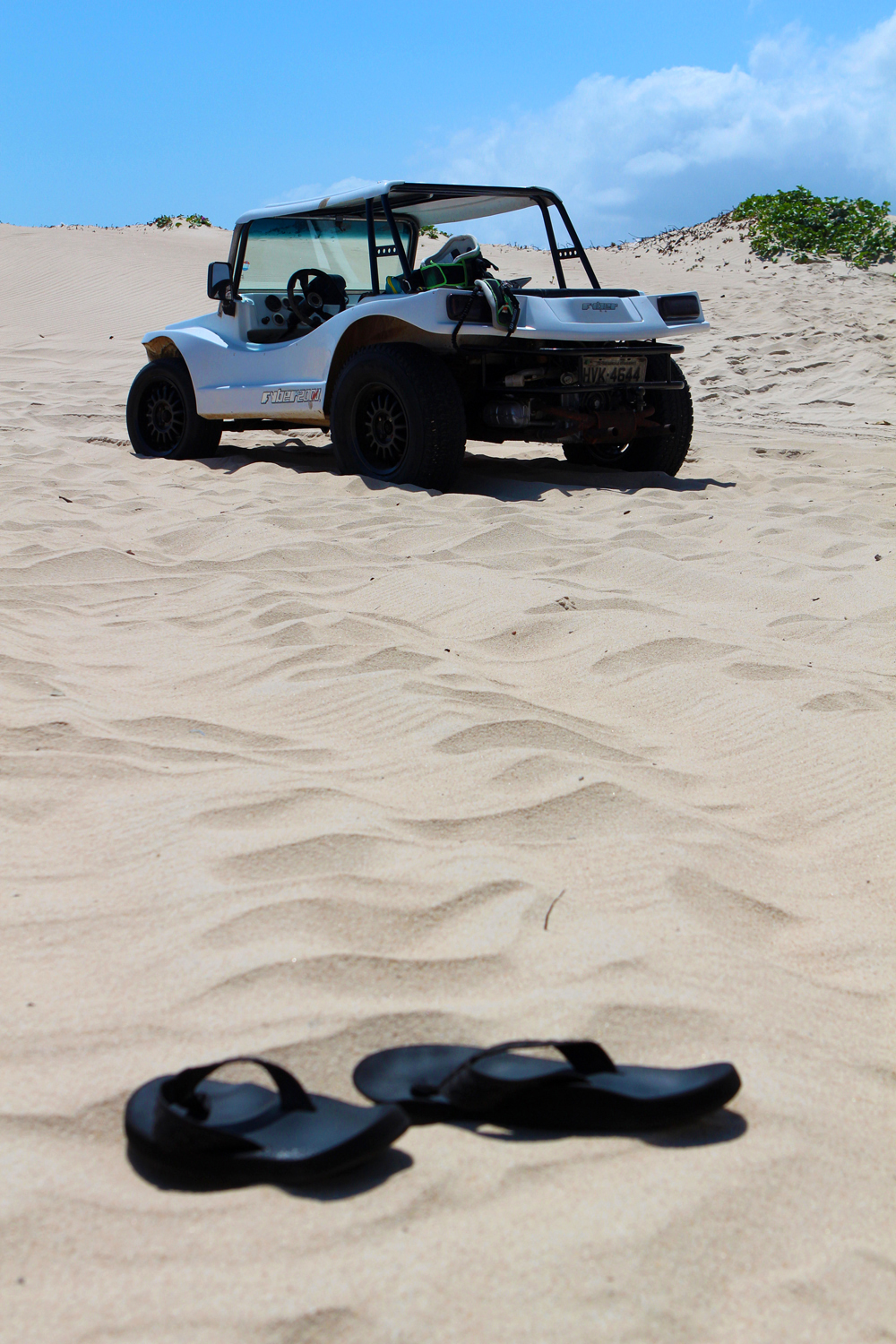 But first appetizers on the beach! Caipirinha alley also has some of the most amazing grilled street food. Over small charcoal barbeques, freshly skewered chicken hearts, langoustine, shrimp, beef, cheese curd and chicken are grilled to absolute perfection. Eaten hot straight off the stick, they go down like we're ravenous hyenas fresh off the kill. Several discarded wooden skewers later; we're satiated, for now, and can make our way back to Vila K for another scrumptious meal.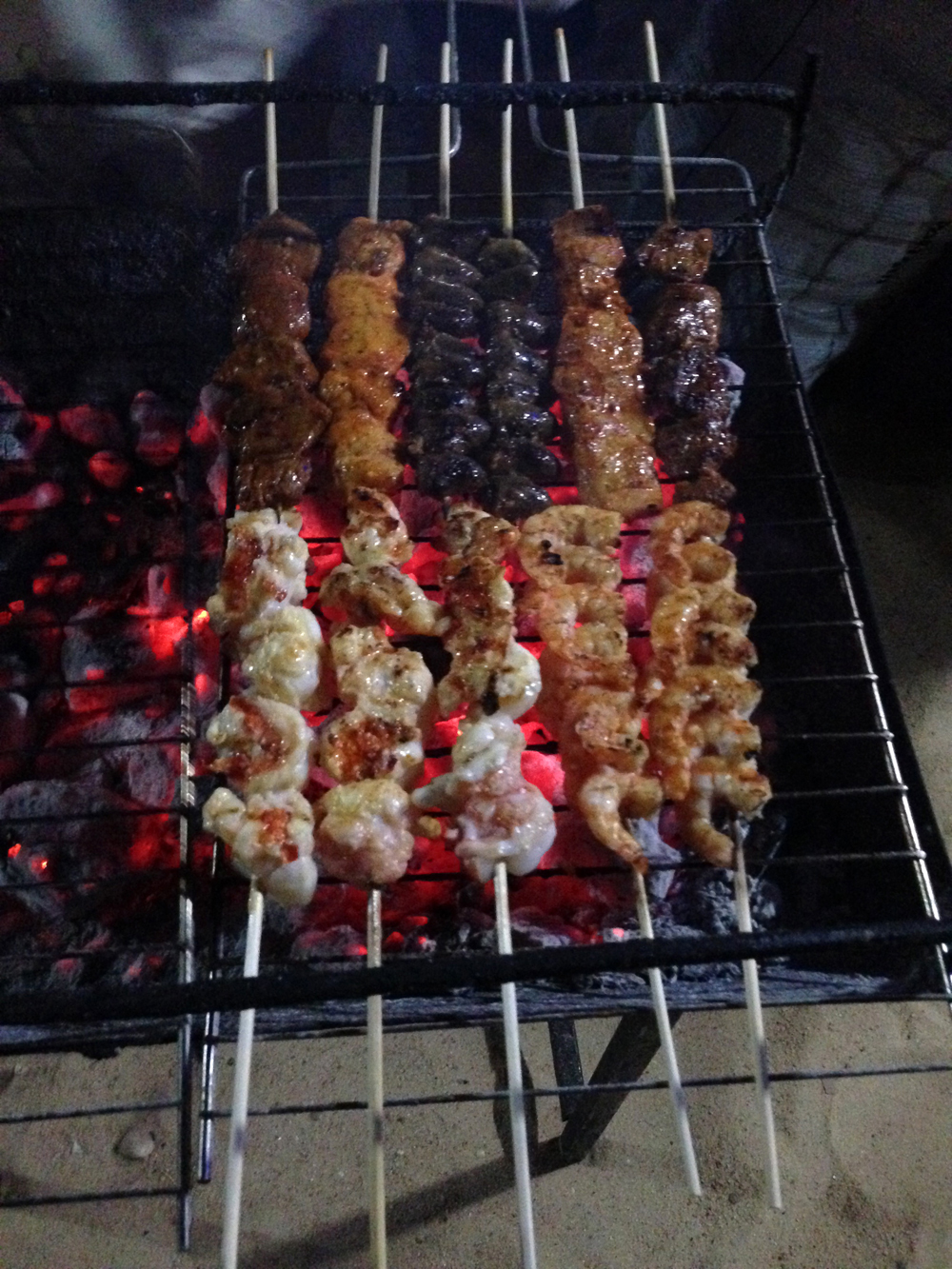 Maybe it was the several caipirinhas, or maybe the fact that a 12km downwind day seemed so easy compared to our usual 70km, but someone had the fantastic revelation that it was Saturday; and Saturday is Samba night. And when it's samba night, obviously you go samba. One quick stop back in our favorite alcoholic alley, and we're off sneaking through the back streets of Jericoacoara one more time.
At the entrance of the pousada, you can already hear the brilliant rhythm flowing out through the palms. After paying my extravagant seventy-five cent cover fee, we're snaking our way through the grounds in search of the pulsating tone. Past a few cabañas, out of the dark we step into a beautiful wonderland. A small enclosed back yard, full of people dancing, laughing and smiling.
At the back of the yard is a stage with flutes, whistles, drums, guitars and more, blowing out a mind exploding rhythm. There's a line at the bar that has more exotic fresh fruit mix selections than their alcohol counterparts. Bottles of cachaça, rum, vodka and Johhny Red hang upside down with dispensers that bleed out their juice like Mad Max used to replenish the War Boys preparing for battle.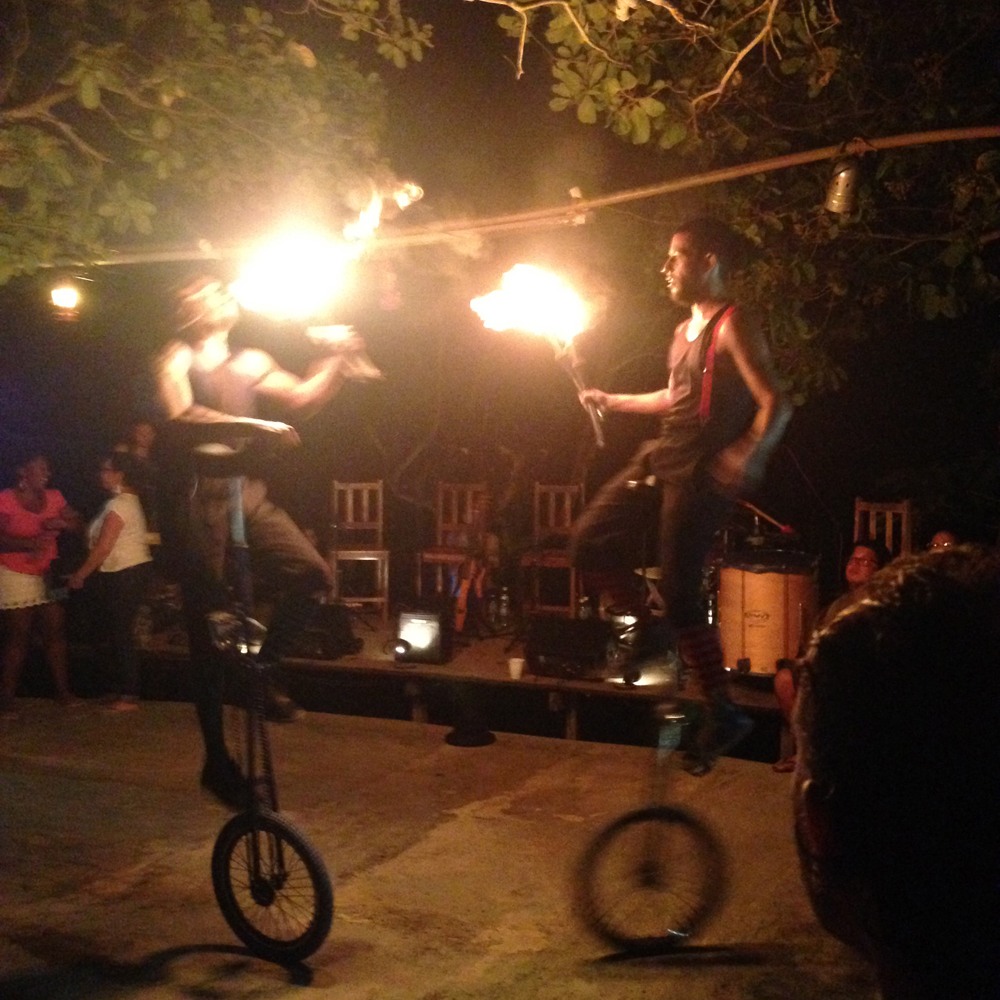 I thought dancing to Forró was difficult. Samba, forget it. I now know why Brazil is always in the world cup soccer final every year. The footwork is dizzying. The hip movement is unbelievable coordinated. The music washes over and into you like the tide crashing into the rocks. The whole scene is pure energy. Bodies frolic; spin, twist, smile and flirt with everyone. Men grab women by the hand with fantastic confidence, pull them close, and dance in unison like lovers who've been embracing for years. Trouble is going down tonight!
Before when I said Mitu had the moves like Jagger, I lied. Jagger ain't got shit on the moves like Mitu. If I thought he could kite, he dances like a smiling African god. You're either born with it, or you're not. Watching the unbelievable coordination of Mitu and all the Brazilians twisting around me, I was definitely not born with this innate rhythm. I wish I was, because it's sexy as hell.
More dancing. More caipirinhas. More smiles. And it's way too late, and we don't care. But 7am is only four hours away, and so is the biggest day of our trip. 140km's from Jeri to Itaqui. Time for sleep. Tomorrow we test the metal.
Andreas Lagopoulos
Updates | Uncharted Kite Sessions
Images: Bruna Toledo // Surfin Sem Fim // Justin Dalegret